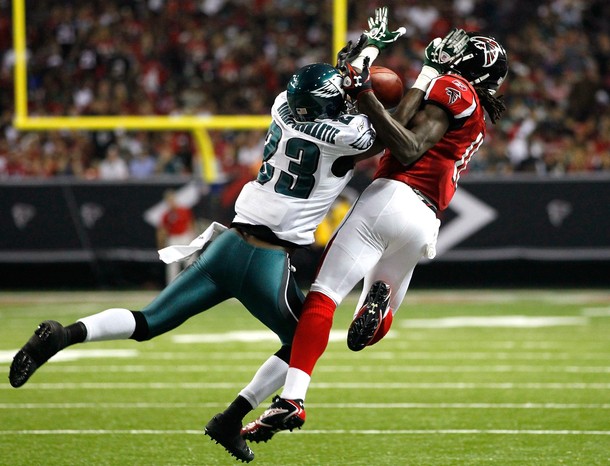 With the announcement today that CB Asante Samuel has been ruled inactive for Saturday's game at Dallas, Dominique Rodgers-Cromartie will start at left cornerback in his place.  DRC has been much-maligned this year for his generally poor play in the nickel corner position, but the absence of Samuel will allow him to play his natural position on the outside.  Subsequently, Joselio Hanson will get the nod at nickel, a position at which he is very comfortable.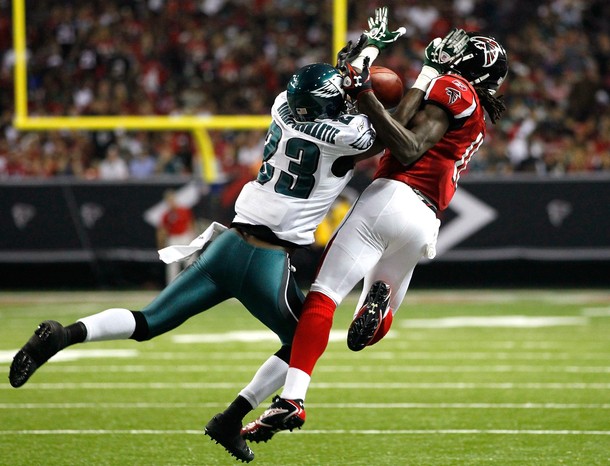 Despite a lackluster performance at the nickel position by Rodgers-Cromartie this year, head coach Andy Reid has continued to sing his praises.  On the topic of DRC playing outside as opposed to the nickel spot, Reid said, "Listen, that's where he's played over the years. We worked him as an inside player and I thought he was getting better every week with that, but his natural spot, where he feels the most comfortable is on the outside. He's looked good; he's done a nice job. He doesn't have a problem doing it."
Rodgers-Cromartie did make a nice play to break up a pass last week that was ultimately intercepted, but that was only after he took over for Asante on the outside after Samuel's injury.  Obviously, going into a game against a high-powered offense like the Cowboys, it is preferable to have all of your players healthy.  The one luxury that the Eagles have, however, is that even with their starting left cornerback ruled out, they can move another starting-caliber player into that position relatively seamlessly and also not lose production at the nickel spot.
The fact that the Samuel and DRC employ two different styles against opposing wide receivers does not seem to bother Andy Reid very much.  When speaking as to whether Rodgers-Cromartie playing press allows the Eagles to do different things because CB Nnamdi Asomugha plays press while Samuel plays off, Reid elaborated, "Actually, he's done both. I think he's as comfortable in either-or. I wouldn't necessarily say that, with the Asante part."
The fact that the Philadelphia pass rush has been in high gear over the last few weeks, combined with press coverage on both outside receivers could lead to a long day for Tony Romo and the Dallas offense.  If Asomugha and Rodgers-Cromartie can disrupt the timing of the receivers on the outside and the d-line can continue to pressure the quarterback, the defense is going to have a heyday.  It is, however, going to put more pressure on a young linebacking group, because Dallas will likely try to adjust and attack the middle of the filed with short and intermediate routes.