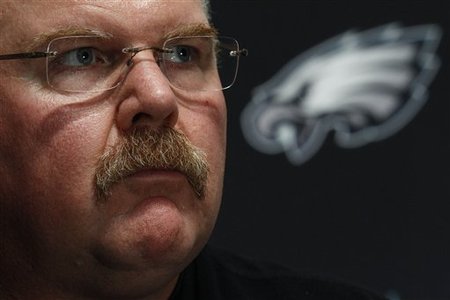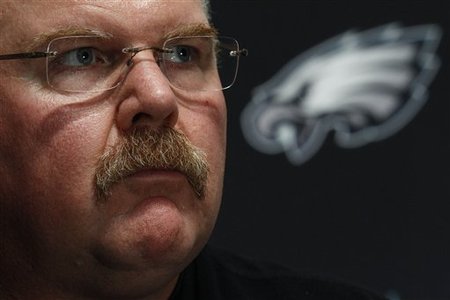 Andy Reid just finished his weekly Monday.  He admitted that he and everyone in the team's organization were disappointed by the fact that they won't be in the playoffs. You know what he said about not making the playoffs and who was ultimately  responsible for it.
"I'll never sit up here and make excuses; that's not how I operate, so I'm not going to start now", Reid said. "I'll take full responsibility for that. I think we all expected—players and coaches—to have a better record than we have today. So that's my responsibility, and to say anything less I'd be wrong saying that."
Despite the fact that he said previously that each season is different, Big Red couldn't resist the temptation to promote the momentum theory.
"Every year is different", Reid said. "I don't want to contradict that, but I do think that there is a carryover with the players that are coming back. I think you've seen the camaraderie, the football team gelling over the last few weeks. I think you can carry that part over through the offseason and let that drive you into the workouts and also give you a slight picture of what you can possibly be with good, hard work the following year."
As for the big picture and questions concerning next year, Reid says he's focused on winning the next week's game against the Redskins.  He says he hasn't had a conversation with Jeffrey Lurie about next season and his job status.
He said Michael Vick will be prepared to play the entire four quarters next week.
"Listen, this is what we do as coaches, this is what the players do as players, this is their profession", Reid said in response to a question about whether Vick would play four quarters on Sunday against the Skins. "So to say something's meaningless, I don't think that's right. I think it's an opportunity to play another game against a good football team and make yourself better as a team and as an individual and that's what you do."
Kurt Coleman has a biceps strain and will have an MRI tomorrow.  Brian Rolle has an ankle sprain.  LeSean McCoy has a slight ankle sprain and a slight hamstring sprain.  There's still a good chance that McCoy will play in next week's game.  Asante Samuel is still nursing an injured  hamstring.