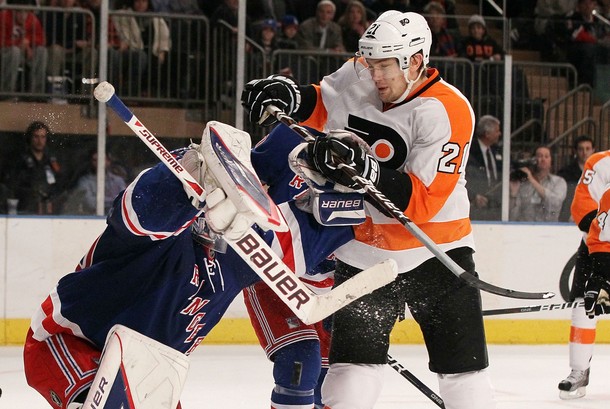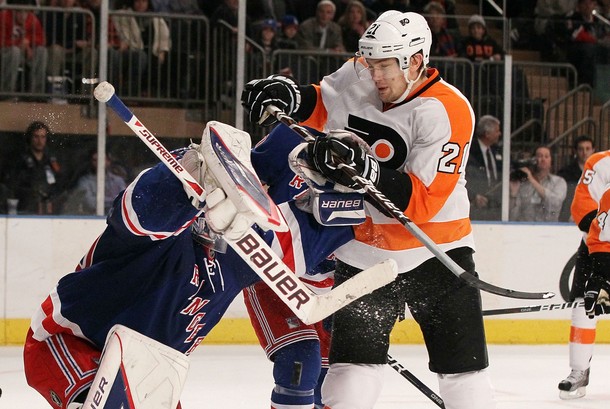 Frank Seravalli of the Daily News reported today what has been rumored for the last few weeks- James Van Riemsdyk may be playing through an injury.
Well, two injuries; a "banged up" knee and a "cam impingement" in his hip.
Flyers general manager Paul Holmgren denied both injuries, but they would explain JVR's minimal production through the last ten games.
For what it's worth, Seravalli also reported earlier this year that for the four games JVR missed because of a prior injury, he was actually a healthy scratch, according to one of his sources. Both the team and JVR denied it.
The news answers the question of why he has been held off the scoreboard lately, but it also raises another: should the Flyers shut him down for the next few months and surgically repair his hip and knee or wait until the offseason?
No hockey player wants to miss games if they feel they can play through it, but the team went through this situation last season with Mike Richards. After the embarrassment that was the Stanley Cup semi-finals against the Boston Bruins, Holmgren announced that Richards had been coping with a wrist injury as far back as training camp.
"It hasn't kept him out of the lineup, but it has inhibited his play, certain aspects of his play," Holmgren said of Richards. "I think it affected his performance in the faceoff circle. I think it's affected his shot to some degree."
I had hoped that the organization would have realized then how important it is to have its best players healthy come playoffs, but if this recent report is any suggestion, they are going to take the same approach with JVR.
The team currently has 46 points, good enough for 4th place in the Eastern Conference but within two points of 1st.  With Brayden Schenn back in the line-up tonight and Sean Couturier recovering from his head injury, the team would be wise to take care of business after the Winter Classic.
Would you rather have the JVR on the ice now or the healthy JVR from the 2011 playoffs come April?
For the latest Flyers news and updates, you can follow me on twitter (@JoshJanet).