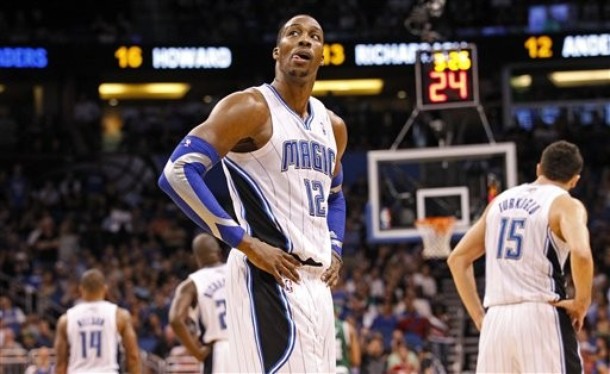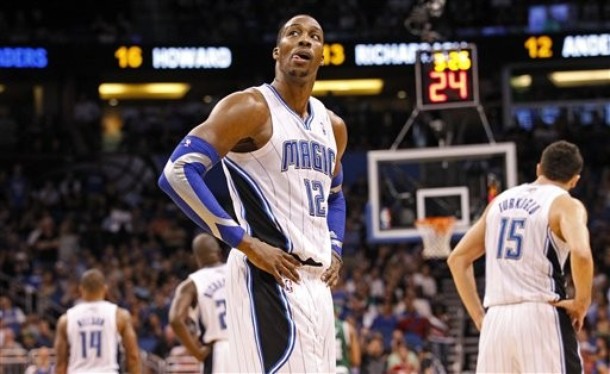 After Monday night's Sixers/Magic game at the Wells Fargo Center, Dwight Howard politely squashed any hope fans had that he would be donning a 76ers jersey at some point in the near future. When asked if he would consider playing in Philadelphia, Howard said, "This is a great team. They're playing great basketball right now. For myself, it's a blessing to be wanted by a lot of teams and cities. I feel honored. Right now, the only thing I can control is what I do with my team. The Sixers do look great. They've got some great fans behind them. But my job is to my team. And I'm going to continue to lead my team no matter what."
Let's take that quote, eliminate the politically correct crap, and say what Howard really meant, "Yea, Philly is much better than they were when I was destroying Sam Dalembert with elbows and dominating my way against them every time we met. But, nope, I'm still not coming here. They have great fan support, and all 212 of them showed their enthusiasm tonight. But yea, I'm still not coming here. Sorry. Now get D-Rose on the phone."
Seriously, people, he's never going to sign in Philadelphia. He's made it perfectly clear that he wants to play in one of the bigger markets, with at least one other superstar. While Philly is hardly Charlotte, it still doesn't have the bright light appeal of New York, Chicago, or Los Angeles. And even if Howard did decide he'd consider the Sixers as his next team, they'd still have to figure out what to offer Orlando in a trade.
I read somewhere that the Sixers would be able to get Orlando to accept an offer of Elton Brand, Spencer Hawes, and Evan Turner. If it were that easy, I'd take the chance of making the trade without a guarantee of him signing a new contract. There's no way Orlando is going to make that deal. The more likely scenario would involve the Sixers giving up Jrue Holiday, Turner, and Andre Iguodala.
Now I like Dwight Howard as much as the next guy, but if the Sixers acquired him for those three guys, they'd be worse off now than Orlando currently is with Howard. As a matter of fact, ESPN.com's trade machine says the Sixers would actually lose 8 wins if they made that deal. Holiday and Turner aren't even close to reaching their full potential as they continue to improve. Iguodala, while definitely not a fan favorite in Philadelphia, plays steady perimeter defense while also providing a more than adequate offensive game. If Howard somehow hits free agency and the Sixers find a way to convince him to sign here, then I'm on board.  But that's not going to happen. Big Dwight will end up with either the Lakers or Bulls. The Sixers will have to find another option.
Odds and Ends
-One of those options could be Knicks big man, Amar'e Stoudemire. I think it's unlikely a deal will be made, and again the Sixers should be careful in what they offer. People seem to overlook the fact that he's going to turn 30 this year and has a history of knee problems. Seems a bit risky for a guy who's making a boatload of money.
While he would instantly give the Sixers their most dominant big man since the Moses Malone days, the negatives could outweigh the positives, especially since the Knicks need a point guard and defense and would probably ask for both Holiday and Iguodala. I think the Sixers are smart for kicking the tires on Amar'e, but ultimately they'll realize the Knicks asking price will be too high for them to make a move.
-A name that could be linked to the Sixers in the offseason is Roy Hibbert. The Pacers center will be a restricted free agent and he would definitely fit in with this Sixers squad. If you really want to get mad sometime, do yourself a favor and take a look at the 2008 draft. The Sixers picked 16th overall that year and took the infamous Marreese Speights with their selection. The Pacers, with the very next pick, took Hibbert.
The rest is history. While the Sixers recently traded Speights for a couple of late round picks, Hibbert is slowly rounding into an above average center. He's currently averaging just under 14 points and 10 rebounds for the Pacers, and at 7'2 260 provides a big presence in the middle. Spencer Hawes gives the Sixers similar production, but he's had trouble staying healthy. Regardless, Hibbert would definitely have been a better pick than Speights. Thanks again, Ed Stefanski.