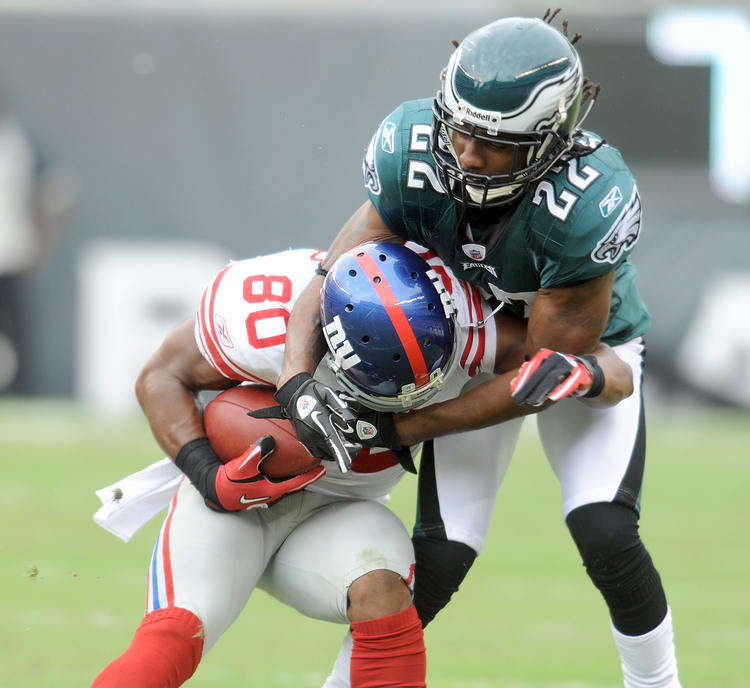 The judgement that the Eagles cornerbacks didn't tackle well last year, which was pointed out by Pro Football Focus and highlighted on Philly.com isn't new.   The fact that it was researched by a third party, monitored game by game and proven statistically is significant.
Andy Reid and his coaches are well aware that the play of their three Pro Bowl cornerbacks was abysmal.  It's the reason that defensive backs coach Johnny Lynn is no longer a member of the staff.   It's the reason Todd Bowles was hire to replace him.
They know that you're not going to be able to play good defense regardless of whomever your defensive coordinator is, if you don't tackle well.
That's especially true when you've got cornerbacks missing tackles repeatedly and letting receivers take short throws and turn them into long touchdown plays.
Throughout the year, defensive coordinator Juan Castillo pointed out that his defensive players weren't playing fundamentally sound football.  Castillo talked about improvement in the team's tackling due to their daily tackling drills during the season.
Reid pointed out that he has to take a close look at how he worked the football team in their abbreviated training camp.  He focused on finding a reason for their 1-4 start.
We talked more about Castillo's problems from a strategic standpoint, but his lack of experience in getting a defense ready to tackle effectively could be focused on as well.   It doesn't matter whether you're not getting the job done because of poor schemes or poor tackling.  In the end losing for either reason is losing.
The Eagles three Pro Bowl cornerbacks were the most talented and highest paid group on the defense, yet it's poorest tacklers. I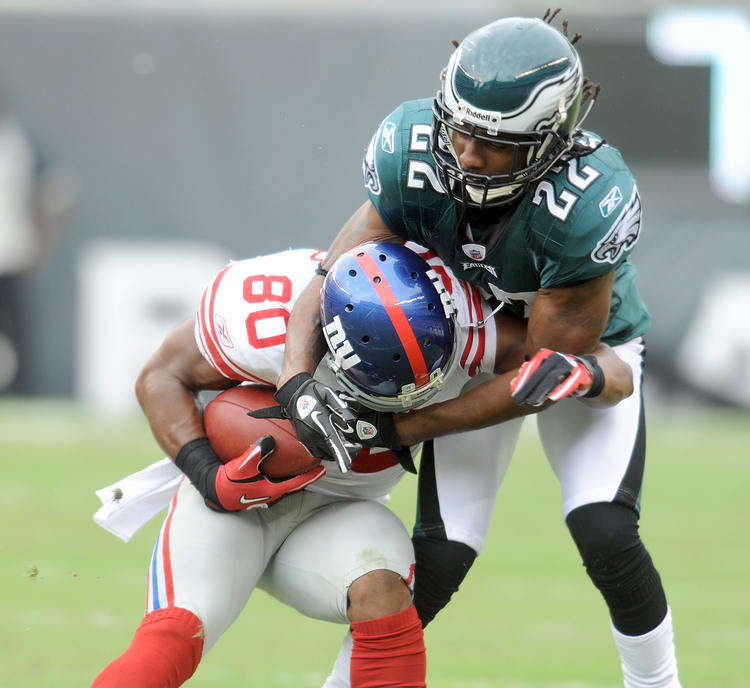 think the reason for it was partially attitude, lack familiarity with the coverages and lack of size.
Nmandi Asomugha has the size and athletic ability to be a very good tackler.  He was very apprehensive early in the season because of lack of familiarity with the Eagles defensive system.
Asomugha came in here as a supposed tremendous all-around player, but he didn't play like it.  Victor Cruz made him look like a joke by running through his tackles and turning short throws into long touchdowns.
It the same game which was a comeback win for the Giants, Cruz, who is listed at 6′ foot, went up over the taller Asomugha and took the ball away from him on a jump ball.
As the season continued, Asomugha's tackling improved.
Asante Samuel has never been fond of tackling.  He brags openly about the fact that it isn't something he likes to do. It's one fo the reason he may not be wearing midnight green this year.  The coaching staff is concerned about Samuel's attitude being adopted by Dominique Rodgers-Cromartie and the other young Eagles cornerbacks.
He's been capable of delivering a serious blow to a ball carrier, when gets a shot a runner who is unprepared for the hit.  Samuel doesn't have enough muscle in his upper and lower body to be a great tackler, but he needs to be more committed to being a better tackler.
Rodgers-Cromartie doesn't seem to be focused, committed and smart football player.  I see some of the Samuel attitude in him when he approaches a ball carrier to make a tackle.  Rather than attacking the runner he seems to be passive.
They've got to change his mentality, when it comes to tackling.  DRC must first of all want to become a better tackler.  He needs to get in the weight room and get stronger because he's lacks sufficient upper body muscle but has the frame to carry much more.
DRC could be a great cornerback and I think the hiring of Bowles was made with him in mind.  His potential is through the roof.  Consider this, he may be faster than DeSean Jackson, plus he's got great size, but he makes far too many mistakes in coverages and doesn't anticipate routes.
Too many times, he makes the receivers' jobs easier because he doesn't seem to have a thorough knowledge of what offenses are trying to do to him.  DRC is also terrible at coming down with interception opportunities.  He could learn a thing or two from Samuel in that department.
In much the same way that Castillo and this defense will be a focal point, Bowles and his pupils will be especially under the spotlight during the season.  From what I've heard through, an NFL source, Bowles took this job knowing that success here in the spotlight could mean a legitimate shot at a defensive coordinator position and future head coaching spot.