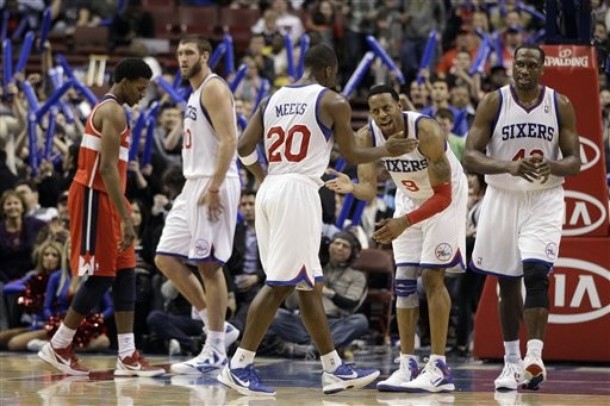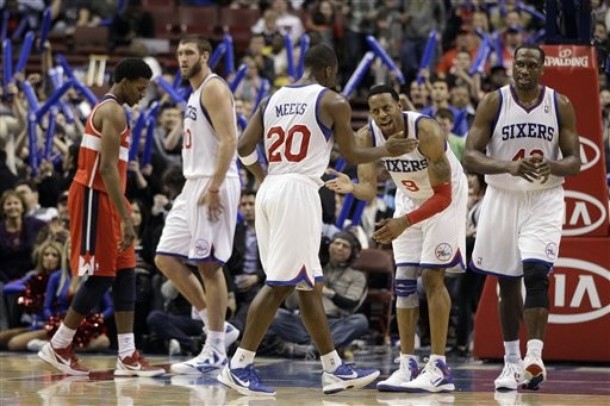 Well boys and girls that was not the way to go into the All-Star break; with a 5 game losing streak. Though overall it was a solid first half by the Sixers. They have a 3 1/2 game lead over the Knicks for first place. So I figured I would hand out some first half grades for the team and the players. So let's get this started…..
Jrue Holiday – It has been an up and down season for him. He will have two good games in a row then two bad ones. He is only 21 years old; I believe that has a lot do with it. He is still growing. Holiday is at his best is when he is attacking the rim. He can finish with his left-hand all day long. He is second on the team in scoring at 13.6 ppg. His assists are down because he plays with Iggy, Turner and Lou. I am hoping for a more consistent second half by him.
Grade C
Andre Iguodala –  Even though he is only scoring 12.4 ppg his lowest total since his second year in the league, I feel this is his best year. He finally understands his game now knowing that he is not scorer. He does a lot of the little things out there. He will likely make the first team all defensive team this year. He is actually shooting a career high 37% from down town.  He is averaging 6 rebounds and 5 assist a game. He is at his best in the open court. He is a first time all-star and the Sixers first half MVP.
Grade B+
Lou Williams – Man, when he gets going he can score from any where. He is the Sixers most natural scorer. He is their best option at closing out games. I love Lou but if he is not scoring he really does not do much else. That is why he is perfect in the 6th man role. He comes in and let's it fly. He leads the Sixers in scoring at 16 a game. He has struggled the last 4 games shooting just 28% though. Still has had a good first half.
Grade B
Spencer Hawes – The Sixers are 12-2 in the games he has played. Easily, would have been the Sixers first half MVP if he did not get hurt. He has 6 double-doubles in 14 games this year and has been the Sixers filter for there half-court offense. They are a better half-court team when plays. Not sure if he will comeback this year. If he does, it seems as if the injury will linger. He is shooting 56% from the field.
Grade B
Jodie Meeks. Struggled in the very beginning of the season then started to find his rage. All honesty though, he is good for about one good game a week. He is the Sixers best deep threat. He is shooting 40% from 3 point land. He still struggles with creating his own shot. He has gotten better with coming off screens and knocking down his jumper.
Grade C
Evan Turner – He leaves me scratching my head. They guy came out with a ton of confidence this year. Knocking down jumpers and getting to the rack. Then he had a couple of bad games and there went his minutes. In the last ten games he has gotten less than 20 minutes in 5 of them. He is only averaging 22 min a game. Turner has a bad habit at times just standing around on the wing. He needs more minutes to flourish though he has to earn them too. He is a great rebounder averaging 5.6 a game. Turner and Holiday are the keys in the second half for the Sixers if they want to make any noise in the playoffs.
Grade C-
Elton Brand – He gives you all he has left in his bang up body. At times you still see what he used to be but you just don't see it enough from him. He has only 6 double-doubles this year so far. He is averaging 5 points less than he did last year. Still is the only option for the Sixers to throw the ball into the post too. The ultimate professional.
Grade C
Thaddeus Young – He and Iggy have been the most consistent players for the Sixers. You know what you are going to get from him every night. His jumper has improved big-time this year. He is shooting 50% from the floor. He is very crafty around the rim. Thad's energy is second to none. If he started and got more minutes I think we would be talking about him in the All-Star game.
Grade B.
Vuc/Lavoy Allen. I will tell you what, they have performed a lot better than I thought they ever would. They both have very good basketball IQ's. That has helped them make the transition from college. Both have a very good touch with the ball. They have done all they could so far for being a late first round pick and a second round pick. I am impressed.
Grade C+
Battie – The elder statesmen. When has been called upon he has done a solid especially in the games going against Dwight Howard and Marc Gasol. He has played his role perfectly.
Grade C
Elson/Nocioni/Brackins. Elson has played maybe 5 minutes total since being signed. Brackens is in the D-league. Nocioni had a very rare start the other day and struggle. Other than that he has not played at all.
Grade Incomplete
Hey man, like I said before, this still is solid start for the Sixers especially without your starting center most of the year. They are 20-14 in which is their best start since 2000-01.  We have learned that their strengths are defense in which they rank first in points allowed at 87.5 ppg and the open court. Their weaknesses are half-court offense and finishing games. They are just 2-9 in games decided by 7 points or less. Grade B. Me likey.