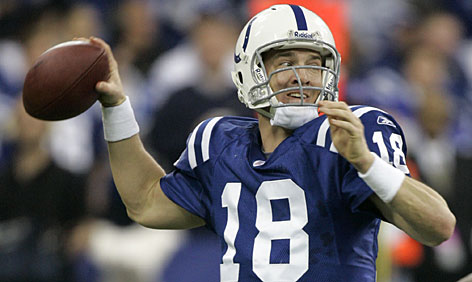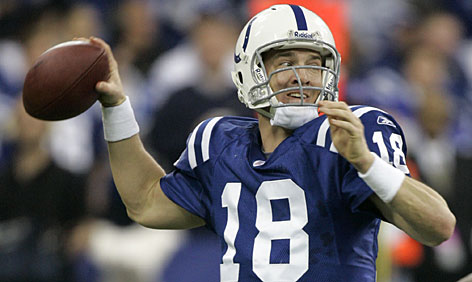 At his January "I am going to fire Reid…NOT!" press conference Philadelphia Eagles owner Jeffery Lurie informed the media and the fans that he considers himself to be a risk taker. He also has informed the fans multiple times during the past few seasons that the Eagles are "all in," if that is true wouldn't the Eagles go after Peyton Manning?
Manning is an injury liability but so is the Eagles current quarter back Michael Vick. Baed on recent history, Vick is guaranteed to miss 2-4 games in 2012, Manning never missed a game prior to last season.  Yes, Manning is coming off a serious injury but it can be argued that Michael Vick has an equal chance of suffering a season ending injury as Peyton Manning. So C'mon Lurie, you big ol' risk taker, take the risk bring in Peyton Manning.
If you are hesitant in ditching Vick for Manning take these stats in to account, Michael Vick's career high for touchdown passes in a season was 21, Peyton Manning's lowest amount of touchdown passes in a season is 26, and that was his rookie season. Michael Vick has played in all 16 games only once in his NFL career, Peyton Manning did not miss a start in his career until his neck injury last season.
When looking at the Eagles bringing in Manning, Lurie "the risk taker," should ask himself these questions: Would the Eagles red-zone offense continue to struggle if Peyton Manning was at the helm? Will the complexion of the locker room change for the better? Will the fan base be regenerated with enthusiasm? If Michael Vick gets hurt in week two and Trent Edwards is leading the Eagles for an extended period of time will Philadelphia sports talk station be filled with callers and host looking back to this time and second guessing the front office?  Could the Eagles get Manning on the cheap?
The fact is despite what Lurie claims; he is not a risk taker, not in football anyway. If Lurie was a risk taker wouldn't the Eagles have drafted Randy Moss back in 1998? Didn't off the field problems cause the Eagles to opt for the talented yet safer pick in Tra Thomas. The Eagles wide receivers in 1998 were the 67 year old Irving Fryar, Jeff Graham and Dietrech Jells, please do not argue the team really needed a left tackle.
What about Warren Sapp in 1995? The Eagles stayed away from him because he was considered a risk, instead opted for the safer Mike "Almost Sacked Him" Mamula. If Lurie was a risk taker, why didn't he simply pay Terrell Owens after the 2004 season, sure it would have been a risk, but isn't that what risk takers do? If Lurie is a risk taker why is Andy Reid still the head coach, Reid is the safer option, not the riskier one. The Eagles take risk once about every five years, and when they take the risk and get burned they retreat.
The Eagles have the chance to acquire one of the greatest quarterbacks in NFL history at a bargin basement price, yet they will NOT do it because signing Manning, and releasing or trading Vick is a major risk. RISK is the only reason the Eagles will not go after Peyton Manning, if there was no RISK involved it would be a no-brainer.