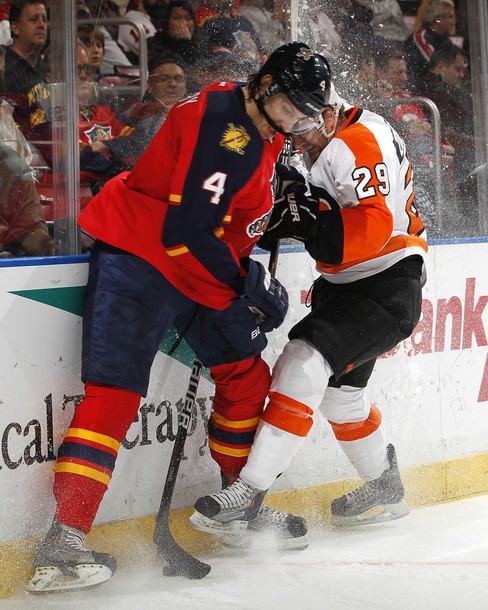 The Flyers announced today that they have recalled not one, but two Adirondack Phantoms for tonight's game against the Florida Panthers.
With Jaromir Jagr as a game-time decision and Jake Voracek officially "day-to-day" at this point, Harry Zolnierczyk will likely be in the line-up. Jody Shelley will be the 12th forward if necessary.
The other call-up is rookie defenseman Brandon Manning. Manning, 21, was signed by the Flyers as a free agent last year from the WHL. He was sidelined for the Phantoms at the beginning of the year but now has 4 goals and 9 points in 32 games played.
Tim McManus of the Post Star tweeted this about Manning: "For those asking on Manning: impressed as a team-first, feisty player. Great shot from the point. Has come along quickly since injury. Manning was evolving into one of more popular players here in less than half season b/c style of play. Always stood up for teammates."
Manning may not actually play tonight but could be a seventh defenseman in case of more injuries. The Flyers have recalled Harry Z under emergency conditions, meaning they still have one more recall left before the end of the season.
James van Riemsdyk, recuperating from foot surgery, was placed on LTIR in order to fit both players under the salary cap.
For the latest Flyers news and updates, you can follow me on twitter (@JoshJanet).