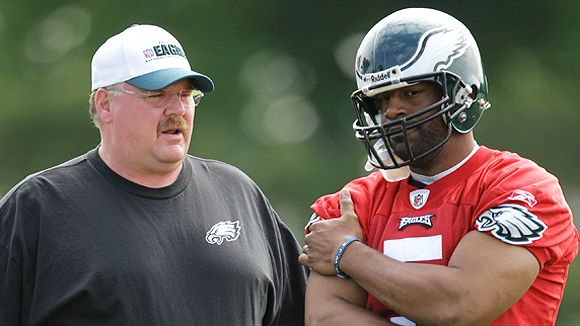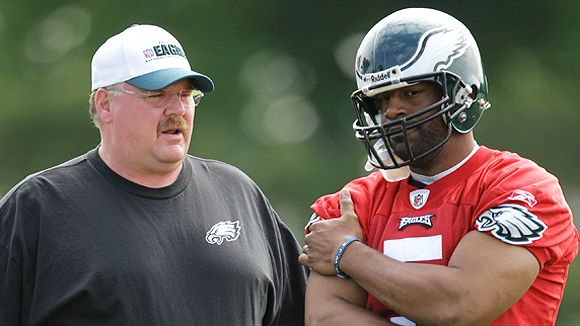 Believe it or not, the question in the above title was posed earlier today to Eagles head coach Andy Reid at the NFL owners meetings.
Here's how Reid responded:
"I'm surprised by the fact that he didn't have the success after leaving Philly. I wasn't there. I'm not sure how that worked. I still felt when he left here that he had 2 or 3 years of great football. It didn't work out that way for him. I haven't entertained that last part of the question. I haven't gone there. I think it's tough for a guy that's been the guy for that long to come back."
Whether or not Reid was surprised by McNabb's poor play is irrelevant. In fact, I'd be willing to bet Reid wasn't all that shocked, you know, considering he traded the franchise quarterback to division rival Washington. But I digress.
The most revealing part of Reid's reply was the last part about it being tough for someone who's been the guy for so long to come back in a lesser role. Translation: Donovan is cooked and even if he isn't, there's no way his ego would allow him to return here in a backup role.
I've previously considered a possible McNabb homecoming given the Eagles' need for a legitimate backup quarterback (sorry, I'm not bullish on Mike Kafa or Trent Edwards), but I'm not sure McNabb himself is a legitimate backup quarterback at this point. But let's suppose for a moment that he can still get it done…
The Eagles are looking to get younger at the position and multiple reports indicate they could spend an early-round draft pick on the position, so brining in the 35-year-old McNabb would seem conterproductive. What's more, McNabb has always been a bit of a controversial figure in Philadelphia, and I'm not sure Reid wants to deal with McNabb's mopey personality or the controversey his return would almost certainly bring.
Yeah, the perception of some fans is that McNabb failed in Philadelphia, but that's not true. The six-time Pro Bowl quarterback led the Eagles to five NFC Championship Game appearances, reaching the Super Bowl once. He started 142 games and threw for 32,873 yards and 216 touchdowns. At his peak he was one of the best quarterbacks in the league. He's certainly one of best quaterbacks in franchise history.
So while there's a vocal minority that doesn't care for McNabb, he's beloved by many. In the event Michael Vick struggles or goes down for two or three weeks the Eagles don't need the headache of the quarterback controversey that would ensue.
A McNabb homecoming? An interesting thought, but it's not going to happen.