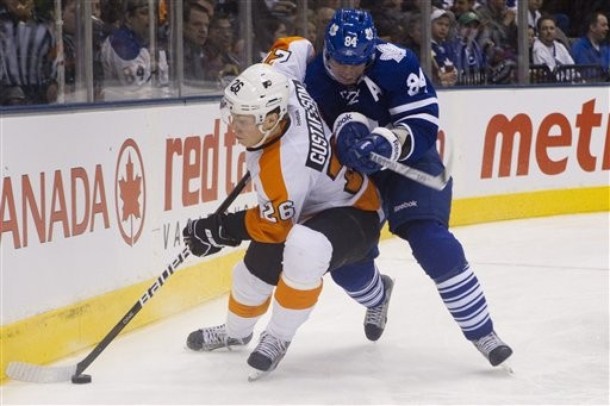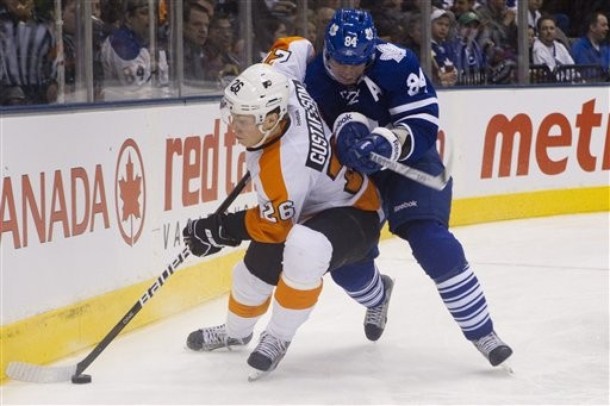 Entering the 2011-12 NHL season, defenseman Erik Gustafsson had been pegged as the prospect most likely to make the jump to the big club.
Signed by the Flyers in March of 2010 as a collegiate free agent defenseman from Northern Michigan University, Gustafsson filled a void in the system that had been depleted from years of trading draft picks.
Gustafsson, however, is following in the footsteps of former Flyer and much maligned defenseman Randy Jones. His future is not guaranteed to skate in the same circles as Jones, but there are enough similarities to wonder whether Gustafsson has what it takes to escape the failures of his predecessor.
At Northern Michigan, Gustafsson tallied at least 32 points in each of his sophomore and junior seasons while being named the Central Collegiate Hockey Associations's "Best Offensive Defenseman."
Jones was signed in the summer of 2003 after his sophomore year at Clarkson University. Jones, named a "First-Team Eastern College Athletic Conference All Star" and "Team MVP," tallied 33 points in his sophomore season with the Golden Knights.
"Outlook good."
Gustafsson was the lone Adirondack Phantom named to the AHL All Star team last season and finished the year with 5 goals and 49 points in 72 games played.
Jones played two full seasons with the Philadelphia Phantoms, putting up 56 points over that span. His time in the AHL helped prepare him for when he finally made the Flyers' line-up as a regular in the 2006-07 season and scored a modest 4 goals and 22 points.
"All signs point to Yes."
His 31 points in 2007-08, as well as an excellent stretch of play on the way to the Eastern Conference Finals, eventually earned him a two year, $5.5 million extension.  It would be the high expectations from this contract that would ultimately lead to his downfall, as the club elected to place him on waivers in 2009 in order to fit rookie James van Riemsdyk on the roster.
Jones was recalled when injuries mounted, but was grabbed off of waivers by the Los Angeles Kings. He has since played for the Tampa Bay Lightning and the Winnipeg Jets.
It's a "chicken or the egg" debate to say that the Flyers can't develop defensemen. In the past, the organization has relied heavily on trading draft picks, prospects or roster players to acquire the majority of their blueliners while never drafting higher than the 3rd round for defensemen.
As a result, it has become a rarity for a homegrown defenseman to emerge from within the system as a franchise player.
"Concentrate and ask again."
When Jones "broke out" in the 2008, he had spent a considerable amount of time during the regular season paired with Kimmo Timonen, Jason Smith, Lasse Kukkonen and Derian Hatcher. Hatcher, now a retired U.S. Hockey Hall of Famer, was his linemate throughout the playoffs.
Anyone can look like they belong in the NHL with those partners.
Unfortunately, Jones was paired with Andrew Alberts the following season, and without a more stable partner at his side, he struggled to produce. It didn't help matters that he only played 47 games that season, sidelined with a hip injury.
Much like Jones in 2007-08, Gustafsson has skated with veteran defensemen this season in Andrej Meszaros, Matt Carle and Pavel Kubina, although Gus has been used primarily against weaker competition while Jones was elevated into a shutdown role at first.
Since his departure from the organization, Jones has settled into a marginal fifth/sixth journeyman defenseman. His ice time and production have both dropped steadily over the last three seasons, and it's unknown where he'll end up next season, if even the NHL.
"Very doubtful."
With 1 goal and 5 points through 30 games, Gustafsson has been serviceable enough to where he's not usually noticed on the ice. After becoming exposed a bit in the last few games while partnered with Kubina, he has since been sent back down to the Adirondack Phantoms.
Taking into account the amount of unrestricted free agent defensemen on the roster and the uncertainty of Chris Pronger's future, there is a reasonable chance that Gustafsson will make the 2012-13 roster at the beginning of the year thanks to the cost-effectiveness of his contract. The Flyers would be wise to recall the path of Randy Jones' development when assessing Gustafsson's play this season and next.
"Outlook hazy, try again later."