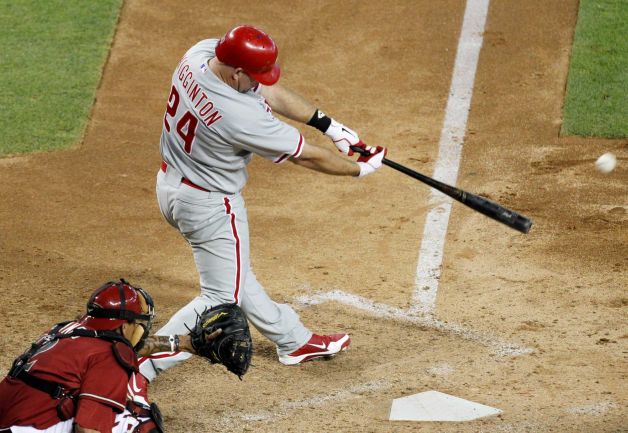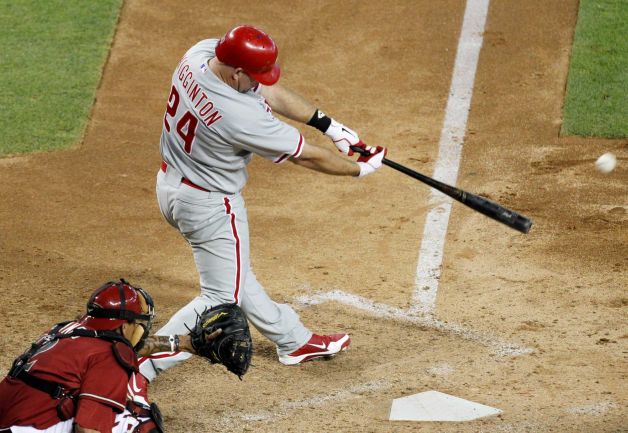 Injuries are the poor man's excuse for the Phillies lack of offensive prowess of late, but that problem may be solved with one Philadelphia's top bats returning to the lineup sooner than a February setback may have led the public to believe.
Ryan Howard's Achilles has been healed and he is heading to Clearwater for some baseball exercises, which puts him on the right track for a long awaited return. This means Charlie Manuel will get one of his most powerful bats back in the lineup and also means Hunter Pence and Jimmy Rollins will have a little bit more protection when they step between the chalk.
The All-Star's near return means that Ty Wigginton's days at the corner of Philly's infield are numbered. He has done a great job stepping up at first base and has exceeded expectations in this early season.
He has made two errors fluctuating between first and third base, one at each position, and for a 230-pounder he can surprise naysayers with his decent range. He isn't going to have a closet full of Gold Gloves or even one by the end of his career but he was thrown to the wolves this season and he has held his own in Manuel's infield.
His hitting has been even more impressive than his fielding. After a horrid start to the year, Wiggy has been swinging the bat with authority. In his 16 games this season he has hit an impressive .304 with an OPS soaring to .800. His strikeout totals are high, but with an inconsistent hitter like the utility infielder that is bound to happen. He has kept the ball on the ground which forces opposing teams to make plays rather than giving outfielders can of corns. His grounders have been able to find holes and he is yet to hit into a double play, which is a great asset to have in the lineup.
Inevitably he must begin to count down the days until Howard returns to his throne. Wigginton isn't going to overtake Polanco at the hot corner, but will be moved to the hardest position in baseball, pinch hitter. The Phils' pinch hitters have only accounted for one hit coming off the bench this season and that is a huge problem.
We could sit here and blame injuries, but at the end of the day the team needs pinch hitter to find a way to win. Wiggy has failed to reach base in his two pinch hit attempts this season and on't expect him to start picking up the pinch hitting slack. During his 2011 campaign with the Colorado Rockies he only had two hits in 15 at-bats coming up to the plate cold.
With absolutely no one on Philly's roster hitting off the bench, Howard's return will give the one-time All-Star a chance to step up as Manuel's go to pinch hitter. After all, Jim Thome and Lance Nix have proven that job is clearly up for grabs with their one combined hit in 13 at-bats.