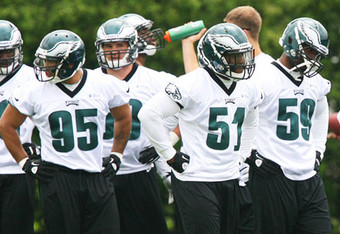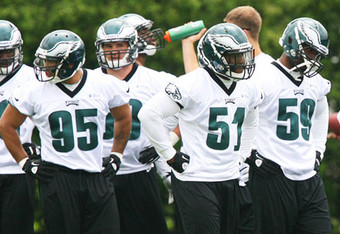 It was fitting that DeMeco Ryans was wearing number 59 yesterday, which was the number former Eagles linebacker Seth Joyner wore back when the Eagles had a defense that made opponents fear coming to Philadelphia.
Ryans has been acquired by the Eagles to help build a new defense which has that type of reputation.  I could tell from what he had to say after the workout that he knows what it takes to make that happen.
The Eagles linebackers got their first workout together on Tuesday, and as you would expect everybody's eyes were on the guy in the middle.  It was a day for feeling things out for him, and he got his first taste of playing with his new teammates in a new system.
"It was fun," said Ryans to a group of media members. "I've just been waiting for a long time to put the Eagles gear on and step up out there. It was fun being able to come together as a team and get a little practice in. I enjoyed it. Things start moving kind of fast out there the first day, but it was a good start for us."
"I was comfortable. It's similar to things I've done in the past," he said. "I was very comfortable with what we were doing today … things happen a lot faster than they do on film."
"Having the spring practices is important because you get to detail your defense," Ryans said. "You get to really hit all the details. Last year, defense was starting over new, you had to kind of learn it over new, learn it on the fly, and there wasn't the detail to go into it. This time around, we get to detail our defense, take our time, install and really master what we're doing.
"Right now, I think we're working well together, communicating. It's all about communicating and right now we're doing a good job of communicating with one another and it just gets better from here on out."
Understandably, it's going to take him some time to get as comfortable with the system as he was in Houston, but  I love the fact that he mentioned "detail" when talking about the defense.  He also talked about "mastering" their own defenses and coverages.
The key is the word "detail" regarding both the new defenses and coverages which he must learn.  He also mentioned "mastering what we're doing".
I loved the fact that he stressed these points.  Detailing their work and mastering what they're doing has been missing from the Eagles linebacker play.  The linebackers are supposed to know their defenses and coverages like the back of their hands.  They should be directed everybody else about where they're supposed to be and what to expect.
In addition, they're supposed to have studied the other team to the point where they're recognizing formations and correctly predicting the plays which are run against them.  It takes studying hours upon hours of tape and paying attention to the details in order to figure what opposing defenses are going to do against you.
When you do your homework and are on top of everything, it establishes you as a leader.  The linebackers are supposed to be the leaders of the defense but they haven't been the last few years because they haven't been on top of everything.
I expect Ryans to change that.  Like Joyner years ago, he'll be able to teach young linebackers like Mychal Kendricks, Jamar Chaney, Brian Rolle, Casey Matthews, and Keenan Clayton how to study and prepare for an opponent.  Having an experienced leader like him at the helm will help every player on this defense.
"It doesn't take long; it just takes time to learn the guys, learn the locker room and get comfortable around everyone", Ryans told the media group surrounding him. "Being here over the past month, working out with the guys, you get more and more comfortable," he said.
I feel like we're finally going in the right direction.