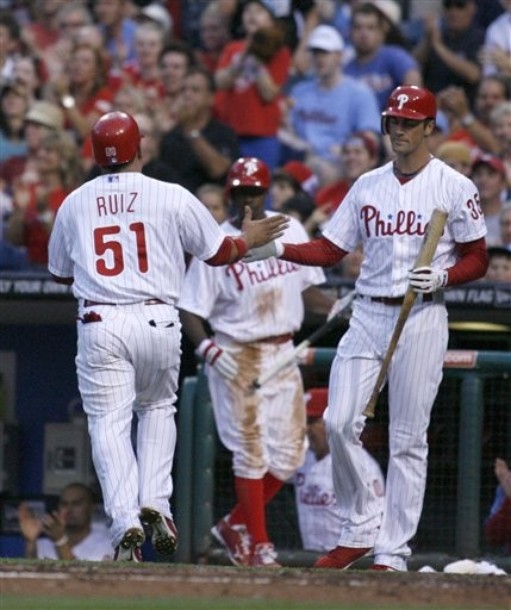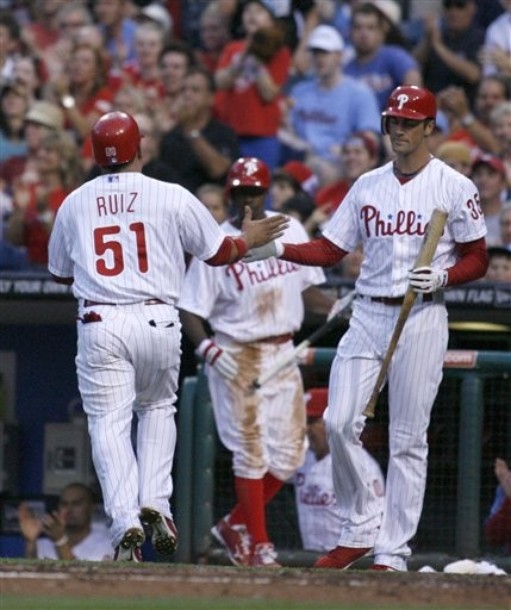 Charlie Manuel has been searching all season for a lineup combination that can consistently produce more than three runs a game. He's given many different players a chance to perform in different roles, and he just hasn't found a batting order that he feels confident in yet. On Wednesday, the Philadelphia manager's latest offensive changes featured catcher Carlos Ruiz batting in the cleanup spot with Hunter Pence moving to the three-hole, and Shane Victorino dropping to fifth.
"The media told me to move him up there. Make sure you hit Chooch fourth. Thought I'd make somebody happy," Manuel joked. "I've got a lot of people telling me what to do."
Manuel's latest lineup didn't set the world on fire, but they were able to put four runs on the board to support starter Cole Hamels.
It was the first time in Ruiz's career that he had been asked to hit in the cleanup spot, and the catcher responded by picking up three hits in four at-bats, and scoring a run. The Panama native might not be able to supply the Phillies with the power of a typical cleanup hitter, but he can offer his team-high .357 batting average, and his ability to come through in clutch situations. He had a good showing in his first game in the four-hole, and it may be best if Manuel leaves him there for the time being.
Ruiz is the best choice to bat cleanup not just because of his production at the plate, but because of the disappointing season Hunter Pence is having. Pence has been brutal as the team's fourth hitter most of the season. While he's been able to hit 10 homeruns and drive in 28 runs, he's been brutal with runners in scoring position, batting just .228. It might be best to get Pence away from the four-hole for a little while, putting him in a role he's more comfortable with might help him relax and become a more productive hitter again. He went 0-2 on Wednesday, but did manage to draw two walks and score a run.
Shane Victorino also responded well to hitting fifth. The centerfielder went 2-3 with a homerun, and drove in two runs last night. He's not cut out to be an ideal three-hole hitter, and should enjoy much more success hitting lower in the order.
Charlie Manuel is doing all that he can to come up with an effective lineup. There isn't anything he won't try at this point to get runs on the board. His latest batting order was able to produce four runs and a win for him, and that may be what he decides to stick with, at least for the next game or two.