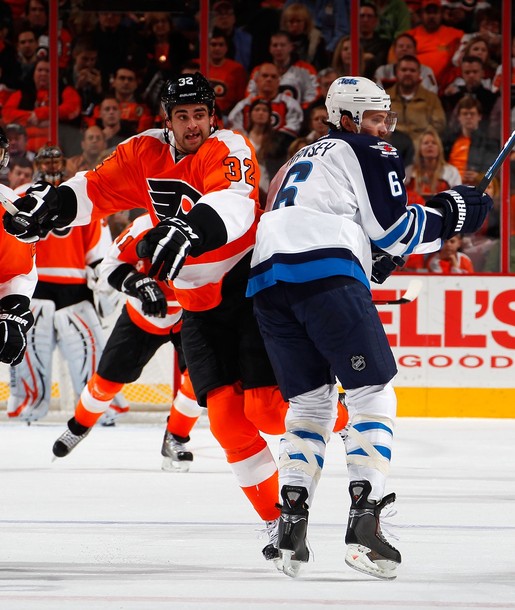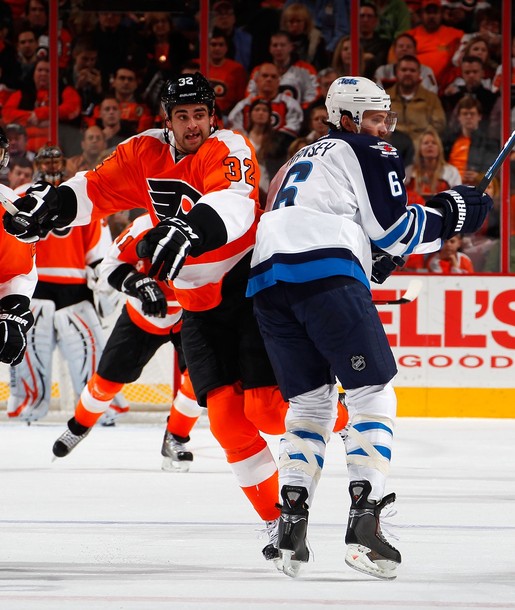 At the 2011 NHL trade deadline, the Philadelphia Flyers sent their most recent 3rd round draft pick, center Michael Chaput, and Adirondack Phantom Greg Moore to the Columbus Blue Jackets in exchange for forward Tom Sestito.
The Flyers won the trade in terms of finding a player that could make a quicker impact on the roster. Sestito, a former 3rd round pick himself, had shown through four seasons in the AHL with the Springfield Falcons that he could score in addition to serving as an enforcer. In 200 games with the Falcons, Sestito racked up 36 goals, 92 points, and 700 penalty minutes.
In his first full season with the organization, though, Sestito was a bit of a letdown. He was expected to give Jody Shelley a run for his roster position in the preseason, but both he and Shelley were suspended after making vicious hits. Zac Rinaldo essentially won his spot by, oddly enough, being the more levelheaded player of the three.
During his time with the Phantoms this past season, Sestito tallied 9 goals and 17 points through 36 games. This was not off pace from his past production. He eventually made it to the Flyers' roster, but through 14 games, Sestito had only one assist and 83 penalty minutes.
By comparison, rookie Eric Wellwood tallied 5 goals, 9 points, and 2 penalty minutes in 24 games played.
Sestito's season was cut short by a groin injury sustained during a fight with Zack Kassian (formerly of the Buffalo Sabres and now a Vancouver Canuck).
Sestito is a restricted free agent, but is likely to be back for at least one more year. The same logjam exists with Sestito, Shelley and Rinaldo playing essentially the same role, but only Sestito has (on paper) the tools to really be an impact player on the fourth line.
If you don't think the fourth line is as important as the first, just ask the New Jersey Devils for their thoughts on the subject.
While this trade can still be successful in the short-term, a failure on Sestito's part to develop at the NHL level moving forward looks even worse after Chaput has now become an impact player at the junior level.
After the Shawinigan Cataractes defeated the London Knights in the Memorial Cup on Sunday night, Chaput earned the Stafford Smythe Memorial Trophy as the most valuable player.
Chaput's regular season production has only improved marginally over the past two seasons, but his defensive improvement has been excellent. Although the +/- stat has its flaws, it's impressive that Chaput was a -12 when he was drafted and finished his last season as a +39.
His 5 goals and 13 points in 12 games played throughout the tournament suggest he has a bright future ahead of him. The Blue Jackets apparently think so as well, having inked him to an entry level contract at the end of April.
The Phantoms could have used Chaput next season, as their top four centers at the moment are Eric Wellwood, Ben Holmstrom, Rob Bordson and Luke Pither. Nick Cousins won't be eligible for the AHL until the 2013-14 season.
It's too early to call Sestito a "bust," but if he doesn't make an impact on the team next season, then there's much less chance he's ever going to.
For the latest Flyers news and updates, you can follow me on twitter (@JoshJanet).