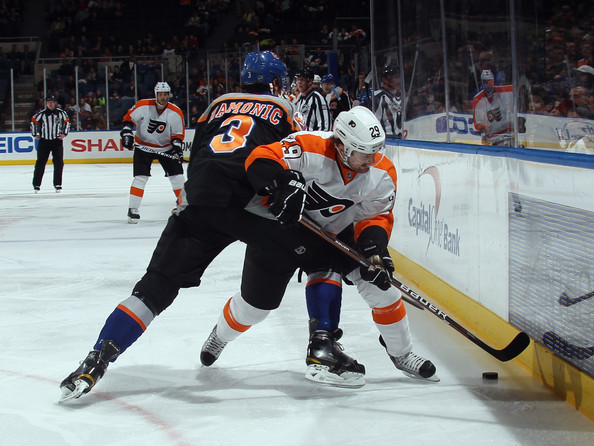 With the 2012 NHL Entry Draft four days away and free agency looming soon after, there have been a variety of news stories reported today regarding the Philadelphia Flyers. For the sake of brevity, I've hit many of the major points below.
According to Sam Carchidi of the Philadelphia Inquirer, the Flyers have extended qualifying offers to the following restricted free agents: Jake Voracek, Tom Sestito, Harry Zolnierczyk, Marc-Andre Bourdon and Ben Holmstrom. They have not extended offers to Mike Testwuide and Andrew Rowe.  Assuming that Matt Carle is either re-signed or replaced, the Flyers would have 45 contracts on the books (out of a maximum of 50).
The offers extended to all but Sestito are lower than their previous contracts, and even Sestito's is a marginal raise. In spite of the salary cuts, all are likely to sign as the Flyers offer them the best opportunities to make it to the NHL.
Voracek's offer, however, is for $2.25 million, or the same salary he made this year. Paul Holmgren and Voracek's agent, Peter Svoboda, don't appear to be close at all on what Voracek is due next season. As I stated last week, the Flyers will need to be sensitive to how quickly they can get a fair deal done before they run the risk of losing him to an offer sheet.
Randy Miller of the Courier Post published yesterday an "in-depth look" at the top prospects for the Philadelphia Flyers with Chris Pryor, Director of Hockey Operations.  The story posts the top ten prospects along with a "best of the rest" grouping, all with quotes from Pryor on the organization's view of said player. While the absence of Testwuide and Rowe don't come as a surprise, Miller qualified via twitter that prospects Shane Harper and Jason Akeson were not considered "top prospects." Akeson, however, finished last season as the 2nd highest points producer on the Adirondack Phantoms, behind forward Matt Ford.  Akeson is a player I would have considered in a good position to fight for a fourth line roster position next season.
Darren Dreger of TSN reported via twitter, "Jaromir Jagr enjoyed Philadelphia, but plans on testing free agency. Also plans to change training to shed some lbs and get faster." I don't believe the organization has plans to re-sign him unless they move a top six forward like Voracek or James van Riemsdyk. If Jagr is going to test free agency, the Flyers would have to match a cap hit similar to, if not higher than, the $3.3 million hit they offered him last July 1.
Paul Holmgren spoke with the media today regarding the NHL draft, among a number of topics. The Flyers, to the surprise of no one, are happy with the position of the 20th overall pick and will take the best player available.
"I'm fairly certain that we'll be able to get him signed." – Holmgren on Matt Carle.
"Holmgren's comments about Matt Carle stand out because there is a lot of talk the player's preference is to move closer to his western-based family, barring the Corleone offer he can't refuse. His twitter account (@mattcarle25) is the best Alaskan tourism ad in existence and brother David works for the University of Denver's hockey program. (Congratulations to David on his graduation, four years after his playing career ended due to hypertrophic cardiomyopathy.)" – Elliotte Friedman in his most recent most recent "30 Thoughts" Column.
"I haven't spoke to Jaromir or his agent since right near the end, like, within two days, the season was over. We just kind of left it that we'd talk later on and near the end of June. Again, we don't know what the salary cap is gonna be, so there's a lot of variables there we have to weigh on."- Holmgren on Jagr
"There's nobody there right now that I would do that for." – Holmgren on trading for a player's rights.
"I guess it would be good. I think we have a couple young guys that we signed here. Niko Hovinen is gonna play this year in North America. Cal Heeter out of Ohio State, we signed so we have some young guys under contract that are gonna play in the system. But that doesn't mean we wouldn't look at a goalie at some point in the draft, possibly even the first round, who knows." – Holmgren, when asked if the Flyers would consider taking a goalie in the first round.
For the latest Flyers news and updates, you can follow me on twitter (@JoshJanet).