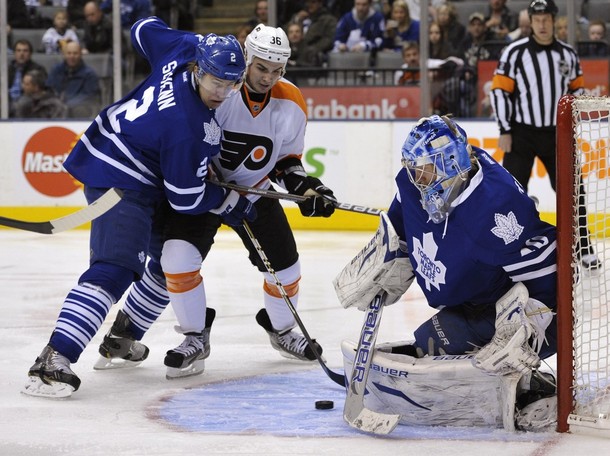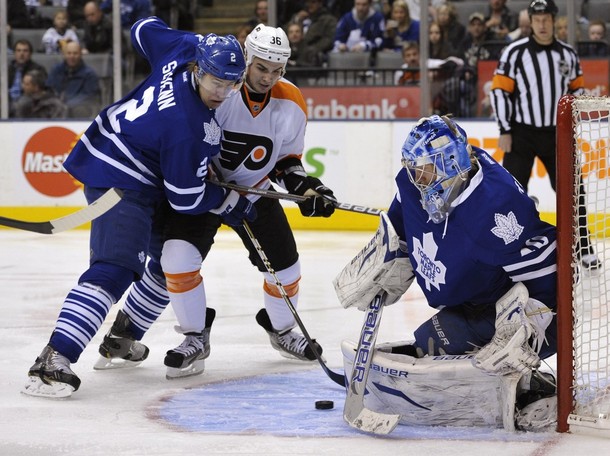 A year ago today, Mike Richards and Jeff Carter were traded in spite of signing long-term contracts to stay in Philadelphia. The trend continued this evening as James van Riemsdyk, set to begin his six year, $25.5 million contract in July, has been traded to the Toronto Maple Leafs for defenseman Luke Schenn.
The loss of JVR opens space on the roster for at least one top six forward. Coming off of an injury raddled season, there was legitimate hope that he would take strides in becoming the power forward that the organization predicted he would be at the 2007 NHL Entry Draft.
Now fans can only wish him success, secretly hoping that he doesn't prove Paul Holmgren wrong.
In Philadelphia, Schenn will bolster the blue line as another shot-blocking, physical defenseman. At 22 years of age, there is similar hope that he can turn his game around much like Toronto is hoping from JVR. Schenn, however, is a four year veteran of the NHL and has yet to develop into a #1 defenseman.
I've noted on several occasions that a Schenn-for-JVR trade, by itself, would be a steal for Toronto. Plain and simple, Schenn has not shown any consistency at the NHL level.
If you're of the opinion that Matt Carle is a turnover machine or a poor man's defenseman, you're going to loathe Schenn by mid-season.  He struggles against top competition and has seen his ice time fluctuate by as much as 5 minutes between seasons.
Schenn does have room to grow, though, and his $3.6 million cap hit is manageable.  He also has the added benefit of playing alongside his brother Brayden, which should ease his transition into Philadelphia.
It's unlikely that the Flyers will trade for another defenseman at this point.  The asking price for several top-tier defensemen has been Brayden Schenn, and I doubt he gets moved now unless Holmgren just wants to mess with Luke.
Expect at least two forwards to be signed in free agency as well. Heck, Jaromir Jagr may even come back.
For the latest Flyers news and updates, you can follow me on twitter (@JoshJanet).