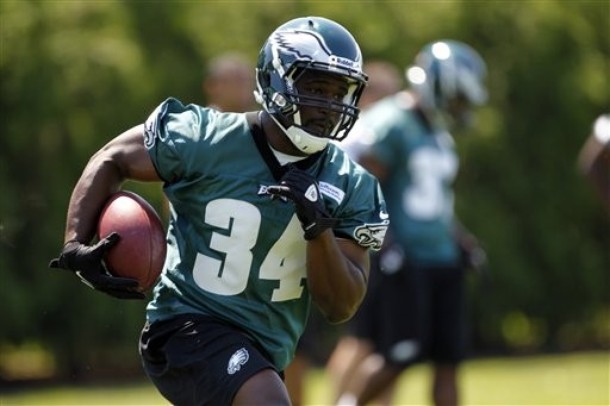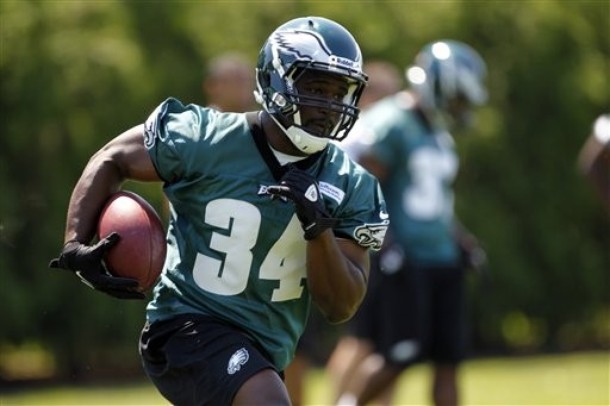 Eagles backup running back Dion Lewis had plenty of reason to apologize quickly for pulling a fire alarm in his hometown of Albany, New York  and getting arrested.  Pulling the fire alarm was a foolish thing to do, especially when he knows the type of battle he'll be facing for his job when he gets to camp.
Lewis has the quickness which Andy Reid likes in his running backs, but his size may make him a casualty.  He's listed at only 5'8″ 195 pounds, which might not be big enough to be successful in the NFL as a running back.
The former Pittsburgh star can make tacklers miss in the run and passing game, which means he fits
The diminutive running back must prove he can pick up the blitz.  Any NFL linebacker who lets somebody as small as Lewis block them doesn't belong in the league.
Rookie draft pick Bryce Brown is listed at 6'0″ 223 pounds with big-time speed.  He may have the fastest straight-ahead speed of any back on the roster  It's easy to see why he was considered the number one running back in the nation when he came out of high school three years ago.
The youngster is big and strong with tremendous speed.  His combination of size and speed is eye-catching when you add that to his smooth cuts.  Brown is one those backs who doesn't look like he's running fast until you see him running away from linebackers and other defenders.
Surprisingly, I was also impressed by Brown's ability to catch the football out of the backfield.  He caught everything that touched his hands as well as doing a nice job of running routes out of the backfield.
Brown's got the Eagles coaches salivating to find out how he runs the football and if he can pick up the west coast offense.
Free-agent running back Chris Polk has the ability to be a NFL running back and there's a chance that he winds up being the backup for LeSean McCoy.  Polk has the advantage of having played in a pro style Washington Huskies offense in college.  He'll probably be able to grasp the system and blocking assignments rather quickly, but his upside isn't what Brown's could be.
Keep an eye on this one, it should be fun to watch.