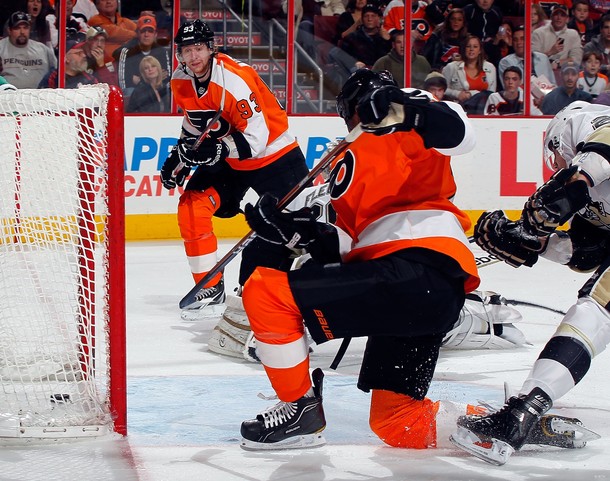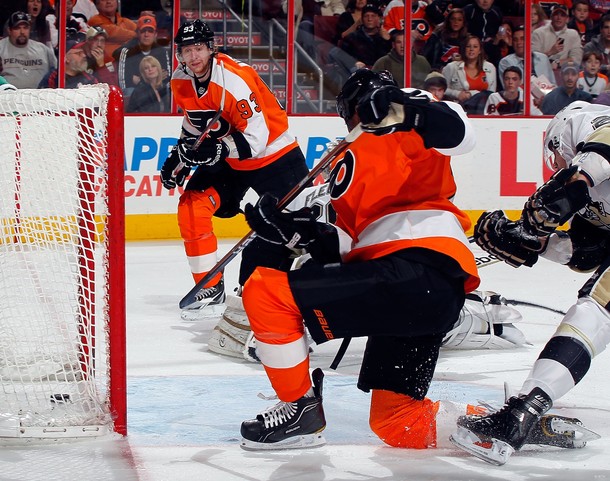 You can't blame Philadelphia Flyers general manager Paul Holmgren for trying to snag Shea Weber for draft picks, but what's done is done. Weber will be a Nashville Predator for the next fourteen years and he's completely off the table.
Many have been asking, "What's next?" The Flyers lost out on signing free agents Ryan Suter, Zach Parise, and Weber while also losing Jaromir Jagr and Matt Carle to free agency.
Instead of throwing out abstract speculation and fantasy trades, I'd prefer to counter that the best move from Holmgren would be to sit tight with what he has for next season.
On offense, the organization can finally put pen to paper on a new deal for Jake Voracek. It's unknown at this point just how far apart the two entities are on years and dollars, but the Flyers have the salary cap space to absorb marginal over-payment if that's what it comes down to.
In that scenario, the Flyers are looking at a top line of Scott Hartnell, Claude Giroux and Voracek along with a second line of Brayden Schenn, Danny Briere and Wayne Simmonds.  It may not be a "stacked" top six, but it's a strong line-up with room for growth.
Sean Couturier can center the third line between Ruslan Fedotenko and Matt Read while Max Talbot can serve on the fourth line. The remaining positions can be won at training camp between Eric Wellwood, Tom Sestito, Jody Shelley, Ben Holmstrom, Zac Rinaldo, and any other surprise candidates in October.
The defense is a bit of a gamble, especially with the questionable health of Kimmo Timonen, Andrej Meszaros and Nicklas Grossmann. Braydon Coburn can log heavy minutes against top line competition, but Luke Schenn hasn't been very successful in the recent past.  Bruno Gervais is a bottom pairing defenseman at best.
There are two factors that come into play in why I'm remaining calm.
The first is that the Flyers' "window of opportunity" remains wide open for the 2013-14 season.  The only players of substantial value to the organization whose contracts are expiring are Hartnell, Simmonds and Timonen.  The forwards may see a healthy increase in their respective salaries, but the Flyers should have salary cap room for both.
As for Timonen, he may stick it out for one more shot at the Stanley Cup, but it is all dependent on his health and how much money he would be looking for.
The other players with expiring contracts? Wellwood (restricted free agent), Zac Rinaldo (restricted free agent), Fedotenko, Andreas Lilja, Jody Shelley, and Michael Leighton.
The second factor is that the 2012-13 season has a realistic shot of not beginning on time.  I don't believe the NHL or the NHLPA will want to lose an entire year of hockey again, but it's not out of the question that the first puck drop won't occur until December.
If that's the case, and the season is reduced to 40-50 games, health shouldn't be as much of a concern.  The Flyers could actually take advantage of the situation to test both Schenn and Meszaros in more expanded roles to evaluate which is worth keeping in the long-term.
It's risky, but there really are few other avenues worth exploring now.  As long as Couturier and Schenn remain non-starters for trades, not much can be done.
The organization could try and sign free agent Shane Doan, but he's reportedly been looking for a sizeable contract in both dollars and years.  It doesn't make sense if his contract is going to come back to haunt them when they need to sign younger, more valuable players (Couturier, Schenn, Giroux, Read and Meszaros all have to be signed in 2014).
This tactic will put more pressure on Holmgren to shoot for the moon for the 2013-14 NHL season, but enough can happen between now and then that panicking now is pointless.
For the latest Flyers news and updates, you can follow me on twitter (@JoshJanet).