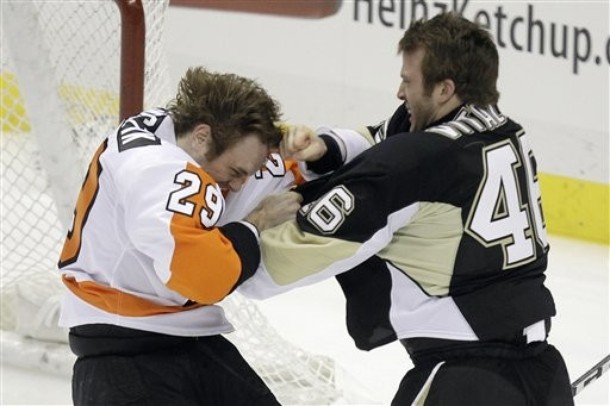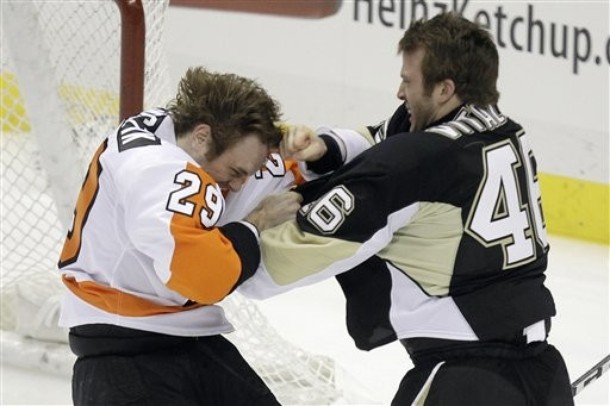 Another piece of the offseason puzzle fell into place this morning as Renaud Lavoie of RDS reported that Harry Zolnierczyk has signed a one year, two way contract with the Philadelphia Flyers worth $600K.
Zolnierczyk registered three goals and six points in 37 games played, along with a +/- of -11 and average time on ice of 7:42.  He was serviceable at the NHL level in a fourth line role as a rookie, but will get another look at the AHL level first.
At the AHL level, Zolnierczyk tallied eight goals and 21 points in 39 games played with the Adirondack Phantoms.  If he spends the entire season in the AHL, his production should hit double digits in goals.
His last game as a Flyer was coincidentally the last game of the season, in which the Flyers faced the Pittsburgh Penguins in a pointless match.  He fought Joe Vitale in retaliation for his open-ice hit on Danny Briere in the previous game, but Vitale arguably got the best of him.
For the latest Flyers news and updates, you can follow me on twitter (@JoshJanet).