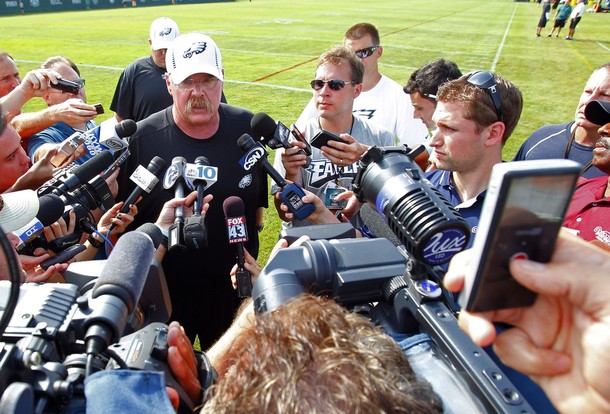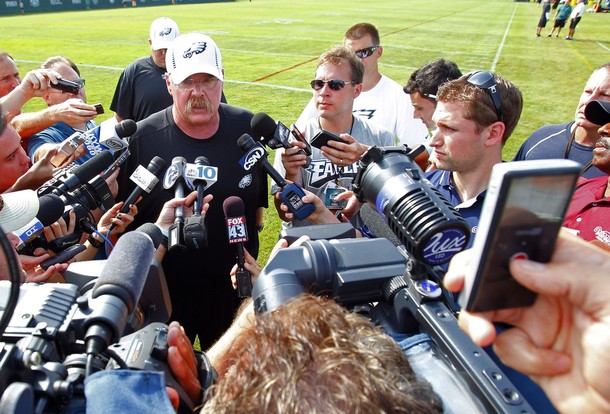 Andy Reid went through a time recently with the death of his eldest son Garrett, but yesterday was a tough time for him as well.  He was getting pummeled all over the media scene here in Philadelphia and being accused of using the timing of his son's death to benefit him in getting a contract extension.
Most of the media members on the scene don't feel LaMonte would have been at the Eagles practices this weekend without the okay of his client.  So Reid was getting blasted every where about LaMonte's presence at practice and his attitude.
The thinking by many here in the local media was that Reid and his agent were trying to take advantage of the tremendous showing of affection by Eagles fans for him after his son passed nearly two weeks ago.
On both sports radio stations, 94WIP and 97.5The Fanatic, each host was calling out Reid for his agent showing up to training camp and saying he deserves the right to stay here as along as he wants.
Jeff Mclane of Philly.com was one of the reporters whom LaMonte approached at training camp and he made the following statement in his article about Reid and LaMonte: "Sports agents work for their clients. It's not the other way around".
Nick Fierro of the Allentown Morning Call questioned LaMonte's business savvy to show up talking about a new contract a few days after Reid was showed with love and support after his son had passed.
Mike Florio of NBCSports.com isn't buying what an unknown source is reportedly saying.  He called out Reid and pointed out that if his agent says something on the record and he disagrees with it then he should say that.
"As long as [Lurie is] the owner of the Philadelphia Eagles, Andy will be his coach," LaMonte said.
"This man has earned the right to decide what he wants to do," LaMonte said. "And he may well decide he doesn't want to coach
[beyond 2013] and Jeffrey may decide he doesn't want to hire him, but I can just tell you Jeffrey Lurie has told me on any occasion I've ever been with him, as long as he's the owner of the Philadelphia Eagles, Andy will be his coach. Now, if you know something else, tell me, because I should probably know."
How could Reid's agent have the nerve to feel that his client has earned the right to decide how long he wants to be coach of the Birds.