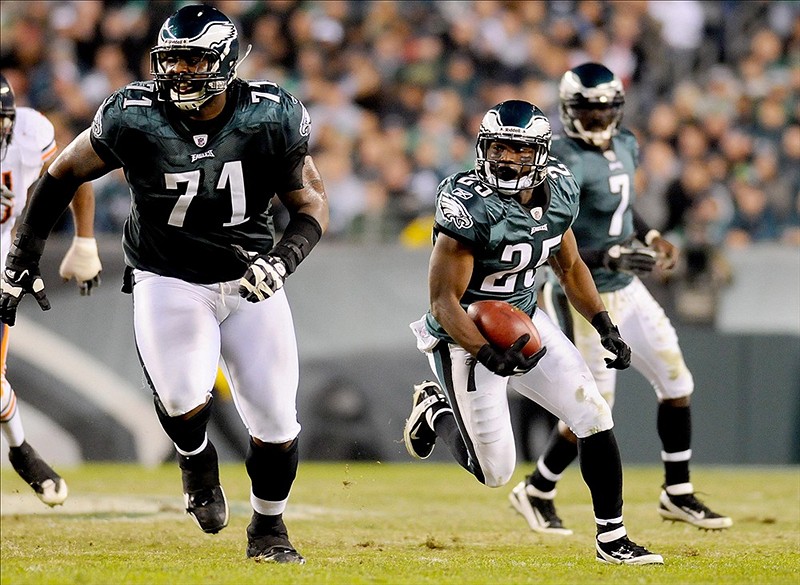 I know Eagles running back LeSean McCoy was a tremendous asset a year ago, if you had him on your Fantasy Football team, but I don't think he's going to be nearly as beneficial this time around and I don't think it has anything to do with his ability.
McCoy is a tremendous ball carrier who only needs the smallest of areas to make a tackler miss, but he won't have the same people blocking for him this time around.  Andy Reid has made it clear that the Eagles aren't going to put the ball in his hands nearly as much as a ball carrier, so that will reduce his carries, yardage and touchdowns.
First of all he won't be able to run behind All-Pro left tackle Jason Peters this year.  Peters is sidelined with a torn-Achilles tendon and won't play at all this season, so either Demetress Bell or King Dunlap will be blocking for McCoy in place of Peters. Everybody has talked about how that will affect Michael Vick, but it's going to affect McCoy as well.
The duo of McCoy and Peters had become a dominating tag-team a year ago and the Eagles had started running behind Peters on the goalline and in short yardage situations regardless of how many guys the defense stacked up over him.  He was there best blocker and they took advantage of it.
On short-yardage they started making right offensive tackle Todd Herremans a tight end and lining him up next to Peters.  They would have the two tackles double-team a defensive lineman and open a huge hole in the defense.  Other times they would have Herremans block down and Peters would pull around and lead McCoy downfield.
They did the same thing on the goalline with Peters leading McCoy or he and Herremans double-teaming a defensive lineman.
Peters is one of the fastest offensive linemen in the NFL and it was a beautiful thing to watch him as he operated out in the open field against defensive backs when the Eagles ran screens or quick pitches to McCoy..  He would get out in front of number 25 and they would steamroll linebackers and defensive backs who would try to get in the way.
A number of times they got out so fast on screens and quick pitches that the defense had no idea what they were doing until they were in the end zone.  You're not going to see that this year because of Peters' injury.
The Birds have also been working McCoy outside at wide receiver positions throughout training camp and are planning to get the ball to him more as a receiver.  They've had him working against Nate Allen and Kurt Coleman in a variety of routes.  Do you remember the way the Birds used to move Brian Westbrook outside and get him matched up against  a safety or linebacker?
I think this will benefit McCoy and the Eagles offense but  because of the Peters injury as well as Reid's decision to give him the ball less, I don't see him scoring as many touchdowns.  I don't think he's going to be carrying the ball as much on the goalline and he won't be as effective without Peters.