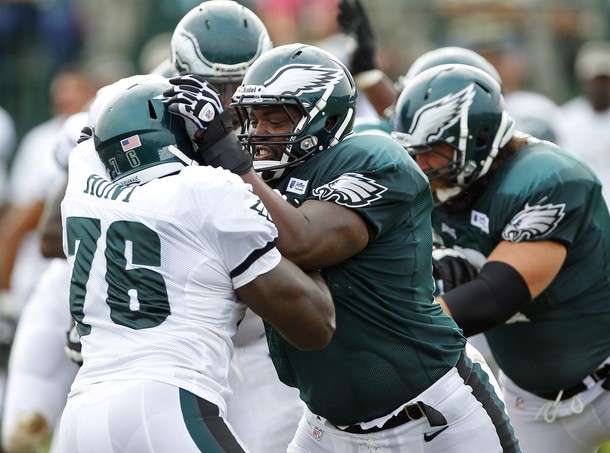 Have you ever worked for a boss who didn't like the way you did something even though you thought you way of doing it was effective?  That's the battle that is taking place at the Eagles left offensive tackle position.
Right now, King Dunlap is the Eagles starting left tackle, but that isn't what the Eagles are trying to achieve with the benching of Demetress Bell.  Offensive line coach Howard Mudd is trying to light a fire under Bell to get him to perfect the offensive line coach's different way of pass blocking.  It's not just a matter of whether Bell blocks his guy, Mudd demands that he block him the way he wants him to do it.
Since his time in Indianapolis, Mudd believes in the offensive tackle attacking the defensive end at the snap of the ball rather backing off of him like most NFL offensive tackles do.  He wants his offensive tackles to strike the defensive ends with their hands once the ball is snapped.
Bell is used to backing off the defensive end like he has throughout his football career.  Mudd demands that he make the change and make the change now.
Dunlap who might have a longer arm span than anybody I know, has the ability to deliver an arm shiver from across the street if he needs to.  The 6'8″ offensive tackle has gotten stronger in his upper body and that has made him a better pass blocker.  Unfortunately, Dunlap's arm span doesn't help him as much as a run blocker.
There are some who don't believe Mudd will start Dunlap at the left tackle spot, but I think he will do it if Bell doesn't make the change in his technique.  Mudd is as stubborn as they come.  Either you're going to do it his way or you're not going to play for him.
Cox Changes His Stance
I was disappointed that Eagles first round defensive tackle Fletcher Cox didn't make much noise on Thursday against the Steelers.  Cox will be a key to this season.  If he can develop quickly and help the Birds produce consistent inside pass rush, it will make their defensive line unstoppable.
Cox was on Comcast Sportsnet's Morning Show and says defensive line coach Jim Washburn has had him change his stance since the first game of the preseason against Pittsburgh.  Cox has got his butt up higher in the air and he said it helps him get off on the snap faster.