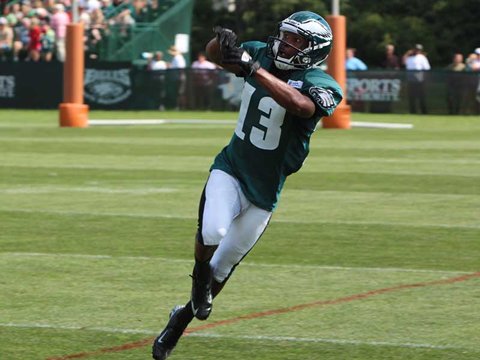 This could be a very good rookie class for the Birds.  They'v got a number of these rookies who are likely to make contributions to this football team this year.
Fletcher Cox – He didn't dominate consistently at training camp, but he still shows potential that are off the charts.  I've seen him dominate in the one-on-one drills with his strength, speed and quickness.  Right now, he's still getting comfortable with the mental part of the game.  He's learning that you can't just manhandle the big offensive guards in the league.  You have to get them moving, then use your power on them.  Cox will probably be a starter become a starter before or during the regular season.
Mychal Kendricks – Kendricks was a tackling machine all training camp and he's always around the football.  It didn't take long for him to show his tremendous speed and explosiveness.  He may be the first big play linebacker the Birds have had in a long time.  Kendricks will cause some fumbles with his hits and over time should be able to get his hands on some passes.  Kendricks plays with the passion that Philadelphia Eagles fans have been wanting.
Vinny Curry – This young man was what he was billed as, a very active pass rusher.  Curry has been coming around the corner and getting to the quarterback throughout the training camp.  He's tenacious and gets to the football.  I don't know how much he's going to play, but when he does he'll be rushing at 100 miles an hour.  You can see the quality of the talent at the defensive end position by the fact that Curry could have such an outstanding camp but still be unlikely to get many snaps during the season.
Nick Foles – We knew Foles had a big arm, but we didn't know about his feel for the game.  Foles sees the field very well and doesn't panic when he's under pressure.  The rookie has picked up the offense fairly quickly and is putting pressure on Mike Kafka for the backup quarterback job.  As far as I'm concerned it's just a matter of time until he takes the number two job from Foles.
Brandon Boykin – This young man is a very, good all-around football player, who can cover man-to-man, read the quarterback in zone defenses and make open field tackles like a safety.  Boykin will be the team's number one kickoff returner.
I think they should make him a safety because he does everything well.  He's too good of a football player to not be on the field on third down.
Bryce Brown – We knew he had a great combination of size and speed, but he's shown that he can run the football effectively on the NFL level.  Brown is getting more comfortable with the pass routes and pass blocking necessary on the NFL level.
I could see him getting a few carries each week because he's got the big time break away speed.
Damaris Johnson – He's the number one punt returner and will also be a considerable part of the Eagles offensive attack.  He's one of the quickest football players in the league with a tremendous ability to make tacklers miss in the open field.  He'll likely replace Chad Hall, who doesn't have the speed which Johnson has.
Johnson was impossible for any of the Eagles defensive backs to cover one-on-one during the training camp.  That's why he's getting reps with the number one unit while Jeremy Maclin recovers from hamstring problems.