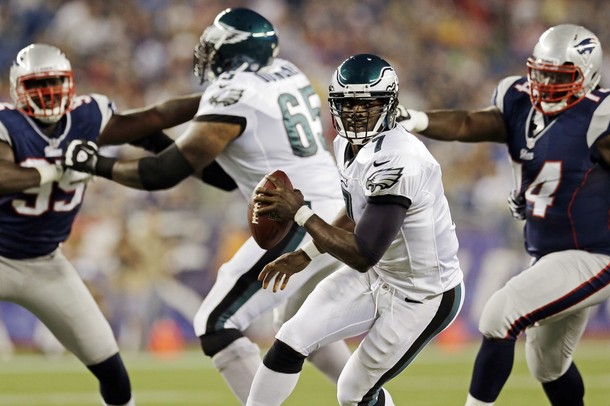 I was down in Atlantic City this past weekend for a Fantasy Football Convention with a bunch of former New York Giants players, so we watched the Giants versus the Jets game. The guys in blue looked good and have added new talent.  Somebody tell the Eagles offensive line that the Giants defensive line may be better this year than they were a year ago.  Jason Pierre-Paul and Osi Umenyiora looked like they were in midseason form.
It's a good thing they were playing the Giants last night because the Eagles offensive line has been getting outplayed for most of the training camp by the team's defensive line and they started out the game on that note. Despite the poor decision making by Michael Vick on the play which he got hurt on, poor pass blocking played a major role on that play.  A good offensive line doesn't give up quick inside pass pressure like that because no quarterback can operate with immediately pass rush pressure in his face.
Center Jason Kelce said the poor blocking on that play was due to poor communication on the offensive line.  This can't continue to happen.  I thought Kelce had a good game blocking.  He did a better job versus defensive tackle penetration.
Again, they didn't start out the game well, but they did start taking over the longer they were in there.  Overall it was a good game for the offensive line because they gave Nick Foles plenty of time to throw the football.  A number of times, Foles could have eaten his lunch back there and not been disturbed.
Both of the Eagles guards were beaten badly at the start of the game.  Danny Watkins was beaten early during a play and Evan Mathis got beat on the play which Michael Vick got hurt on.  Both of these guys must do a better job of moving their feet.  Defensive tackles are no longer going to just run straight into the blockers and they must expect it.
Right tackle Todd Herrremans continued his solid play.  He doesn't an excellent job of getting to the second level on running plays, which means he blocks the defensive line then get to the linebackers as well.  I like his draw set, then comes out to pick up the backers.  All the years he spent pulling on outside running plays from the guard position have helped him in blocking out in space.
Herremans didn't do the best of job on the play where Vick got hurt, but the main reason Vick had rolled to his side was because of the poor job done by Mathis.
Big King Dunlap did a nice job at the left tackle position.  He's gotten stronger every year in his arms and that allows him to use them to prevent pass rushers from running him over.   Unfortunately he's a big drop off from Jason Peters in the run blocking department.
Demetress Bell didn't play as long as Dunlap and he didn't play as well.   Bell was called for holding during his time in the game. He doesn't have a lot of time to make a move on that starting job.  Bell may end up starting the season on the bench until he learns to use the "attack pass block" technique which offensive line coach Howard Mudd teaches.