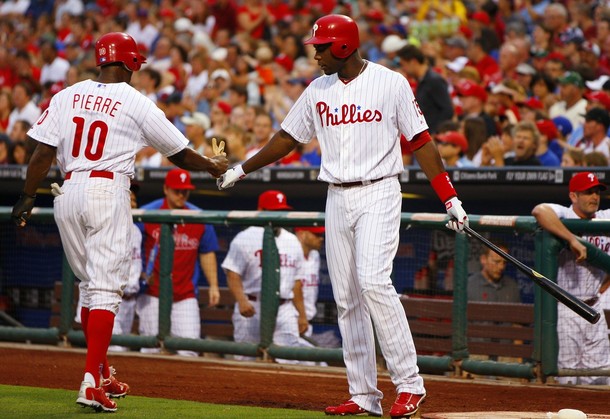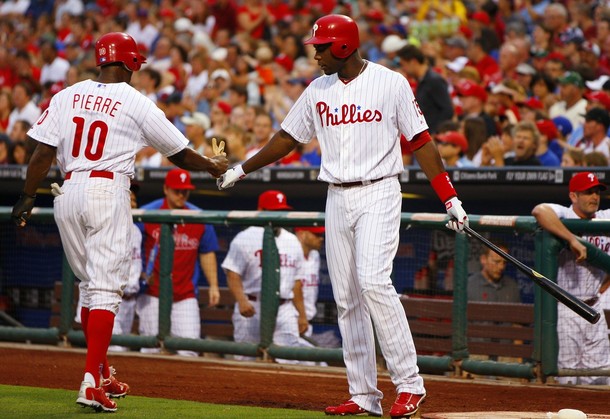 The Phillies won their third straight game on Monday night, outscoring the Reds 12-5. The victory puts the Phils at 57-65 for the season.
It was time for a throwback game in which the Phillies' offense simply outhit the opposition. Starter Roy Halladay wasn't great tonight, but he didn't need to be.
Halladay had a rough game, allowing five runs on 10 hits in seven innings. The 35-year old pitched out of jams throughout the night, and just wasn't on top of his game.
John Mayberry Jr. was one of several big offensive contributors tonight, going 3-5 and driving in three runs. He hit his eleventh home run of the season in the sixth inning.
Ryan Howard and Erik Kratz also homered in the rout, with solo shots in the third and fourth innings.
Chase Utley also joined in the hit parade with a double and two RBIs.
Juan Pierre finished with a three-hit game, and hit his eighth double of the year. He also stole two bases.
Placido Polanco made his return to the lineup, and went 2-4 with a walk.
Domonic Brown went 1-4 with a two-run double, and also made a nice play on an outfield assist to throw a man out at home.
B.J. Rosenberg, Antonio Bastardo, and Josh Lindblom combined to pitch the final two innings.
It was the first time Bastardo had pitched in 12 games. He allowed a hit, but also struck out two.
The Phillies went a tidy 6-15 with runners in scoring position.
Every pitcher that appeared in the game for the Reds surrendered at least one earned run, and the Phils were held scoreless in only the second inning.