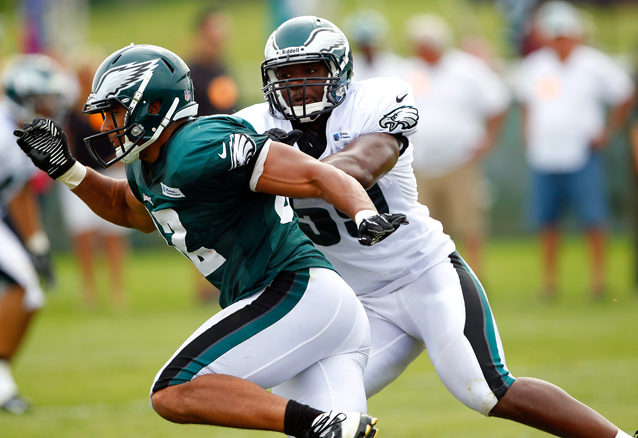 The Eagles' defense must do a better job of playing screens and draws.  Anytime a team faces a defense which does a good job of rushing the passer, they make sure to have an abundance of screens and draws in the game plan.
They've got to be expecting screens and draws on each and every play.  Each week when they study and analyze each formation that the opposing offense runs, they've got to be thinking about which screens and draws they will run out of these formations.
If I were a linebacker in this defense, I would play and expect a screen or draw on every down.  Offenses won't be sure about how much time they're going to have to throw the ball down the field, so they'll all try to use the ferociousness of the Eagles' pass rush against them.  The Eagles defense is going to face plenty of screens and draws in each game, it's a certainty.
Every time the Eagles linebackers are standing near the line of scrimmage waiting for the opposing offense to come out of their huddle, DeMeco Ryans should turn to Mychal Kendricks and Brian Rolle and tell them to be ready for the screens and draws.
The linebackers must attack draws when they recognize them, then get off their blocks and make tackles.  They must be expecting them on each drop in coverage.  You don't really start flying to your place in the zone coverage until the quarterback passes the back.  Once you forget about screens and draws, that's when you're going to get hurt by them.  If you're expecting them on each play, then you won't be surprised when they're run.
DeMeco Ryans and the other linebackers must come up at the correct angles knowing where they help is.  In each situation in zone, somebody is supposed to force the play by attacking it head-on, while the other linebackers are supposed to keep it contained.
You must be able to use your hands as a linebacker in these situations because you can't afford to get locked up on a blocker.  In many situations you use your speed and quickness to avoid the offensive linemen and other blockers in the open field, rather than getting engaged with them.  If you expect them, that will neutralize much of the effectiveness of screens and draws.
For the rest of the season, the Eagles linebackers must utilize a clamp technique when they're playing man-to-man on running backs and tight ends.  That means they must be helmet-to-helmet with the guy they're covering if that player sets up to pass block.
If a linebacker stands a short distance away from the running back or tight end in man-to-man coverage, they will be vulnerable to an offensive lineman slipping in between them and the guy they're covering.  Once the offensive lineman gets in between the linebacker and his coverage, a screen is immediately set up.
A linebacker can't afford to let this happen, so the clamp technique must be employed.