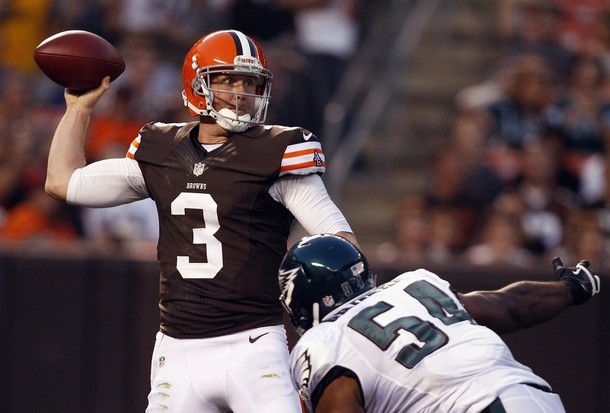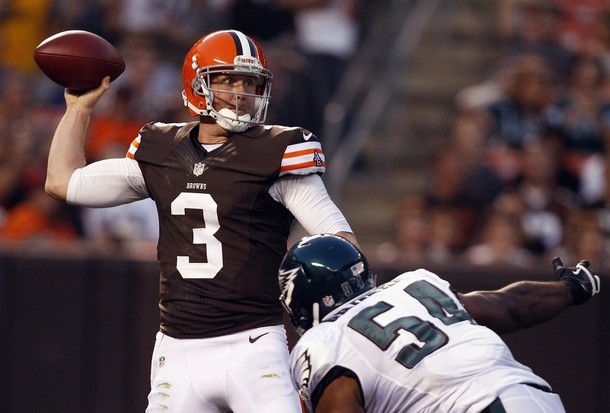 Even though the Eagles defense forced three turnovers, they still had trouble getting off the field on third downs to start the game.  I see a defense which displays tremendous individual ability, but they seem to have a breakdown some where in the coverage, much too often.
They don't come out and dominate the way you would like to see. There continue to be too many blown assignments on third down.  The Cleveland Browns started the game, stuffing the ball down the throat of the defense.  Remember that the Browns were being quarterbacked by a rookie and let's be honest, they're not a good football team.
Yes, defensive tackle Derek Landri made a great play when he broke through the offensive line and knocked the ball out of Cleveland rookie quarterback Brandon Weeden's hands.  The defensive line played well last night despite lining up offsides too many times.  But you can't continue to let a team take the ball and stuff it down your throat to begin a game.
It was the same names which we have heard from all preseason, who were doing the damage on the defensive line.  Landri made the first big play, then everybody else got in on it.  The former Notre Dame defensive lineman plays with tremendous intensity and intelligence.  Teams are going to be reluctant to pull their offensive guards in front of Landri.  He reads stances, gets off on the ball and into the backfield.
Trent Cole started the game and made a couple of plays versus the run.  Brandon Graham contributed a sack and a half.  He's doing a great job of getting off on the snap.  Graham shot into the backfield and collected a sack before Weeden could react.  He and Phillip Hunt teamed up for a sack of Weeden.  They got to him almost simultaneously.
Defensive end Darryl Tapp recovered the fumble which Landri caused, as well as beating Pro Bowl offensive tackle, Joe Thomas, later on for a sack.   I think Tapp will probably be traded before the season starts, because Graham is younger and Hunt is cheaper, plus they've each been great during training camp and now the preseason.  It's a shame they're probably going to have to say good-bye to all this pass rushing talent.
On the negative side, the defensive line was showing a lack of discipline by lining up in the neutral zone.  They've to get smarter about this.
Rookie outside linebacker Mychal Kendricks delivered a couple of solid tackles.  I love the way he attacks the blocking scheme by playing downhill.   DeMeco Ryans was out there but he didn't do much last night.
The other starting outside linebacker Brian Rolle played poorly and is in danger of losing that starting job.  He blew an assignment on a third down by not seeing one of the Browns tight ends on a crossing route.
Rolle jumped offside a couple of times and had another poor game.  The young linebacker doesn't have a strong handle on his starting job.
Backup middle linebacker Ryan Rau had a good game and made a big hit to force a fumble.  Casey Matthews is still ahead of Rau, he's risking his job by getting hurt and missing most of the preseason.
Backup linebacker Keenan Clayton blocked a punt to set up a touchdown.  That type of special teams play will make it very difficult to let him go.  He took the ball right off the punter's foot.
I'm shocked that the Birds would show the Browns their punt block two weeks before they're going to open the season against them.