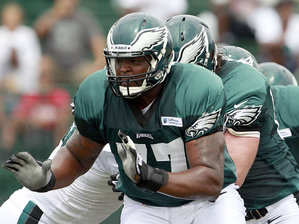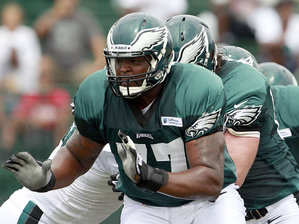 Eagles offensive tackle Demetress Bell didn't get better on Friday night's game against the Cleveland Browns, if anything he got worse.  The big fella was beaten time and time again with both inside moves and outside moves by defensive linemen during the Eagles battle with the Browns.
His competition at the position, King Dunlap, didn't play as long as Bell did the other night.  He was beaten a time or two but it wasn't as many times as the former Buffalo Bill did.
Bell is playing very slow and unaggressive.  You can't succeed in the NFL, if you're not confident and sure about what you're doing. Bell doesn't seem to be comfortable with the aggressive, attack first pass blocking technique that offensive line coach Howard Mudd is teaching.  Cleveland pass rushers were going by the big offensive tackle all night long.
Until there's some major change, Dunlap is going to be the Eagles starting left tackle.
On one play, Bell was slow getting off the ball and unable to cut off a Cleveland linemen, who was lined up inside of him over left guard, Evan Mathis.  At the snap of the ball, Mathis did a drop step with his right leg and took off on a pull to the right in front of running back LeSean McCoy.
Bell was supposed to cut off the defensive lineman who was lined up over Mathis.  The defensive lineman was two steps into the offensive backfield when Bell tried to block down on him.  The struggling left tackle could only chase the defensive lineman into the backfield as he tackled McCoy for a four-yard loss.
Mudd didn't participate in the OTA's this year and it's probably had a negative affect on Bell.  He wasn't taught this technique by Mudd, until training camp. and he hasn't been able to adapt to it as of yet. I don't think this is the number one reason for Bell's problems but it surely hasn't helped.