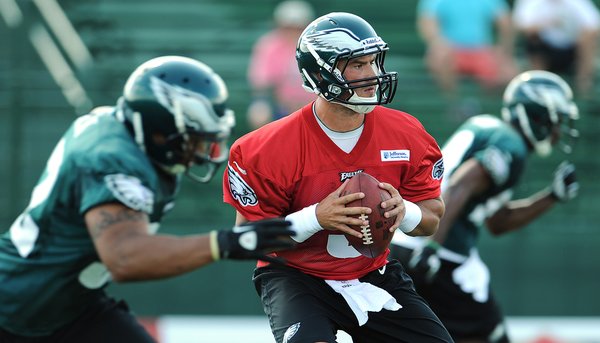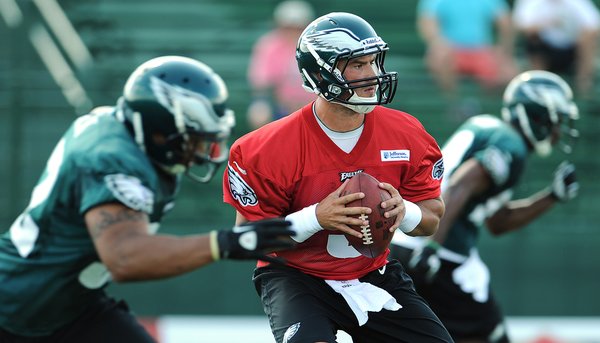 Eagles backup quarterback, Mike Kafka wouldn't admit that he's feeling the heat from rookie signal caller Nick Foles, but you know he has to be uneasy about keeping his to backup job after Foles has played so well during the preseason.  Not only has Foles been outstanding but so has veteran quarterback Trent Edwards.
It makes you wonder where Kafka stands in the mind of Andy Reid, who has some big personnel decisions to be make later this week.  The roster has to be reduced to 53 at the end of the week.
The former Northwestern standout broke his left hand in the Steelers game and has been unable to take snaps from center, so he hasn't been able to play or participate in the team drills. As you could imagine, he's happy to be practicing this afternoon with the ball club.
Kafka is anxious to get some practice time as well as get some playing time in preseason game before the season starts.  He wants to re-establish the rhythm and timing he had worked on throughout the off season.
"I think today in practice will be important to go out there and play and get some of those reps", Kafka said.
During these last few weeks, Kafka has worked on the mental part of his game, while he was unable to do the physical part.
"I think it can go two ways", Kafka said. "The way I approached it was learning as much as I could. You can definitely get better by watching so I worked on that."
As for how his hand feels, Kafka had nothing but good things to say.
 "It's feeling good [and] ready to take some snaps."
It will be interesting to see how Reid gives out the playing time in the game on Thursday.  I think ultimately Kafka will make the team over Edwards, but I wouldn't be surprised if Foles is made the top backup to Michael Vick.  I think the arm strength of Foles gives him the nod over Kafka.