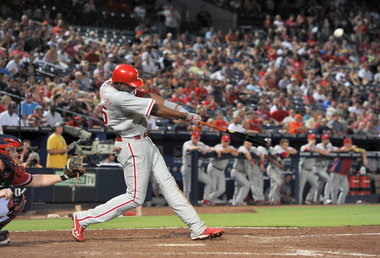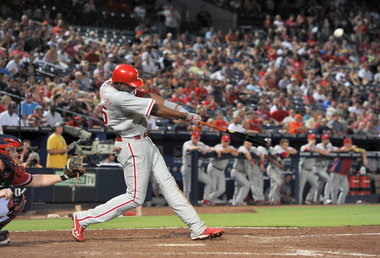 The Phillies had their four game winning streak snapped on Sunday, falling the Atlanta Braves 8-7. The loss drops the Phils to 64-70 on the season.
The offense made life easy for starter Cole Hamels by spotting the lefty a five-run lead to before he took the mound. The Phils batted around in the first inning, and forced starter Paul Malholm to throw more than 30 pitches in the first inning.
The bats scored their five first-inning runs on a pair of doubles from Ryan Howard and Erik Kratz. Howard struck first, driving in the first two runs of the game, and Kratz struck the biggest blow of the afternoon with a bases-clearing three-run double just two batters later.
The Phillies had six players (Ryan Howard, Chase Utley, Erik Kratz, Cole Hamels, John Mayberry, Jimmy Rollins) hit doubles in this game.
In the third inning, Cole Hamels would help himself out with a bases-loaded double that drove in the final two Philadelphia runs of the game.
On the mound, Hamels wasn't particularly sharp, but he was good enough to get through six innings and only allow three runs. The ace had to pitch out of jams on several occasions, and gave up three extra base hits on the day.
Ty Wigginton didn't record a hit, but drew three walks and ended up scoring two runs.
John Mayberry finished the game 3-5, and has raised his batting average to a more respectable .254.
The Phillies began their implosion when they turned things over to the bullpen.
Josh Lindblom was the first pitcher out of the bullpen, and didn't allow a run while recording two outs.
Jeremy Horst took over Lindblom, and recorded the next five outs. Charlie Manuel asked the lefty to to pitch in three separate innings, and only removed him from the game after he put two runners on with one out in the ninth inning.
Jonathan Papelbon relieved Horst. He struck out the first batter he faced, but then allowed a walk and gave up a double to Martin Prado that allowed two runs to score. After that, he gave up a three-run home run to Chipper Jones to end the game.