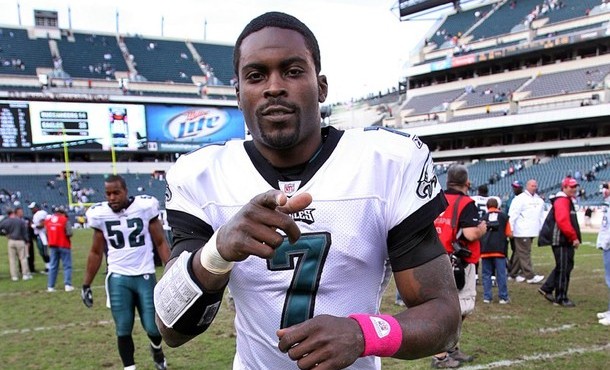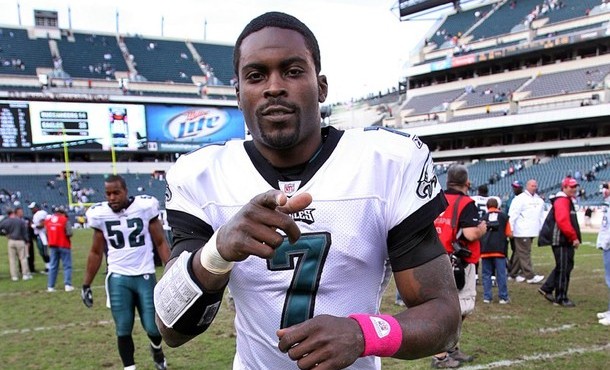 Michael Vick Will Not Improve From Last Season
I'm not a fan of Michael Vick's game, and I never have been. The Eagles (and Vick himself) spent the off-season telling everyone that Vick understood he needed to play a much smarter brand of football in order to keep himself healthy and cut down on his high turnover rate from 2011.
The idea behind this thought process was that Vick would benefit from finally having a full off-season to work with the coaching staff and correct his various flaws. But the off-season has come and gone, and even though we've only seen a limited sample of the quarterback in training camp and the preseason, he's given more reason for doubt, and provided no evidence that there have been significant changes in his approach to the game.
Vick's mentality is to be as aggressive as possible, and never give up on a play. That means that instead of throwing the ball away, or protecting himself from unnecessary contact, he's going to make reckless decisions that will provide opposing defenses with turnover opportunities, and leave himself open to crushing hits.
Vick's physical talent and potential will always be through the roof, but he'll always be his own worst enemy because he'll never be a smart player. I think his play in the preseason spoke volumes about just how little he's changed and developed since 2011. If the former Falcon wasn't willing to throw the ball away, slide instead of dive on runs, and take his aggressiveness down a notch in meaningless preseason games, why should anyone believe that he'll be any different in the regular season?
A player over 30-years old just isn't going to be coached out of bad habits that have been with him for his whole career.
King Dunlap Will Be Just Fine At Left Tackle
Not many people trust Dunlap at left tackle, but I'm going to give the King a vote of confidence. While the fifth-year tackle hasn't enjoyed an overwhelming amount of success in his career, I think he's made great strides since the 2009 preseason when he looked like a turnstile against Colts' star pass rusher Dwight Freeney.
Dunlap has had a good amount of time to learn and develop with this team. When Howard Mudd arrived as the team's offensive line coach, he purged the team of all of their previous backups in favor of new players that fit his attack style. Solid players like Jamaal Jackson were sent to the bench. Players who had been serviceable starters like Winston Justice, Max Jean-Gilles, Mike McGlynn, and Nick Cole were all phased out of the offensive line picture by the end of 2011 training camp. But Dunlap survived, and proved that he could play both tackle and guard for Mudd.
The Eagles didn't plan on Dunlap being their starter. They wanted Demetress Bell to be the guy, but things just haven't worked out for the former Buffalo Bill. But though he wasn't Plan A, I think the team is confident in Dunlap, and they believe he's earned an opportunity to show what he can do after developing and improving for several years. I believe he'll start the entire season at left tackle, and that he'll do a good job.
Everyone Gets A Shot At The WILL
Weakside linebacker is going to be a revolving door for most of the season. Steady Akeem Jordan gets the nod to start the season, but his job security is on a week-to-week basis. The veteran has had several opportunities to start during his six years with the Eagles, but he's never been anything special. He certainly isn't a liability, but it won't be long before the team will be tempted to give opportunities to other players on the roster in hopes of getting more out of the position.
Jamar Chaney was supposed to be Brian Rolle's competition, but injury has prevented the third-year linebacker from making a serious run at the job. He's shown some flashes in the past, and may thrive more in a position where he can be free to focus more on attacking the ball. He'll need to get healthy first, and impress the coaches in practice.
Rolle may also get another crack at the job, but he's going to have to handle his demotion well and keep working hard. He was the lone bright spot of the 2011 linebackers, and has shown that he can make plays on the field, but something went wrong for him during this preseason that caused him to regress.
Casey Matthews may even get some consideration to start again. Juan Castillo has been a big fan of Matthews since he arrived on the team last year, and if the second-year player shows some serious signs of growth, the coaches would love to give him another opportunity to prove himself.
The Eagles Will Not Make The Playoffs
I don't see this season ending with much of a different result than 2011. While the 2012 team is improved, the team's key issues from 2011 (unreliable quarterback play and an overwhelmed defensive coordinator) remain and will cost the Eagles once again.
Last year this team didn't respond well to adversity, and couldn't stand up to the tougher teams on their schedule. This year they've got 10 games against teams that were .500 or better in 2011, and also have a game against one of the teams on the rise in the Carolina Panthers. There aren't a lot of layups on this schedule, and given this team's recent track record against quality opponents, I just can't see them winning 10 or 11 games like so many other analysts seem to think.
I have the Giants winning the division, which means that the Eagles would have to make the playoffs as a Wild Card. The NFC is a deep conference, and Philadelphia would need to finish with a better record than the Bears, Lions, Falcons, Panthers, and Cowboys to earn one of the two Wild Card seeds. I think it's a very tall order for a team that hasn't proven it can sustain a high level of play and thrive against quality competition.
Follow Denny Basens on Twitter