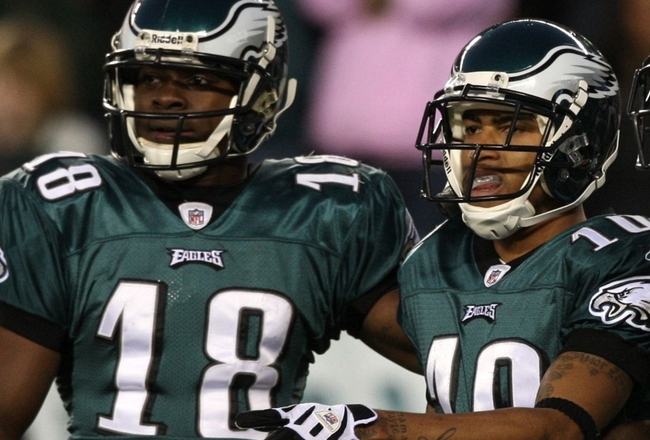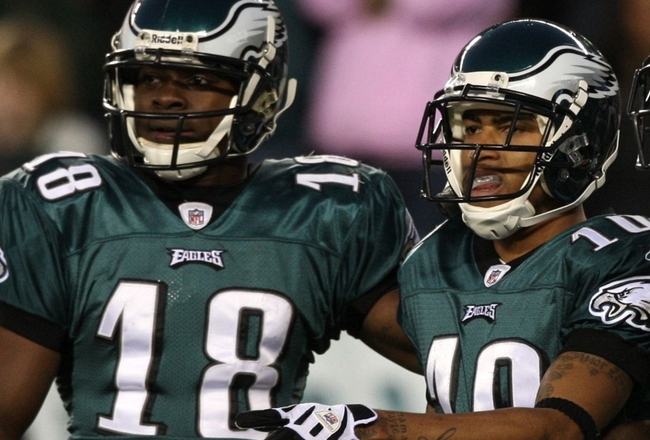 Michael Vick and the Eagles might have to go to battle this Sunday against the Baltimore Ravens without their two top receivers. Jeremy Maclin suffered a hip pointer last Sunday versus the Browns and now we learn that DeSean Jackson hurt his hamstring yesterday.
Andy Reid is confident that these guys will find a way to get on the field and play on Sunday, but neither could practice on Thursday.  Both of them were standing on the side and watching while the rest of the team got in their workout.  Riley Cooper, who dressed on Wednesday and did some of the drills, didn't participate in practice on Thursday and isn't likely to play on Sunday.
"I think we're going to be OK," Reid said. "They're getting better, so I think we'll be alright. I'm not too worried about it right now."
As for whether Jackson and Maclin will be able to play on Sunday, "That's what we're hoping, yeah. We'll know more [Friday]."
Who knows it might force Reid to put the ball on the ground and give LeSean McCoy and his young backups, Bryce Brown and Chris Polk the chance to carry the offense.  Unfortunately, the Ravens could be very difficult to run the football against with Ray Lewis and Haloti Ngata lining up in their defensive front seven.
Still, I feel they need to feature McCoy.  As long as they go into the game with a plan to spread the Ravens defensive front out by giving them a pass look, they can have success running the ball against Baltimore.
At times I don't know if Reid and his staff realize how good McCoy is.  I must admit that at times I don't give him the credit he deserves because he does such a great job of setting up blocks and making people miss in tiny areas.  He seems to create his own blocking.
Amazingly I think McCoy is getting better.  Despite all of the weapons they have, McCoy is their best and most consistent offensive player.  Rather than feature their passing game, which is very explosive, they should feature McCoy first to open things up for their passing game.
It will make Michael Vick's job easier and allow them to ask less out of him.  If he's throwing more play action passes, it will reduce the pass rush pressure on him and limit the coverages he's going to see.  That will give him the chance to regain his confidence.
Again, McCoy should be the featured player in this game plan.  I would also like to see the Eagles get the ball to McCoy out in open space by moving out of the backfield.