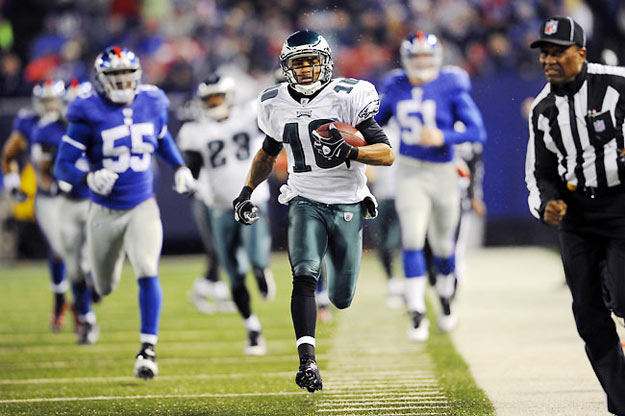 There's a slight chance the Eagles could give wide receiver DeSean Jackson the chance to get the team going by putting him back there on some of the punt returns.  Rookie punt returner Damaris Johnson has fumbled only once, but he also seems to be scared back there to the point where his fear of fumbling of muffing a punt is dominating his thinking and has rendered him ineffective as a punt returner.
He's doing everything safe and has been unable to use his speed and quickness to make defenders miss.
I think he's had only one punt return for over 10 yards and he's tied for the league lead with nine fair catches.  Every time he fair catches the ball on a punt, it seems like he's relieved.  That's not he mindset of a good punt returner.
The Eagles need a threat back there because of the way they've been struggling offensively.  I wouldn't put Jackson back there every time, but I would give him some shots against this Detroit team because they have gave up a punt return and kickoff return for touchdowns in a loss to Minnesota a couple of weeks ago.
If there was anytime to give Jackson a shot, this is the week.  Eagles special teams coach Bobby April didn't commit to using Jackson this Sunday but he also didn't rule it out.
"He's always ready to go", April said. "I mean, he's like a pinch-hitter. He's ready to go. We just have to call his number," April said. "Most of our punt returns have not been traditionally field punts. They've been up closer to the 50-yard line where you have to worry about a lot of things and you have to spread yourself a little bit thin. It's tough to make just an all-out concentration on the punt return in that phase of the game."
The Eagles can't keep treating Jackson like a China Doll with the offense struggling and the rookie returner playing scared.  Something has to give and I think they need to put Number 10 in there at least a few times this Sunday, if they find themselves in danger of losing this game.