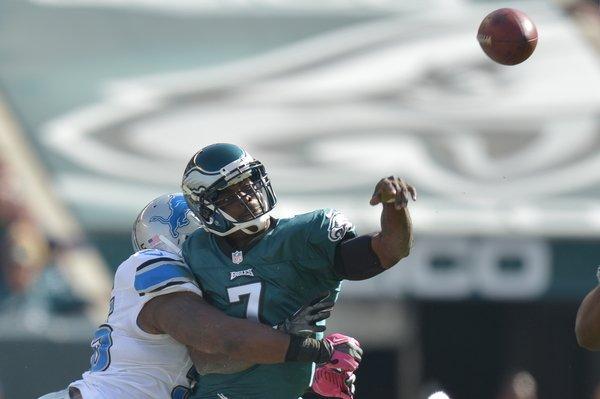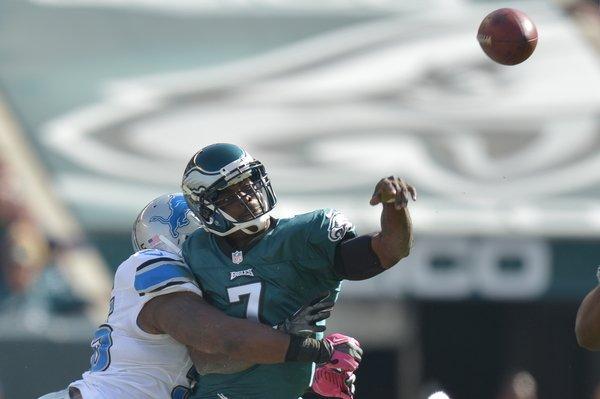 Michael Vick was getting killed throughout the first half as the Birds tried to throw the ball deep, but were unable to protect Vick.  They consistently pounded him in his ribs.  They went low and hit him in the legs.  They hit him everywhere, but the Birds continued trying to throw the football downfield throughout the game.
There's no way the Birds are going to make the playoffs with their offensive line playing so poorly.
Eagles right guard Danny Watkins is getting worse rather than better.  He doesn't move his feet and seems to beat by defensive tackles who can move.
Center Dallas Reynolds is getting exposed for the backup that he is.   Defenses are attacking him on either side.  Those are the A gaps, which are on his right and left.
Left guard Evan Mathis had gotten rave reviews a year ago, but he's been mediocre to poor this season.  Defensive tackles have been able to over power him.
Demetrius Bell isn't getting the job done on the left side.  I saw him get totally run over on one play.  The Lions defensive end Karl Vanden Bosch ran him over on his way to Vick.
Even right tackle Todd Herremans is playing poorly as he gave up the key sack in the over time period when the Birds tried to roll Vick to his left and throw the ball downfield.
The Birds were trying to run stretch plays but LeSean McCoy was being met in the backfield with two and three defenders standing unblocked and attacking him.  I don't know why the Birds stayed with the run, despite the fact that they couldn't block the Lions defensive tackles.  The Detroit defensive tackles were killing Reynolds, Mathis and Watkins, the interior of the Eagles offensive line.  If a defensive tackle gets penetration, he jeopardizes a run or pass play.
Eagles offensive line coach Howard Mudd loves that play and had great success with it in Indianapolis, but you've got to have good athletes on the offensive line to make those blocks.