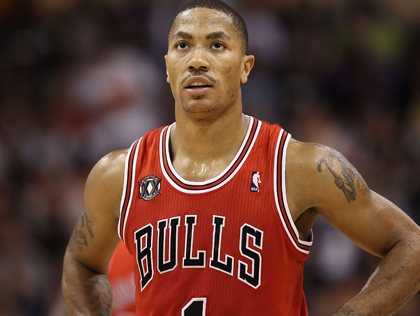 The Central Division finds even its top teams in a state of transition.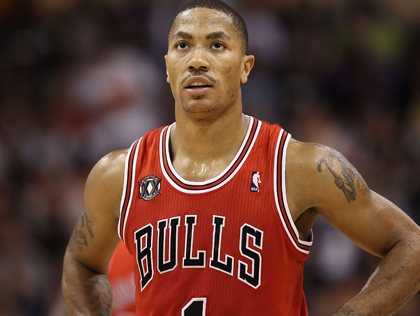 Chicago Bulls: The championship hopes this team had last season were shattered in an instant when Derrick Rose drove to the basket during what some would consider garbage time of a first round victory over the Sixers and tore his ACL. While perhaps unjustly considered the underdogs in the East behind the eventual champion Miami Heat, this team was poised to make a title run of its own before Rose's untimely injury. This season, as with last season, the Bulls will only go so far as Derrick Rose can take them. Expect some ugly basketball until Rose returns, but the hard-nosed attitude of head coach Tom Thibodeau should keep this team in the playoff hunt until that time. Should Rose return healthy, odds are the Bulls will be poised to make a similar run to last year, where they're overshadowed by the three kings of South Beach and itching to prove their worth come playoff time.
Last season, Luol Deng truly stepped up as a defensive force on the perimeter and second scoring option to D. Rose. Deng continuing to cement his role as the unsung Robin to Rose's Batman while Carlos Boozer does dirty work as an underrated third option could really help this team going forward. An out of shape Boozer two seasons ago combined with trying to force feed him the ball to be a part of the offense made for some rough seas in Chicago, but a more featured Luol Deng and a three point shot developed by Rose have helped the Chicago offense flow a bit more naturally and effectively.
The Bulls lost a lot of familiar faces which made up their defensively dominant bench mob. With Korver, Watson, Asik, and Brewer gone, this bench will have a whole new look to it, but the organization did a decent job filling in those holes and again, you've got to figure that the bench will take to Thibs' defensive approach quickly, as he seems to have a knack for making that attitude contagious. The increasingly integral sixth man, Taj Gibson, seems due for a breakout year to follow up his breakout year (if that makes any sense). This is a man, while not inked for the long term, who would start on many other teams and seems to be a big part of Chi-town's future. His continued growth should prove vital to the team's success as he is to the bench what Joakim Noah is to the starting lineup, an intense intangibles player who, love him or hate him, is arguably the heart and soul of that squad.
While C.J. Watson's play in Rose's stead and shadow was intensely underrated, replacing he and Mike James with Nate Robinson and the returning Kirk Hinrich is arguably an improvement. The firey Nate Robinson has a history of shooting you out of as many games as he shoots you into, but he perhaps has found the one team where that heart on your sleeve attitude is embraced and encouraged and if any coach can manage that while keeping him team oriented, it's Thibodeau. Robinson may have found the first place where he actually fits in. The loss of Brewer to the Knicks hurts, for sure, as he was one of the better bench perimeter defenders in the league, but Hinrich should fill that void to an extent and Marco Bellinelli's acquisition should not go unnoticed, as he was a nice playmaker for some pretty awful teams. His contribution in a diminished role could be just the X-factor Chicago needs, especially while Rose is out and if an aged and injury prone Rip Hamilton is underwhelming. Mohammed and the under-utilized Fesenko (formerly of Utah) will clog the middle with Noah on the bench. Vlad Radmanovic is a B-list version of Kyle Korver that could prove valuable in certain situations.
This new Chicago bench has more offensive pop than its predecessor, pop the true litmus test of the lower end of the depth chart will be how well they play defense and maintain leads. With Thibodeau at the helm that glass is likely half full.
Again, this team's success will depend on bench play and how well Derrick Rose rebounds from his ACL tear, but one thing is certain. With these new acquisitions, no longer can this team be considered the Baby Bulls. This team faces an uphill battle, but is built to win now. With perhaps an asterisk next to this season considering Rose's health, anything less than at least a Finals appearance would have to be considered a disappointment.
Cleveland Cavaliers: The rebuilding in Cleveland continues as for the foreseeable future they'll still be the team picking up the pieces after LeBron's sudden exit. An impressive rookie year by Kyrie Irving certainly expedites that process, but with that said, not much to see here. Any semblance of the team that was built for LeBron (namely Jamison) is now gone, leaving room for true rebuilding. Former Utah Jazz swingman, C.J. Miles should see a more prominent role and be a nice surprise (mostly in fantasy leagues,) and Alonzo Gee and Omri Casspi have put up some nice numbers here and there, though those numbers are likely inflated due to just how bad this team really was/is. Tristan Thompson's ability to grow with Irving could be something worth monitoring down the line, but this season will be nothing more than taking stock of young talent and a trip to the lottery in Cleveland.
Detroit Pistons: Greg Monroe alone makes this team worth watching. Easily Monroe is the future of that squad and likely the most underrated big in the league. Austin Daye, and Jason Maxiell's development appears to have stalled and Charlie V's signing appears to be the definition of a bust. Hopefully Detroit embraces this changing of the guard and stops trying to make Prince the center of that offense. The Pistons may be wise to scrap Villanueva's role, diminish Prince's, and hand the keys to Mo-town over to Brandon Knight, Monroe, and Jonas Jerebko. Corey Magette's signing may not prove so bad, should he stay healthy, but a youth movement may be more worthwhile to the franchise in the long run. This team is a while away from any sort of contention for even the playoffs, but with a new engine, they may get there sooner rather than later.
Indiana Pacers: The secret is out. The Pacers are no longer the underdog squad of the East laying in wait behind Miami and Chicago, the Pacers will now be competing at the same level as the East's elite, or at least have those expectations. Besides swapping Darren Collison for D.J. Augustin, a move which will likely be a wash unless Augustin really rises to the occasion of being out of Charlotte, which is entirely possible, the Pacers haven't tinkered with much. With re-inked free agents Roy Hibbert and George Hill, the Pacers have decided to stand pat with a roster which breathed new life into an area once considered basketball's mecca. Some might say that this team may have hit their ceiling last year and are essentially the Grizzlies of the Eastern Conference as they're fun to watch and talk about, but not quite legitamate. However, last year's Pacers let their exuberance get the better of them and tried to run and gun with Miami. Would Indiana have had the veteran leadership (Danny Granger, while not a poor influence, is definitely not that leader) to pound the ball into Hibbert and West a few more times, it's a very real possibility that LeBron would still be ringless.
If the Pacers matured collectively as a result of that first real taste of playoff buzz and make the effort to be an inside out, gritty team, the sky is the limit for this bunch. Hibbert, George, Hill, and Augustin provide this team with a young core and West and Granger still in their relative primes. In addition this team is one of the more deceptively deep teams in the league.
Milwaukee Bucks: Perhaps it's time to throw in the towel on this team. For years I've tried to will this team into turning the corner, getting past being the best of the worst/worst of the best; always assuming that they're one move away from being last year's Pacers. Maybe it's just not meant to be. The fact is, the basketball that Drew Gooden is playing at this point in his career is one of the most underrated happenings in professional basketball. The fact is, Beno Udrih has a world of potential that he's yet to consistently tap. The fact is, since leaving Philly Sammy has had moments where he actually seems cognizant of what's going on on the basketball court. The fact is Mike Dunleavy impressive, but streaky, resurgence from a injury riddled career is admirable. But the real fact is, potential doesn't win basketball games and this team is as streaky and offensively challanged as they come at times.
One other giant fact is that Ersan Ilyasova is playing absolute Ilya-silly basketball can do a lot of everything on the basketball court. This man is a big market away from being a household name that your grandfather constantly mispronounces. Monta Ellis worked well with Steph Curry in a two guard system at Golden State, but much of that had to do with Curry's pass first mentality. Ellis is far from selfish, but Brandon Jennings is a player who needs the ball in his hands to have an impact (positive or negative). As a result Ellis seemed to have disappeared down the stretch of last season. Maybe Scott Skiles deserves the benefit of the doubt, as this will be his first full season with the potentially dynamic duo, but Skiles isn't exactly known for offensive creativity and things looked so bad last season, it's hard to envision and improvement. This team will have it's moments where they look like a rag tag group of untouchalbes, but they likely won't be able to string together those winning ways and will disappoint again. It's deer season, alright, and this team is going down.