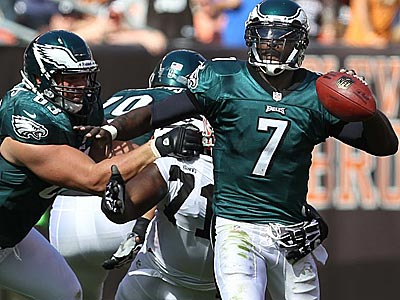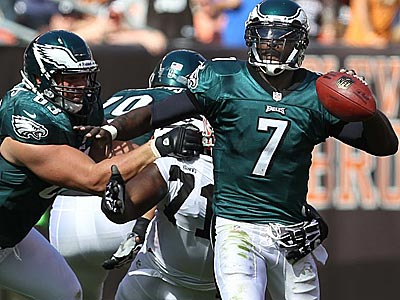 With the Eagles on their bye week, let's take a look the roster and evaluate some of their performances so far.
Michael Vick
Vick has been wildly inconsistent and unpredictable.
The quarterback has been one of the most disappointing players of this team, and his erratic play has been of the major issues of this team through the first six weeks.
No matter what the status of your offensive line or the quality of your coach's plays are, there is no excuse for thirteen turnovers in six games. On a larger scale, Vick has 40 turnovers in his last 28 games. I don't know how even the most diehard of Michael Vick fans can look at numbers like that and still try to claim that he's a great quarterback.
An elite quarterback overcomes his team's issues and makes the players around him better. Green Bay's Aaron Rodgers is missing a couple of starters on his offensive line, but he still managed to throw six touchdown passes against the Houston Texans, one of the best defenses in the league.
A non-elite quarterback in similar circumstances going to struggle like Vick has. It's true that the coaching staff and offensive line haven't done him many favors, but Vick's performances this year are confirming the fact that he is not (and never was) a top quarterback in this league.
Even Andy Reid can't give his quarterback a full endorsement at this point in the year. When asked if he was committed to starting Vick against the Falcons, Reid replied last week "Today I am."
The bottom line is that Vick's game is getting old fast. He's done little to inspire confidence, and he may be one more horrendous performance away from being benched.
Running Backs
LeSean McCoy
Through six weeks, McCoy has rushed for 459 yards on 111 carries. He's put together two 100-yard performances, but has only found the endzone three times.
McCoy has played just fine when he's been given the opportunity. The poor play of the offensive line has limited how the Eagles can run him (typically the team has run McCoy to outside, and rarely up the middle), but Shady still finds ways to make guys miss and pick up some tough yards.
Andy Reid and Marty Morhinweg have also impacted McCoy's impact on this team simply by refusing to make a serious effort to consistently put the ball in the hands of their best player. No one in the league does a better job of gameplanning against McCoy and taking his impact out of a game than Andy and Marty.
If there's anything McCoy needs to improve on, its his blitz pickup. There have been several instances this year that he's struggled in pass protection, and its the last element of his game that needs to grow and mature.
Bryce Brown
Brown has been the primary backup in the first six games, and has ran the ball 19 times for 51 yards.
Brown hasn't done anything to wow anyone yet, and he still looks very raw. Every now and then he'll rip off a nice run, but he just hasn't looked completely comfortable playing in the NFL yet.
Dion Lewis
The second-year running back has gone completely MIA. He's been inactive for all but one game, and you have to wonder what happened that caused him to fall out of favor with the coaching staff.
Before the season, Lewis was expected to be the primary backup for McCoy, but the coaches seem to trust rookie Bryce Brown before Lewis.
If he can't beat out a pair of rookie running backs, why is he still on the roster?
Chris Polk
Polk has played exclusively on special teams, and has yet to get an opportunity to play with the offense. His presence on special teams hasn't done anything to help the Eagles' dreadful kick coverage units.
Stanley Havili
There haven't been many guys on offense that have exceeded expectations, but Havili is one of them. I think he's done a fine job as a blocker, and he's even cut out a bit of role for himself as a ball carrier. He's got 21 yards on five carries, and has given the team a nice extra punch from the fullback position.
Offensive Line
Demetress Bell
Bell was supposed to be a more than serviceable fill-in for the injured Jason Peters, but he hasn't worked out at all. He's struggled to learn Howard Mudd's blocking techniques, and is only starting right now simply because the Eagles don't have any better options. The hope is that he'll improve as the year goes along, but so far there hasn't been a lot of reason for optimism.
Evan Mathis
A year ago, Mathis was playing very well with Jason Peters to his left and Jason Kelce to his right. He solidified the left guard position and looked like a Pro Bowl caliber guard.The Eagles rewarded him with a big contract in the off-season.
Now, Mathis is struggling. He doesn't even remotely resemble a quality starting offensive lineman, and instead looks like a mediocre journeyman. It's clear that number 69 will only be as good as the players around him.
Dallas Reynolds
Jason Kelce's replacement has really struggled in his four starts. Against the Lions, he was tossed around like a rag doll by Detroit defensive tackles Ndamukong Suh and Nick Fairley. He also was responsible for a turnover against the Lions when he snapped a ball early.
There's a reason that Reynolds hasn't been anything more than a practice squad for the first several years of his career. He shouldn't be a starting NFL center, and the drop-off from Kelce to Reynolds has been very noticeable.
Danny Watkins
The 2011 first-round draft pick has been a disaster. Right now he looks just as lost as he was during the preseason of his rookie year. He isn't dominating anybody, and is regularly overpowered by opponents. If the Eagles had a legitimate alternative at right guard right now, there isn't any way that they would continue to roll Watkins out there. Unfortunately, he's the best they've got, and they have to hope that he can find himself, and find himself quickly.
Todd Herremans
Even the Eagles' most reliable offensive lineman hasn't had a good season. Herremans hasn't been bad, but he just hasn't performed at the high level that we're used to seeing from him.
Even though he hasn't been at his best, he's the only lineman the Eagles can even pretend to feel good about.
King Dunlap
Dunlap started the first two games of the season before going down with an injury. I don't think he necessarily did a bad job while he was out there, but obviously the Eagles saw enough that they decided to go with Demetress Bell over him even after Dunlap recovered from his injury.
Wide Receivers & Tight Ends
DeSean Jackson
Jackson hasn't been impressive, but he hasn't been bad either. He just hasn't made much of an impact on this team in the first six games. He's only had one 100-yard game, and he's only found the endzone once.
The issues with offensive line and the quarterback have really hurt Jackson's value. The offensive line has rarely given Michael Vick enough protection to allow a deep route to develop, and even on the rare occasion that they do, Michael Vick hasn't thrown the long pass very well.
I think teams also have a much better idea of how to defend Jackson than they did in his first few seasons. Defenses know he wants to stretch the field, and that his size prevents him from running a lot of routes over the middle. Andy and Marty need to find a way to get the ball in Jackson's hands and make sure he's always a factor in games.
Jeremy Maclin
When healthy, Maclin is showing more and more that he is this team's true number-one receiver. He's had a couple of big games for this offense, including a seven-catch, 96-yard performance (with a touchdown) on Opening Day against the Browns. He's played through a painful hip injury, and has still made some big plays.
When he was out of the lineup against the Cardinals, the offense really missed his presence. The other receivers had a hard time getting open without Maclin around to draw some extra attention.
Maclin's final performance before the bye was a six-catch, 130-yard effort.
Jason Avant
Just 16 catches for 183 yards for Avant so far. Again, chaos on the offensive line and erratic quarterback play hurt his numbers a bit, but the Eagles need to get him more involved.
Riley Cooper
Inactive for five of the first six games while he recovered from a broken collerbone, and has just two catches for 18 yards. Why didn't the Eagles just start him on the physically unable to perform list?
Damaris Johnson
The rookie wideout showed some great quickness and some explosive qualities in the preseason, but they haven't carried over to the regular season. The team has taken away his duties as the punt returner, and he's now buried on the depth chart.
Brent Celek
Celek is enjoying another solid season. He's got 25 catches for 357 yards and one touchdown.
It's a shame that the offensive line is such a disaster, or Celek may have a much larger role in the passing attack. Instead he's often asked to stay behind as an additional blocker.
Clay Harbor
Caught the game-winning touchdown against the Browns, but has been pretty quiet since Week 1. He's got just eight catches for 59 yards on the year.
Overall
This is an offense that has dramatically underachieved so far.
Something has got to be done about the quarterback's turnovers. Michael Vick has produced 13 turnovers, and that number on its own is greater than the total amount of turnovers for many teams in the league. Andy Reid knows Vick's mistakes are taking points off of the board for the Eagles, and opening the door for other teams to get more scoring opportunities. That's why he's refused to give the former Atlanta Falcon a full endorsement as his starter.
The offensive line's problems are also a major issue, and their struggles trickle down and impact the success of the rest of the players. I don't think Howard Mudd has done a good enough job this year. He's supposed to be a Hall-of-Fame offensive line coach, and yet he hasn't been able to get the most out of these players. You can give him a pass for the performances of guys like Dallas Reynolds and Demetress Bell (since those two are only in the lineup because of injuries to other players), but he's done a terrible job with Danny Watkins.
Right now, this offense doesn't scare anyone. They're at the bottom of the league in scoring, and at the top of the league in turnovers. What opposing defense wouldn't want a crack at the Eagles right now?
I don't think this offense is a lost cause, and I believe that it's still possible for Reid and his staff to get this group playing much better. However, they're running out of time. The Eagles need their offense to be capable of scoring more than 21 points a game every week. The talent is there to make that happen, but the coaches need to do a better job and start finding ways to consistently bring the best out of their players.
 Denny Basens is the editor of GCobb.com. Email him at dbasens@ycp.edu, or follow him on Twitter.