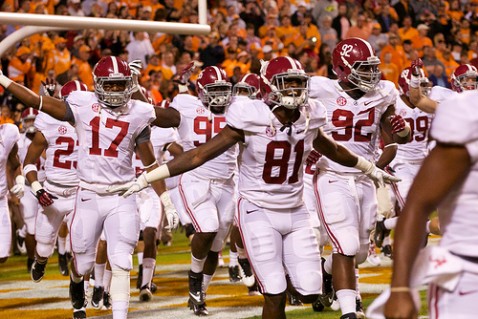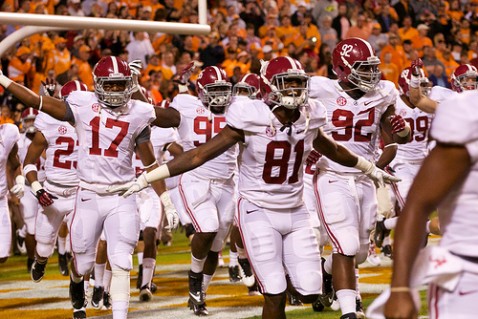 No less then six teams scored 50 or more points Saturday in Big 12 conference games. There were a total of 48 touchdowns scored in these games and only 47 punts. It seems like many teams, but especially teams from the big 12 have turned to this run and gun style of play where they simply just try and outscore their opponents. It's happened before in other sports. Remember Nellie Ball ? Nellie Ball was the name of the style (Philadelphia's own and coach of the 1980 World Champion LA Lakers) Paul Westhead tried to incorporate in the late 1980's and early 1990's in the NCAA and NBA. Westhead coached Loyola Marymount from 1985-1990 and from 88-90 his teams were the highest scoring in NCAA history averaging 115 ppg over the 3 years. From 1990-1992 he took his style to the Denver Nuggets. In 1990-1991 his team averaged and NBA record 119.9 ppg while surrendering 130.8ppg. Exciting to watch? Yes but his record over those two years a combined 44-120. The big 12 and a percentage of college teams have taken to the "Nellie Ball" approach. Mack Brown was asked at halftime and post game about his thoughts after his Longhorns outlasted Baylor 56-50 Saturday night and his response; "This is what the Big 12 has become. You have to get one more stop then the other team to win" There is simply no truth to that. As of today the teams leading the conference and ranked in the top 10 nationally are 5th and 8th in total offense in their own conference. Oklahoma and Kansas State ) There will always be an exception to the rule but Nellie Ball doesn't win championships.
Alabama remains the best team in the country. I have had dialogue with others who say Kansas State or Florida deserves the #1 ranking due to their body of work. I think in those cases they are people who want to appear smarter then others. They look for ways to say outlandish things so in the event it does happen  they can refer back. To me and I say this after careful thought, Alabama is the most dominant team in the history of college football. I don't think there is a team that can stay within 10 points of them. They run a simple stretch play; it turns into a 65 yard touchdown. A simple go route turns into an 80 yard bomb. You have to watch them play closely. They haven't even turned to page two of the playbook this year. They don't need to trick you or run a hurry up. They line up, say here I come and there is nothing you can do to stop me. Barrett Jones ( 6'5 302 ) won the Outland Trophy last season as the best interior lineman in the country. He moved from tackle to center this year because there was a younger player waiting that was better then him. Remember I said Jones won the award as the best lineman in the country the year before. Saturday the Tide scored 6 touchdowns, 4 were scored by true freshman. In my college preview I mentioned a true freshman named TJ Yeldon who by year end would be the best back in the country. He is; but he doesn't need 25 carries a game he and Eddie Lacy quietly make up the best tandem in the country. Quarterback AJ McCarron has thrown 239 passes in a row without an interception. They play the 11th ranked team in the country this coming Saturday. Mississippi State is 7-0 and a solid football team. Alabama is favored by 23.5 points. Simply put this team has not even been challenged yet and those who say Oregon's offense will beat them I look forward to seeing that. Alabama will destroy Oregon. If you haven't had a chance to see a lot of their games tune in to see them they play the game the right way. They run the ball and stop the run. This is the formula to win the BCS title. No headlines just hardware for this team.
This upcoming week has some key games that will help shape the BCS further. I can't remember the last time the #5 team was getting double digit points from the #8 team. That's the situation Saturday when Notre Dame visits Oklahoma as a 10 point underdog. Oklahoma Is known to be a high octane offense but the Sooners have a stingy defense this year and have played like a top 5 team since their loss to Kansas State. This one has all the makings of the game of the weekend. The World's largest cocktail party has significant implications as the winner will control its destiny to win the SEC East and a spot in Atlanta for the conference title game. Florida is a 4.5 point favorite over Georgia. Florida comes off a signature win over South Carolina while Georgia was sluggish in its win over Kentucky. This one has upset written all over it. Kansas State is a 7.5 point choice over Texas Tech. Can Kansas State get to the same intensity level as it did this past Saturday night when it pasted West Virginia ? USC faces a potent offense in Arizona and is a 6.5 point choice by odds makers. Look for Arizona to try and  stay with the Trojans punch for punch. Ohio State comes to Happy Valley to face the surprise team of the year. Penn State and  coach Bill O'Brien have done an amazing job of rebuilding from the loss of its players and a 0-2 start. They could have packed it in after that buy it's a credit to coach O'Brien and those kids that they have fought their way to a winning season. I think they send the Buckeyes home unhappy.
I was talking about all time teams yesterday and I put together my all time offense 1st and 2nd teams from 1985 to the present. When  I went back to the 70's I saw so many names like Dorsett, Sims, and Campbell. That list will be for another day but for now I will just use the 1985 -2012 all time  team
1st team
Quarterback – Danny Wuerffel  ( Florida )  When you look at this, it isn't even close. Wuerffel was a 4 year starter and led the Gators to 4 consecutive SEC titles. He was two times 1st team All American and the 1996 Heisman Trophy winner. He played in two straight National Title Games winning the National Championship in 1996. He has the highest passer rating ( 163.56 ) in the history of college football and his 114 td passes rank 2nd in major college football.
Running Back –Bo Jackson ( Auburn )  a key part of Auburn's offense all 4 years he was there Jackson is also considered by some  to be one of the top 10 college players of all time. He won the Heisman in 1985 and finished his career with 4,303 rushing yards ( 6.6 yards per carry an SEC record ) and 43 rushing touchdowns.
Running Back  – Barry Sanders ( Oklahoma State ) Sanders played from 1986-1988 In 1987 he led the nation in kick off returns with a 31.6 average. In 1988 he has what is considered the best season in the history of college football. He rushed for 2,628 yards and added another 516 yards on kick and punt returns. His 3,248 yards from scrimmage is the best in the history of college football. He rushed for 200 yards in a record 5 consecutive games and averaged over 200 a game and 7.6 yards per carry which included four 300 yard games. He had at least 2td's in 11 straight games and 9 times had at least 3 in a game. He had 39 touchdowns and won the Heisman Trophy. Sanders also ran for 222 yards and 5td's in the Holiday Bowl that weren't included in these stats.
Wide Receiver – Michael Crabtree ( Texas tech ) Crabtree had the best Freshman season ever. He hauled in 134 passes for 1,962 yards and 22 touchdowns. His sophomore season he backed that up with 97 catches 1165 yards and another 19 scores giving him 41 in just two seasons. Imagine what he would have done if he stayed in college ?  The two years is enough for me
Wide Receiver – Randy Moss ( Marshall ) After finally finding a home after a troubled start, Moss had 55 grabs for 1073 yards and 19 touchdowns. His final year that ballooned to 9o catches for 1647 yards and 22 scores. Most will agree a top 5 talent of all time at any level he played the position at.
Specialist – Desmond Howard ( Michigan ) His Senior Season he had 61 catches for 950 yards and 19 touchdowns but that didn't tell half the story as Howard was one of the most feared return men in history. He parlayed all of this to a Heisman Trophy in 1991.
Have a great week!