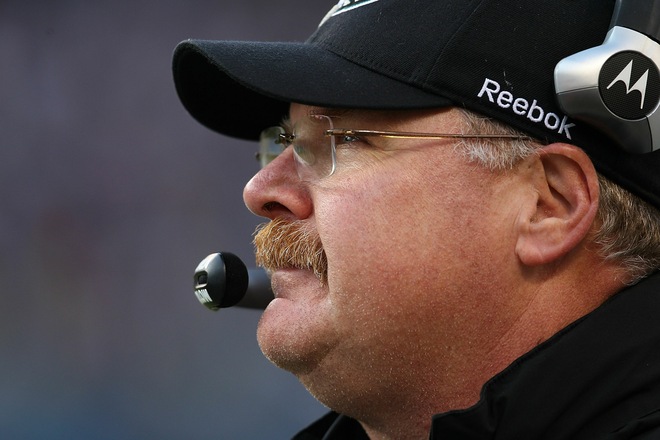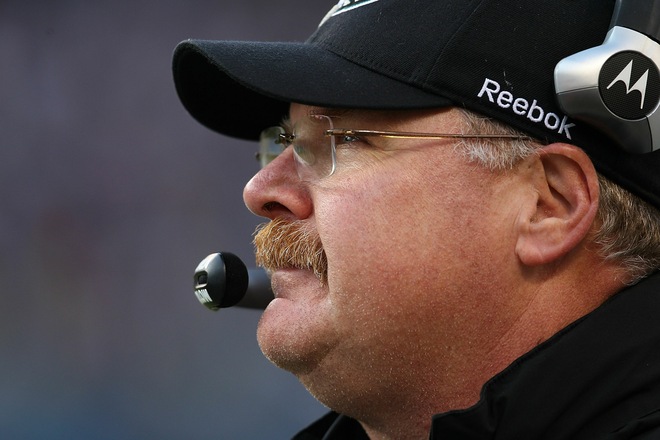 Ever have that feeling that something bad is about to happen, something beyond your control? A feeling like… well, when you start to notice that special someone becoming distant, less attentive. And then they start to become evasive. You know something's wrong but when you ask you're told that everything's okay when you know it's not. You hope that things will get better but it doesn't. You hope that things will change but… you know they won't.
I can always tell when the end is near, the end of an era as it were. I can tell when there's an end of an era in Philadelphia Eagles football as well. I've seen many an era come and go in my 44 years of Fanship to this team. I've lived through them, from Joe Kuharich to Jerry Williams to Eddie Khayat. From Mike McCormack to Dick Vermeil. From Marion Campbell (Fred Bruney) to Buddy Ryan to Rich Kottite to Ray Rhodes and lastly, to Andy Reid. A lot of these "era's" were "errors" but you never know right?
The end can mean progress and improvement. It can also mean a steady and cold decline; a gradual departure from all you know to be good. My friends, I think we are nearing that place in time. We are nearing the end of an era in Eagles history, the Andy Reid era. We had a long relationship together didn't we? But its fine, I'm fine… I think. If you've been an Eagles fan for any serious length of time, I think you can relate. If this were a love relationship, maybe it would go something like this…
Andy, I've been in this (relationship) with you for fourteen years now. I feel lied to, used and abused, made to believe that I (as a fan) was special, important or of some value to you (the organization).  If you don't have love for me anymore just say so instead of the usual "I take full responsibility…" Yeah, the old "It's not you it's me" routine. I'm so tired of hearing that. You can tell me. Besides, your actions already show it.
Is there something more that you're not telling me? Is there something that… (as a fan) I should know? You get together with the fellas (coaches) behind closed doors and you shut me out and that hurts. Somehow you don't realize it, but I have so much invested in this relationship emotionally and intellectually. My confidence in you along with my faith has been lost and you've destroyed my trust. Sadly, I don't think there's anything you can do to fix it. I know you won't change.
I don't want to be so hurt that I lose hope in love (The Philadelphia Eagles organization). I don't believe that you love me anymore Andy, not the way I need to be loved. But I'm not going to lose hope in love, just in this relationship. I'm not giving up on the opportunity to love again; it's just not going to work out between you and me. Love don't live here anymore Andy.
You used to spoil me, buy me nice, shiny new things (Donovan McNabb, Sheldon Brown, Brian Westbrook) but recently you just get me second hand merchandise (Jason Babin, Cullen Jenkins) that only worked for a little while if at all (Ronnie Brown, Vince Young, Nnamdi Asomugha).  A few nice gifts here and there (Jason Kelse, Mychal Kendricks and Fletcher Cox) won't cut it anymore Andy.
You spoiled me by taking me dancing all the time at all the finest balls (5 NFC Championship games and a Super Bowl). I used to feel special just to be there, but then we always had to leave early and not once was I ever the "Bell of the Ball"! I guess I should just be glad to have been there at all huh? Lately you haven't taken me out anywhere. Every one of my acquaintances back East (Eastern Division) have been the bell of the ball but me, and more times than one! How do you think that makes me feel Andy? You've had enough time and plenty of chances and I can't live like this anymore!
As far as your employees (the players) are concerned, are you giving up on them or are they giving up on you? Do they even trust you anymore? And just the other day one of them had the audacity to question my loyalty. Seriously? Prove to me that you care Andy! Fight for me! Fight for our love!
I defend you constantly to all of my friends about all the really nice, expensive tools you have at work (weapons, talent at the skill positions). They want to know why you won't use them. They say it's like having a gun (LeSean McCoy) in a lock box but you don't have the key (common sense) to open it. What good are weapons if you can't… won't get to them to use them? And all that hype about being an elite company for years (dynasty). I believed it too. I'm sorry Andy but this is no longer acceptable, being average when there is so much potential, below average even.
The bottom line is you have to cover your own butt. I understand, but at the expense of your longtime friend? I know all of your friends (coaches) and which one of them would have done for you what Juan did? He took a bullet for you, remember? You should have never let a fisherman try and teach your guys how to hunt, get my meaning? Now he's gone.
Who's next Andy, your "bestie" Marty (Mornhinweg)? No, he's too much like you so… And what's so "special" about Bobby (April)? Nothing! I guess now you're going to get that new kid to run the business, the big one… Nick. Yeah, you think he can cover that big butt of yours? I know you think Michael is the obvious choice to fall on the sword next but, Nick isn't ready to handle things yet so that was a good call telling Mr. Vick, uh… the media, that he still has a job.
I'm looking for a new love since you left this vacancy in my heart. There's this guy from Pittsburgh I kind of like. Everyone's talking about him; he makes my heart skip a beat Andy. And there's this other guy who lived in Tampa Bay and Oakland, he kind of does it for me too. Both of them have been to the Dance and both went home with crowns on their heads. And there're one or two others that strike my fancy too.
Oh, now you're asking me if you can stay, if we can start all over? (regroup, retool) If I had the slightest belief that you would change your attitude Andy, your  philosophy on how to run the company, I would say "yes" but I know that we would only end up right back here… having this conversation… again. Anyone can change… but I know you won't.
I'll tell you what; I'll give you to the end of this current campaign. If you take me to that Big Dance, you know… the one in February, and make me the Bell of the Ball. Then… you can stay! In fact, I'll love you forever. Otherwise, you've got go. It's not me, it's you.
It's not been all bad Andy, we've had some really good times, memories that will last forever… but it's over. It's time to move on. I wish you well and I know you'll be okay. But I'm not getting any younger Andy so, for me… it's simple, you've got to go cause love don't live here anymore.