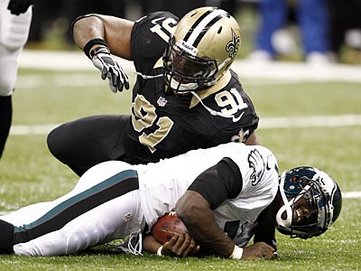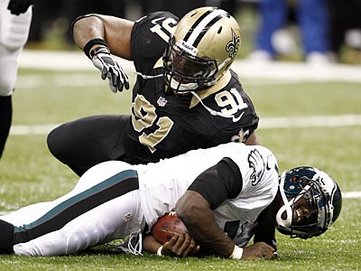 Eagles offensive coordinator Marty Mornhinweg was at the podium today and  he tried to explain what's been the problem that has been plaguing the Birds in the red zone.  In the Saints game they got into the red zone five times and weren't able to score a single  touchdown.
"If you're not playing with great precision down in the red zone, then you get into those types of situations," he said. "All eleven players have to play fast and precise down in the red zone. Things are happening quickly; they've got the 12th man (the end line) … I will tell you players are working very, very hard to get that thing straightened out."
I don't see much hope for these guys in the red zone because they don't have a power running game.  They don't have any good big receivers, so teams are keying running back LeSean McCoy and making sure to get penetration into the backfield.   They can't run behind Jason Peters and they can't trick people any more with shovel pass.
Most of the time when McCoy gets a handoff, he's avoiding a tackler at the same split-second that he gets his hands on the football.  They still need to give him a chance to make something happen.  Marty shouldn't forget McCoy when they get into the red zone because he's their best player and very effective at making tacklers miss.
Maybe they should start kicking field goals on second down if they get in the red zone. LOL
Seriously, Mornhinweg said he thought all of those empty backfield formations were a strong area for the Eagles offense in the Saints game.  Vick got killed by the New Orleans blitzes versus the empty backfields.   He's got to get the ball out of his hands, but he's still going to get pounded in that set. He sacked on that key second down play in the red zone.
I thought they should have gone with more maximum protection plays and let DeSean Jackson and Jeremy Maclin get open deep when they were out in the open field.
New Orleans hadn't been able to cover anybody up until Monday night, but they covered that over by putting pressure on Vick.  How could the Birds be so foolish as not to move into two tight end sets with maximum protection and throw the ball deep all day long.