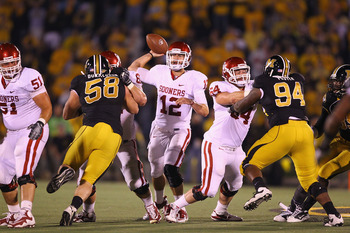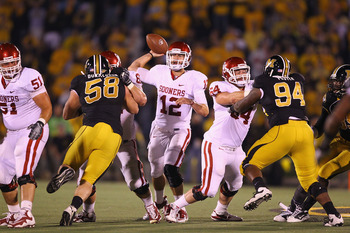 Let's get this out first. Yes I had Alabama running the table. I'll own up to it, I was wrong. Does that mean if we had a playoff system I think Alabama would not win the National Championship? Not necessarily. I think they would still be the favorite. But too many people just move on without acknowledging they were incorrect. This is the beauty of college football. I can't imagine there were many who had Oregon winning the BCS and I am pretty sure there were even less having Kansas State and Notre Dame. Right now it looks as all will win out. But we know better. The chances are another team will loose a game. It would make the process quite easy if this happens. If not I can't imagine how the team on the outside will feel. Let's hope this works itself out.
I remember posting when Alabama went down 20-0 that I still believed they were going to win. I was more confident with this then when they were in LSU. The LSU game was to me a more uphill battle. It was all there for Alabama first and goal from the six yard line with less then two minutes remaining. You could look at the play calling but that only takes away from the outstanding job the Texas A&M defense did. With all the momentum going the other way there weren't too many people who thought that the Tide would be kept out of the end zone there. What did bother me is when they had a chance to get the ball back at  worst Midfield with 40 seconds remaining the kid making just an unforgiveable mental error and jumping offside. I can live with aggressive mistakes but in that situation you just do not jump. I wouldn't get past that. This leaves Alabama on the outside hoping for a few of these teams to get knocked off.
Oregon looked human for two and a half quarters then put their foot on the gas and destroyed Cal. Oregon still has some formidable test remaining. The Ducks take on Stanford this Saturday. This is the 3rd best rushing offense in the country against the number one rushing defense in the country. Oregon averages 325 yards per game and over 6 yards per carry while Stanford allows a stingy 58.6 yards per game and 2.02 yards per carry. The line makers don't think the numbers mean much they have set Oregon as a three touchdown favorite at home against the Cardinal. By the time Oregon takes the field they will know their opponent in the Pac 12 Championship. The winner of the UCLA USC game Saturday afternoon will face Oregon in the title game. So you could have Oregon still having to beat Stanford, Oregon State in the civil war game and USC again. UCLA will be ready for USC this will be a tough game for the Trojans. Jim Mora Jr has done an unbelievable job returning the Bruins to prominence in his first year. USC is a 4 point favorite over UCLA and can salvage a disappointing season by beating UCLA and taking another shot at Oregon. Remember USC upset Oregon last year in Eugene.
Kansas State will not have to play in a conference playoff game this year. The rule is you need to have more the 10 teams in your conference to have a championship game. The Big 10 currently has 12 teams and the big 12 has 10 teams. ( Makes sense right  ) I totally disagree with the NCAA on this rule. I am sure Oklahoma would like another shot at K state. Kansas State has two more games to worry about. This week at Baylor and home December 1st against a Texas squad who is playing much better since their two defensive meltdowns against West Virginia and Baylor. Coach Bill Snyder  deserves to get there he is a humble incredibly intelligent football coach. Collin Klein has had an unbelievable year. But behind closed doors I am sure the NCAA is hoping for a Texas upset to take the pressure of passing K State for Notre Dame in a championship game. 
Notre Dame has been the least convincing team to be selected should they have to choose between the three. But this isn't a beauty contest. Notre Dame has lined up and defeated everyone that has been put in front of them. And if you go by body of work: Kansas State's best wins will be against? Oklahoma and I guess Texas. Oregon's best wins will be against? Stanford and USC (should they all run the table )? Who has Notre Dame beaten or will have beat ? Stanford, USC, and Oklahoma. Notre Dame would have the strongest argument if you approach it that way. Too many people just use the eye test. The truth is none of know who would win if all of these teams played. We can all do our homework and guess. But the players decide.
I hear a lot of names being thrown around for the Heisman. This could change week to week but as of today the one who should win isn't even in the conversation by the "experts" What about Marcus Mariota? The freshman has thrown for 2164 yards 28 touchdowns and ran for another 500 plus yards on the best offense college football has seen maybe ever. He is the leader of this team that may just run the table and its scary to think he will be around for at least two more years after. Here are my top five. 
1)       Marcus Mariota
2)       Collin Klein
3)       Johnny Manziel
4)       Kenjon Barner
5)       Manti Te'o
I know the polls have to go by stats and who hasn't lost. But my top 16 is not only that, but also who would win if these teams lined up head to head. This is a great debate topic and I want to hear your thoughts. My readers tend to be intelligent people who follow the sport closely so don't just tell me I am wrong tell me your thoughts .If we had a ten team playoff, here is how I would seed it. Think of the NCAA basketball tournament that even a team with a loss could have a #1 seed.
Round 1
#4 Stanford at #1 Alabama     Vegas Line  Alabama -13  Over/Under 46.5
#4 Nebraska at #1 Oregon     Vegas Line  Oregon   – 21.5 Over /Under 71
#4 Michigan at #1 Kansas State  Vegas Line Kansas State- 14.5 Over/Under 55.5
#4 UCLA at #1 LSU                 Vegas Line LSU -17.5 Over Under 55
#3 Oklahoma at #2 Notre Dame   Vegas Line Notre Dame- 7.5 Over/Under 48
#3 USC at #2 Florida                     Vegas Line Florida -4.5 Over/Under 49
#3 Clemson at #2 Georgia            Vegas Line Georgia -6 Over/Under 63
#3 Texas A&M at #2 South Carolina Vegas Line South Carolina – 5.5 Over/Under 62.5
Round 2
#3 Oklahoma at #1 Alabama  Vegas Line Alabama -16.5  Over/Under 54
#3 USC at #1 Oregon              Vegas Line  Oregon -13.5 Over/Under 79.5
#3 Clemson at #1 Kansas State Vegas Line Kansas State -7 Over/Under 59.5
#2 South Carolina at #1 LSU    Vegas Line LSU- 7.5 Over/Under 36
Round 3
#1LSU at #1 Alabama         Vegas Line Alabama – 6.5 Over/Under 38
#3 Clemson at #1 Oregon   Vegas Line Oregon -19   Over/Under 83.5
Final Round
#1 LSU vs #1 Oregon  Vegas Line Oregon – 7.5  Over/Under 61
BCS Championship Final Score:  LSU 36 Oregon 34
Have a great week!