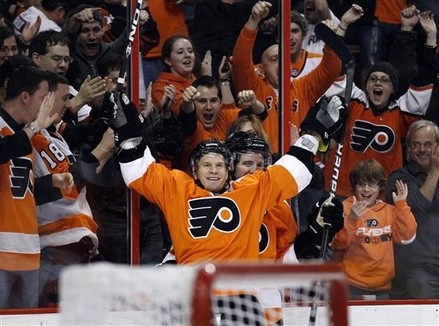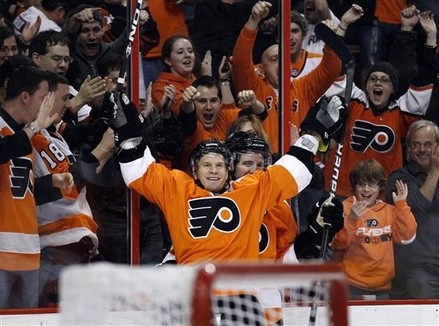 One of the major sticking points by the NHL during the collective bargaining negotiations with the NHLPA is that the players need to take immediate cuts in salary.  Assuming that the "make whole" provision proposed by the NHL to pay back the money owed to the players on existing contracts is accepted, then the current salary cap of $70.2 million will be dropped considerably.
As Jim Matheson of the Edmonton Journal posits, "The NHL salary cap ceiling today is a shade more than $70 million, but what if we get a new collective bargaining agreement and it drops to $60 million next season?  How do teams fit in all their players?"
It has been suggested in the media that the NHL would allow for a one-season grace period for teams to get under the cap.
For the Philadelphia Flyers, this would not pose an immediate issue.  According to Capgeek, the organization has approximately $52.55 million locked up in existing contracts for the 2013-14 season, assuming that captain Chris Pronger is either placed on long-term-injury-reserve (LTIR) or bought out as part of an amnesty deal.
Using the magic number of $59.2 million thrown around the internet, that leaves around $6.65 million in cap space to sign three bottom six forwards, two bottom pairing defensemen, and a back-up goaltender.
Easy enough, right?
Unfortunately, one of the consequences of this reduction is that, barring any other trades to free up salary cap space, there is no "room" for veteran defenseman Kimmo Timonen to return for one final season.
The 37 year-old has stated in the past that he would likely retire once his current contract expires this season.   With chronic back issues adding to the normal wear and tear he regularly copes with, the clock is winding down quickly to his last game in the NHL.
In September, Timonen told Sam Carchidi of the Philadelphia Inquirer, "I feel like I am in great shape, but to be honest if this [lockout] drags on another two or three months who knows, I might lose my motivation and we will see what happens after."
Teemu H of Broad Street Hockey added some new information this afternoon via twitter, stating, "Timonen says his back is good but not perfect.  Says it will never be perfect again.  'Can't help it.' "
Timonen has dressed for 397 regular season games as a Flyer, ranking him 12th all-time among Flyers defensemen. A full 82-game schedule for this season could have moved him to 10th all time.
Timonen ranks 3rd all-time among Flyers defensemen in assists, behind Mark Howe and Eric Desjardins.
Timonen also ranks 5th all-time among Flyers defensemen in points, behind Howe (480), Desjardins (396), Thomas Bladon (230) and Behn Wilson (216). Timonen (204) could very well have moved up to 3rd had the season begun on time.
Some have speculated that he could still sign a one-year extension, depending on whether the 2012-13 NHL season takes place and whether the Flyers look like a Cup-contending team.
Unless Timonen was willing to take a massive paycut, though, a reduced salary cap would force Philadelphia to close the door on that idea.
Realistically, this season is it, and it is steadily approaching the event horizon before it finally collapses under the hubris of the league's "leadership."
Kimmo Timonen wouldn't be the first player to go into retirement following an NHL lockout, but he is one of those unique players that deserves to go out on his own terms.  It would be a travesty if he had already played his last game.