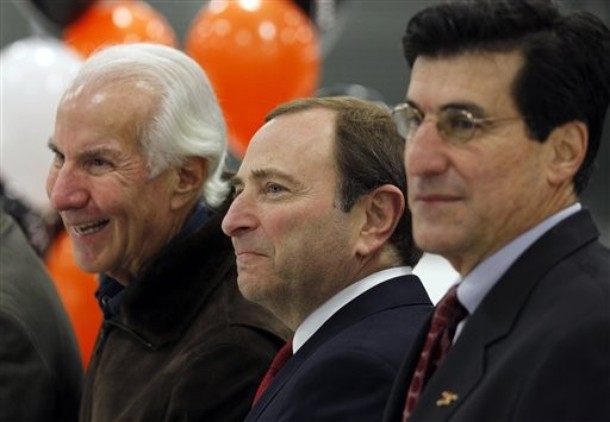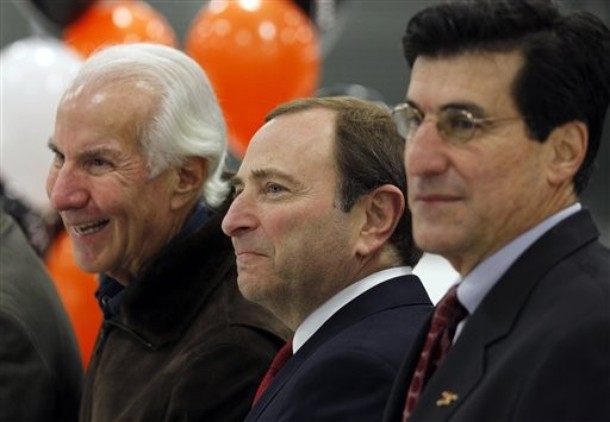 The Daily News has certainly gotten the hockey world's attention this morning.
According to Frank Seravalli, "Multiple sources confirmed to the Daily News on Friday that [Ed] Snider, once seen as a supporter of [NHL Commissioner Gary] Bettman's push to rein in the players' share of revenue, has soured on the process after it became apparent that a deal would not be brokered in time for a Dec. 1 puck drop."
Many of the leading reporters from around the league, including Elliotte Friedman (CBC), James Mirtle (the Globe and Mail), Katie Strang (ESPN) and Aaron Portzline (Columbus Dispatch), have either passed along or weighed in on the assertion that "Mr. Snider" could be the key to ending the NHL lockout.
From Seravalli:
"Put simply: Snider and the rest of the NHL's owners were promised a big win by Bettman, with player concessions on revenue division and contracting rights.  The best they'll get now is a small win in revenue split- coupled with a demoralized fan base and all-important corporate sponsors that are ready to quit."
Concern over sponsorship and fan apathy are not factors to be dismissed, but understanding how often "sources" are just passing along educated guesses or blatant misinformation, I would not read too much into this.
Friedman previously suggested in one of his weekly "30 Thoughts" columns that the main hard-liners remaining were the Anaheim Ducks, Columbus Blue Jackets, the New York Islanders, the Florida Panthers, the Boston Bruins, St. Louis Blues, Washington Capitals and Dallas Stars.  I think you could fairly add the Minnesota Wild to that list, as Craig Leopold has often attended the actual negotiation meetings.
In short, everyone with an interest in the NHL has already made the assumption that Ed Snider and the Philadelphia Flyers are not driving the bus (aside from being a cause for why contract rights are so sensitive right now).  Anyone talking casually on the subject can make the connection that Snider likely wants to see the lockout end sooner rather than later.
Darren Dreger of TSN, possibly the most connected man in hockey, had this to add, via twitter: "Good example of an owner who wants to play…badly. But, I'm told Snider remains strongly in Bettman's corner."
UPDATE: Ed Snider released the following statement on Saturday: "An article appearing in today's Philadelphia Daily News is absolutely erroneous. I am a solid supporter of National Hockey League Commissioner Gary Bettman and the League in this unfortunate situation. Like all fans, players, owners and League officials, I am extremely hopeful that an agreement can be reached and we can eventually be playing hockey again soon. League rules prevent me and all owners from making any comments on the labor negotiations. I will continue to honor that and not make any further comments."
Nothing new to see here, folks. Go about your business.
For the latest Flyers news and updates, you can follow me on twitter (@JoshJanet).