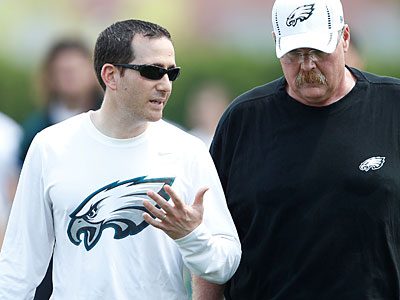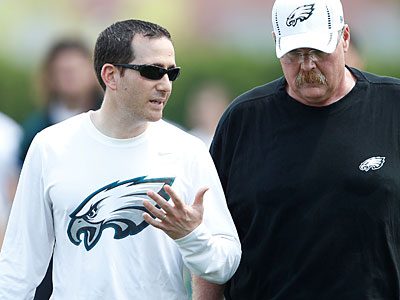 Everybody's talking about what the Eagles are going to do about hiring a new head coach, but I think making a change at the General Manager's position is just as important, and probably more so than anything else.  You've got to have good players in order to have a good football team and the only way that happens is if you have a GM and scouts with an eye for talent.
Eagles owner Jeffrey Lurie has GM Howie Roseman in position to lead the way in securing a replacement for Andy Reid and overseeing this year's draft.  Here you have Roseman, who has a questionable resume when it comes to evaluating talent, set to be a big part of the selection of both the new coach and the new players.
It's a huge job for Roseman.  How could somebody with Roseman's mediocre track record be put in charge?  How could this be considered a good decision?  Is there a chance that the top head coaches will turn down the offer to coach here, if they have do so with Roseman as their GM?  I don't see how his presence helps the organization.
Lurie seems to have confidence in him despite the fact that Roseman and his scouts played a big part in putting together this roster.  Yes Reid had final say, but Roseman was in charge of the scouts who went and evaluated the talent.  There's no way you can look at his record in this department and consider it a plus.
He came out of the draft each year excited about their draft.
His track record of drafting hasn't been very good.  Look at the 2011 draft with number one pick, offensive guard Danny Watkins, who is looking more and more like a bust.  Watkins is so bad that the Eagles signed Jake Scott, a week ago Tuesday and played him five days later rather than Watkins.
Roseman's second-round pick in 2011, safety Jaiquawn Jarrett, was released and has not been signed by any other team in the league.  What does that say for Roseman's drafting?  He drafted a player in the second round who nobody else in the league is interested in?
Curtis Marsh, the third round pick in that draft, hasn't been able to get off the bench.  I do think he's done better with the draft of 2012, but the 2010 and 2011 drafts were pathetic.
How could you put the future of this organization in the hands of Roseman?  Roseman is one of the top reasons the Eagles hopes went south this year.    They had no depth on the offensive line because of the poor drafting of Roseman.  The Birds don't have any quality play at the safety position because of poor drafting by Roseman.
There are two candidates I would like to see given a shot at the Eagles General Manager's position.  One is the Director of College Scouting for the New York Giants, Marc Ross.  He was a scout for the Eagles a number of years ago, but he's got a tremendous track record for having a great eye for talent.   He's been the number reason the Giants have been able to consistently draft quality players.  Ross has a long football background, which Roseman doesn't have.
He wanted Jason Pierre-Paul and Roseman wanted Brandon Graham.  Need I say anything else?
I would also  like to see the Eagles interview San Francisco 49ers Director of Player Personnel Tom Gamble, who is the son of former Eagles General Manager Harry Gamble.  The younger Gamble has been working in that organization for the past seven years and I think they have the most talented team in the NFL.  Gamble has been in the NFL for the past 27 years.  Like Ross, he has a football background, but Roseman doesn't.
Both the Giants and the Niners are talented on both sides of the ball and strong on both the offensive and defensive lines.  They are big, strong and intensely physical.  It wasn't an accident that they were both in last year's NFC Championship game.
All you need to do is compare the talent on the Giants and 49ers rosters to the talent on the Eagles roster.  The Birds have draft smaller players, but the Giants and 49ers have found an abundance of big, physical players.