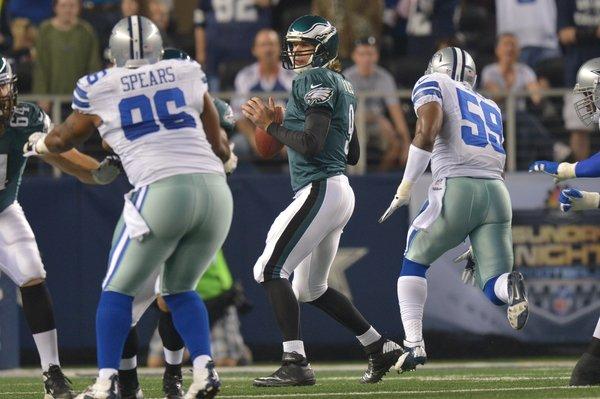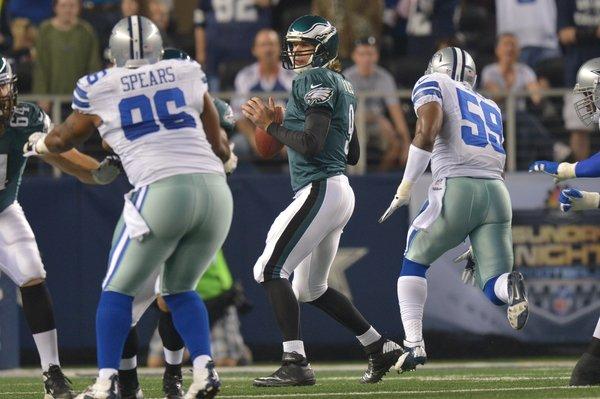 I loved the game plan the Birds put together for Nick Foles and the Eagles offense.  This used to be a strength of the Andy Reid and his staff, but it hasn't been nearly as much this year.  It seems that they stressed the passing game this year despite factors which made the running seem to make much more sense.
Reid and Marty Mornhinweg did a great job of tailoring the game plan to their talent, which should be the first rule of putting together a game plan.  Initially, they got Bryce Brown  going, then they let Foles start going deeper down the field.  He throws the slant route very accurately, they give him the chance to throw it.
Reid and Mornhinweg let him get the football out of his hands and complement the running game.  He threw some screens to slow down the pass rush.  They got Brent Celek involved, so that Foles would be able to get rid of the ball sooner than waiting for the wide receivers to get open.  It's a shame they didn't do this earlier in the year.
There were times earlier in the season when Michael Vick was struggling, the pass rush was pounding him and they could have taken the heat off of him by letting the passing game be the complement to the running game rather than vice versa.
The same is true during Donovan McNabb's time here.  For some reason Reid and Mornhinweg refuse to take the pressure of their number one quarterback if he's getting his brains beat in, by running the football and keeping the pass rush at bay.  This is a stubborness which hurt Reid and his staff.