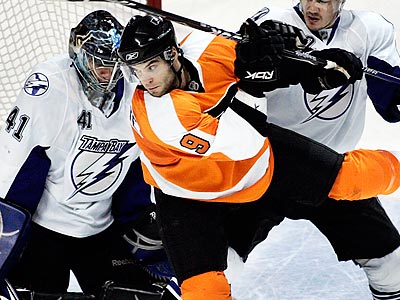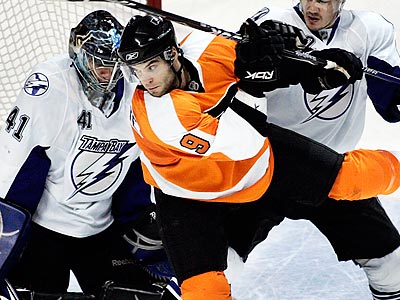 On Halloween in 2009, the Philadelphia Flyers called up prospect David Laliberte to fill in for Danny Briere, who was ailing from a groin injury.  The right winger scored on his second shift in his rookie debut, a 6-1 hammering of the Carolina Hurricanes.
Two nights later, Laliberte scored the second (and what would eventually be his final) goal of his budding NHL career, putting one past Mike Smith of the Tampa Bay Lightning.  The former fourth round pick appeared to be gaining steam with his linemates Jeff Carter and James van Riemsdyk.
(For further reading, I recommend this "Then and Now" feature from Flyers Faithful.)
He hit the "rookie wall" by his third game in, though, and finished his call-up period with three points in eleven games played. He would be returned to the Adirondack Phantoms, although he did skate in one playoff game against the New Jersey Devils.
Laliberte's career with the Flyers ended in 2010, when he was traded along with teammate Pat Maroon to the Syracuse Crunch, the AHL affiliate of the Anaheim Ducks.  Although the details were never fully leaked to the public, there had been a very hostile falling out in the locker room between Maroon and head coach Greg Gilbert, with some of the veteran Phantoms supposedly adding to the toxic atmosphere as well.
It was never known if Laliberte, who finished his career with the Phantoms with 52 goals and 112 points in 182 games played, was a contributor to the Phantoms' personnel issues.
Three years later, any love that may have been lost between Laliberte and the Flyers organization appears to be reconciled. According to Mike Ashmore, who covers the Trenton Titans for the Trentonian,
"The Titans have signed forward David Laliberte to a contract.  Yes, that had been in the works for a while, and yes that's what I was alluding to about a week back.  Laliberte skated with the team this morning and wore #8, but he has yet to be officially added to the roster…which should be coming in an hour or two.  An additional transaction will need to be made to get him on the roster."
That roster move has been made, with forward Ryan Hayes traded to the South Carolina Stingrays for "future considerations."
The Titans, the ECHL affiliate of the Flyers, have not made a formal announcement of the signing.  Laliberte, who played last season in the Deutsche Eishockey Liga (DEL) with the Wolfsburg Grizzly Adams, will be joining a red-hot Titans team that has won six of its last seven games (after losing 12 of the previous 18 games).
Hopefully, Laliberte's signing will translate to further positive success for the Titans.  If he plays well enough, it could even mean a promotion back to the Phantoms in the future.