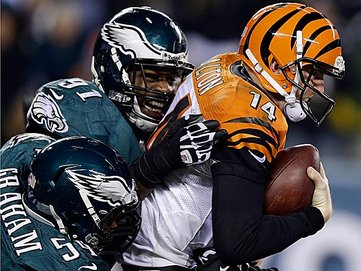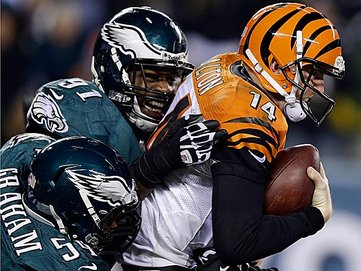 According to a person close to the Eagles, there's a big difference between the Eagles brain trust which orchestrated the Birds 2012 draft, as compared to the group which navigated the 2010 and 2011 draft.  Yes, Andy Reid was the Eagles head coach during all of those drafts and he had final say on the picks.  Yes, Howie Roseman was the guy evaluating the players prior to those three drafts, but there was still a major difference.
The difference was the presence of current Brown President Joe Banner.   The life long friend of Eagles owner Jeffrey Lurie was the team's President, and he was there for the 2010 and 2011 drafts.  He wasn't around for the 2012 draft and I'm told it made a big difference.  Banner pressed the decision makers about getting position players who would meet their needs.
I'm told that the Eagles feel they will continue to draft better if they focus on getting the best player available rather than drafting to meet position needs.  They believe teams who try to get the best player rather than trying to meet needs tend to be more consistent in the selection process.
Let's take a quick look back at the last three Eagles drafts.
In the 2010 draft with Banner driving the idea to draft for needs, the Eagles struggled in the early rounds.  I don't know that you say  that is the reason they chose Brandon Graham over Jason Pierre Paul, but drafting Daniel Te'o Nesheim in the third round could have been done as a way to address position needs.
1. DE Brandon Graham
2. S Nate Allen
3. DE Daniel Te'o Nesheim
4. CB Trevard Lindley
LB Keenan Clayton
QB Mike Kafka
5.  DE Ricky Sapp
WR Riley Cooper
6. RB Charles Scott
LB Jamar Chaney
7. DT Jeff Owens
S Kurt Coleman
Amazingly the Eagles did better at the end of the draft than they did at the start of it.  Fifth round pick Riley Cooper, sixth round pick Jamar Chaney and seventh round pick Kurt Coleman have contributed more than the players in the first, second, third and fourth rounds.  This could be attributed to stressing meeting needs in the top rounds and trying to get the best player available in the latter rounds.
In the 2011 draft
1. G Danny Watkins
2. S Jaiquawn Jarrett
3. CB Curtis Marsh
4. LB Casey Matthews
K Alex Henery
5. RB Dion Lewis
G Julian Vandervelde
6. C Jason Kelce
7. LB Greg Lloyd
FB Stanley Havili
Look at the production of the first four rounds in the 2011 draft and it could make you throw up.  Watkins, Jarrett, Marsh and Matthews are all either sitting the bench or not on a roster in the NFL.  It looks like the Eagles missed on their first five picks of the 2011 draft.
The Birds decision to draft a player in the first round who would be 27 in his rookie year was a major mistake and I don't think they can blame all of it on over-emphasizing addressing team needs.  Watkins has been benched in favor of Jake Scott, who was sitting at home a month ago.
The most disturbing thing I've heard about Watkins is that he doesn't love playing football.  Amazingly this guy may want to be a fireman more than a NFL player.
Jarrett was definitely a reach because he played the safety position.  He wasn't fast enough to play safety in the NFL.  Here you have a second round pick who is available, but no other teams have touched him since the Eagles released him.
Marsh has the size and speed needed to play, but he hasn't shown the quickness or ball skills needed to play the corner in this league.  He continues to be an Oak Ridge Boy (bench warmer).
Matthews started at the beginning of his career a year ago, but wasn't able to keep his starting position.  It was the best of situations to be middle linebacker in the "Wide Nine" during your rookie year in the NFL.  He lost his starting job and hasn't been able to regain it.
The Eagles second pick in the fourth round has been very good.  I'm talking about kicker Alex Henery, who will probably be the Eagles MVP.  He's had a very good year and may have been the best pick in the 2011 draft.
Their first pick in the fifth round, Pittsburgh running back Dion Lewis was supposed to be backing up LeSean McCoy, but he was beaten out by this year's  seventh round pick, Bryce Brown.  Lewis hasn't done much since he was drafted.
The Eagles second pick in the fifth round was guard , Julian Vandervelde, who has done absolutely nothing for the Birds during his short career.  They've cut him a couple of times and brought him back, but they've never really considered starting him.
In the sixth round the Birds selected Cincinnati center Jason Kelce, who is probably their best pick on the 2011 draft.  Prior to sustaining a season-ending knee-injury earlier this season, he was on his way to being one of the best centers in the NFL.
In the seventh round, they selected linebacker Greg Lloyd.  He didn't have NFL talent.
Their final seventh round pick was USC fullback Stanley Havili and he's been a pleasant surprise.  After spending a year on injured reserve, Havili has been the starter at fullback this year, but hasn't been asked to do much.
It's still early, but it looks like the Eagles have done a much better job in the 2012 draft, than they did in 2010 and 2011.
1. DT Fletcher Cox
2. LB Mychal Kendricks
DE Vinny Curry
3. QB Nick Foles
4. CB Brandon Boykin
5. OT Dennis Kelly
6. WR Marvin  McNutt
OG Brandon Washington
7.  RB Bryce Brown
Clearly the Eagles did a much better job at the top of the 2012 draft than they did in 2010 and 2011.  Was the absence of  Eagles President Joe Banner and his emphasis on meeting position needs the reason for the improvement?  I can't say but something made a difference.
Cox looks like he's headed to being one of the best defensive tackles in the NFL.  We knew he had the size, quickness and speed, but he plays hard and has the ability to take over a game.
Kendricks started out strong, but ran into the rookie wall.  He was moved to his true position, WILL linebacker, where speed, quickness and instincts are a priority.  They turned him loose on a couple of blitzes and looks like he belong there and may be an impact player.
Curry has showed some fire when he got the chance to play. but he's got a lot to prove.
Foles has shown us that he has the smarts, size and demeanor to be a starting quarterback in the NFL.  Can he be a franchise quarterback?  I don't kno He showed he can take the hits and handle the pressure.  The young man has a lot more to prove, but I think he has shown potential.
Boykin has showed us his potential at the nickel back position, in what has been an up and down year.  His small size could limit his ability to be a starting cornerback.
Kelly has shown that he can be a starter at the right tackle position.  The youngster struggled early on, but he has recovered and is playing better.
McNutt got very little playing time, so nobody knows whether he can do anything on the professional level.
Washington was released.
Brown showed us he has the ability to be a star running back.  He had tremendous games in his first two starts, but he's got to learn to avoid fumbles.