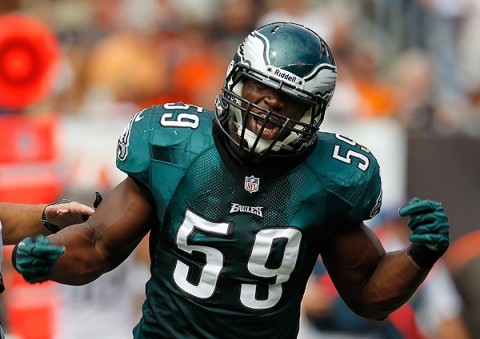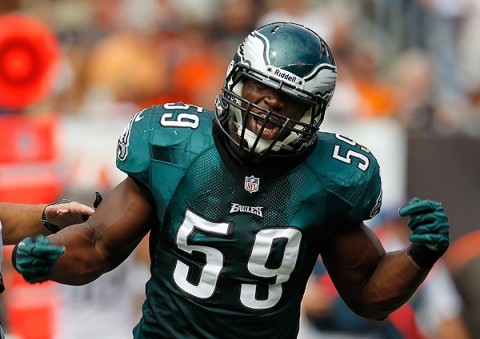 Mercifully, the 2012 Eagles season has come to an end. Here's a look at the team's roster and who I think should stay and go in the coming offseason.
Quarterbacks
Who I Want To Stay: Nick Foles, Trent Edwards
We don't know whether or not Foles is anything more than a serviceable starting quarterback, but he showed the team enough this season to earn the first shot at the starting job next season.
Trent Edwards was valuable as a mentor for Foles during the season, and he's under contract with the team for next season. The new coaching staff may or may not be interested in keeping him around, but at the very least he'll have an opportunity to win a roster spot in the preseason again.
Who I Want To Go: Michael Vick
So long and good riddance to one of the most overrated and overhyped quarterbacks in NFL history. Nothing personal Mike, you can be an exciting quarterback, but you're not a winning quarterback. Vick will move on to another franchise as a starter, and I'm sure he'll do a good job leading whatever team that may be to seven or eight wins next year.
Running Backs
Who I Want To Stay: LeSean McCoy, Bryce Brown
McCoy and Brown have the potential to be one of the best running back tandems in the league. Let's hope the new coaching staff is able to make this a reality.
On The Bubble: Dion Lewis, Chris Polk, Stanley Havili
I'm OK with either one of these two returning as the third-string running back. Lewis has shown some explosiveness, but completely fell out of favor this year. Polk battled a toe injury most of the season and only played special teams. The Eagles could easily upgrade over either player if choose to do so.
Havili had a decent year as the team's fullback, but he's also easily replaceable.
Wide Receivers
Who I Want To Stay: DeSean Jackson, Jeremy Maclin, Jason Avant, Riley Cooper
These four all seem pretty likely to return, although I'd love to see the Eagles trade either Jackson or Maclin and pursue a bigger receiver (such as Kansas City's Dwayne Bowe).
Who I Want To Go: Greg Salas, Marvin McNutt
Salas couldn't get on the field even while Jackson and Avant were battling injuries. McNutt isn't an NFL player.
On The Bubble: Damaris Johnson
Unless he makes some dramatic improvements in the offseason, I can't imagine him sticking around for another year. He didn't impress anyone as a punt returner, and doesn't bring much to the table as a receiver.
Offensive Line
Who I Want To Stay: Jason Peters, Todd Herremans, Jason Kelce
It's going to be such a sight for sore eyes to see Jason Peters and Jason Kelce come back healthy next season.
Herremans' return is welcome too, but I want him back at guard, and I want the Eagles to seek a significant upgrade at the tackle position. Before going down for the season, Herremans wasn't playing well at the right tackle position.
Who I Want To Go: Everyone else
All right, maybe that's a little extreme. But if the rest of the offensive lineman didn't come back next year, I really wouldn't mind. Howard Mudd's scheme called for undersized, quick offensive lineman, and that's a philosophy that needs to be completely scrapped in the future.
That includes right guard Evan Mathis, who some believe played at a Pro Bowl level this year. To me, Mathis is nothing more than a serviceable starter. On his best days, he isn't a dominating guard that can generate a push on opposing defensive tackles. If a player can't be dominate, the team needs to look into upgrading him. I want dominating starters across the board on the offensive line, to accept anything less is to accept mediocrity. Realistically, Mathis will be back, but I'd love for the team to find a way to get an upgrade over him.
We don't need to see anymore of Danny Watkins. The fact that he's been a healthy scratch for the second half of the season makes it perfectly clear that he's a bust, and it's time to move on.
Demetress Bell will never put on an Eagles uniform again, and I think we can all happily rejoice at that fact.
Dennis Kelly and Jake Scott actually played decently in the second half of the season, and it wouldn't be the worst thing in the world for either one of them to come back in reserve roles, but neither player is anything special.
I don't need to see anymore of King Dunlap or Dallas Reynolds either.
Tight Ends
Who I Want To Stay: Brent Celek
Celek had a bad season, but I still think he's by far the best option the Eagles have at the position moving forward.
Who I Want To Go: Clay Harbor, Evan Moore
I think Clay Harbor has had enough time to develop. He's a decent receiver, but he just can't block anyone. The Eagles can do better.
Seeing Evan Moore drop two touchdowns against the Redskins was all I needed to see of him.
Defensive Ends
Who I Want To Stay: Vinny Curry, Phillip Hunt, Brandon Graham
The two young defensive ends are the only ones I really have a lot of interest in keeping for the future. Neither one got much of an opportunity to play during the season. Curry will certainly be back, but Hunt is a little iffy. I hope the next coach at least gives Hunt a fair shot during the offseason.
After being inserted into the starting lineup, Graham finally began to slightly resemble a defensive end with first-round talent. By no means am I willing to wipe away his bust label, but I think Graham did show enough to make me think the Eagles might have a little something to work with.
Who I Want To Go: Trent Cole, Darryl Tapp
Trent Cole really disappointed me this season. He was completely invisible for the majority of the year, and easily had his worst season as a professional. Cole should be one the leaders on this defense, but he's been one of the veterans on this defense that sat back and did nothing to stop the team's decline. I think he still has some good football left in him, but I'm just ready to move on.
I don't understand why the coaching staff chose to play Tapp over guys like Curry and Hunt. At best, Tapp is a fourth defensive end.
Defensive Tackles
Who I Want To Stay: Fletcher Cox, Cedric Thornton, Antonio Dixon
Cox is on his way to becoming a fine defensive tackle in this league. Thornton had some nice moments this season, and I'd like to give him another year to develop. Dixon has proven he can be an effective run-stuffer in the past, and I'm glad the Eagles brought him back.
Who I Want To Go: Cullen Jenkins, Mike Patterson, Derek Landri
Jenkins looks like his best days are behind him. If the Eagles decided to keep him, I wouldn't mind but I think it's time to go in another direction.
I don't know that the Eagles can count on Patterson in the future. His health has been a major issue over the past two seasons.
What happened to Derek Landri this season? He was such a productive force in 2011, but this year we didn't hear a peep out of him.
Linebackers
Who I Want To Stay: DeMeco Ryans, Mychal Kendricks
I think Ryans was put into a tough position this season, but he still played well enough that I think he's a guy that the Eagles could build around. If the Eagles put him into a better position next year with better teammates, I think he can still be the heart and soul of an NFL defense.
Kendricks should become the team's weakside linebacker next year, and will have a chance to flourish in a roll that allows him to attack the football more.
Who I Want To Go: Jamar Chaney, Akeem Jordan, Casey Matthews
These three players have all had their opportunities to succeed, and all have failed.
Cornerbacks
Who I Want To Stay: Dominique Rodgers-Cromartie, Brandon Boykin, Curtis Marsh
I don't trust DRC to play at a high level every week, but there's no question that the talent is there. This year's free agent corner class is pretty weak, and I feel like the Eagles almost have no choice but to hit the former Cardinal with the franchise tag.
I still have hopes that Boykin can develop as a capable slot cornerback.
I'd like to see Marsh have an opportunity to play before I write him off.
Who I Want To Go: Nnamdi Asomugha
I can't wait for the Eagles to cut ties with Asomugha. He's going to go down as possibly the most disappointing free agent signing that the Eagles have ever made.
Safeties
Who I Want To Stay: Colt Anderson
Anderson is one of the few members of this 53-man roster that plays with heart. He's never going to be a full-time starter in this league, but he's proven that he can be quality backup.
Who I Want To Go: Nate Allen, Kurt Coleman, David Sims
Allen has shown the team absolutely nothing in three years, and it's just time to go in another direction.
Coleman plays hard, but he just isn't big enough to succeed in the NFL.
Sims couldn't find his way onto the field on a team that was desperate for any kind of quality safety play.
Final Thoughts
After looking at the 53-man roster, there's only 24 players that I want to have back, meaning that in my perfect world, more than half of this roster would not return in 2013. Such a high turnover isn't realistic, and a good number of the guys that I want to see go are going to have to stay for one reason other.
Who do you want to see stay or go, and why?
Denny Basens is the editor of GCobb.com. Email him at dbasens@ycp.edu, or follow him on Twitter.