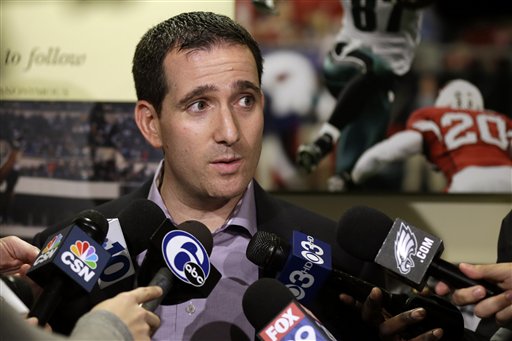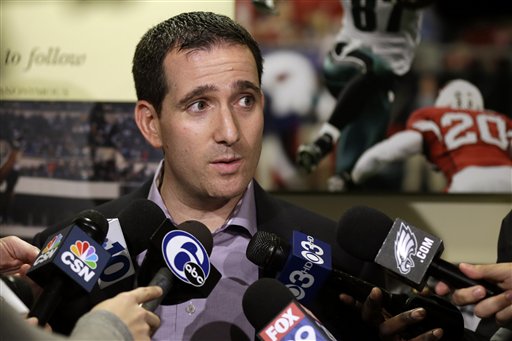 The search continues for the successor to Andy Reid, and so far there hasn't been anyone to knock Jefferey Lurie, and his evaluators off their feet.
You've heard the names of Offensive Masterminds like: Mike McCoy, Jay Gruden, Chip Kelly, Bruce Arians, and Bill O'Brien,[who in my opinion, would have been the perfect choice for this teams circumstances, had he not decided to stay at Penn State] but what Mr. Lurie is neglecting, is the old saying that, "Defense Wins Championships".
Although the team as a whole was disappointing, we have to recognize that the strongest part of this Eagles team was their offense. So if I'm the owner, looking for new leadership, would it not be reasonable to look for enhancements on the defensive side of the ball? There are viable defensive geniuses that are being overlooked, and it would be irresponsible on the part of the Philadelphia Eagles Front Office to take just a purely offensive approach to the coaching search. That being said, it would also be irresponsible to assume that the candidates previously mentioned, are any more innovative, detailed, or more qualified to be head coaches, than some of the just as talented quarterback coaches, and assistant coaches around the league, who could be snatched up to be hired as an Assistant Head Coach, or Offensive Coordinator to complement that Defensive minded Head Coach. To name a few:
1. Ben McAdoo – Green Bay QB Coach – GMCliff's Top Choice for Offensive Coordinator/Assistant Head Coach
2. Michael Christianson – San Francisco 49ers Offensive Assistant & Coordinator of Football Technology
3. Joe Lombardi – New Orleans QB Coach
4. Geep Chryst – San Francisco 49ers QB Coach
5. Russ Grimm – Arizona Cardinals Assistant Head Coach
6. Clyde Christensen – Indianapolis Colts QB Coach
7. Sean Ryans – NY Giants QB Coach
I was very happy to hear that Gus Bradley will be getting an interview soon. I think Bradley would bring back that tough, aggressive, intimidating reputation that Philadelphia really hasn't had, since the Buddy Ryan era, with players like Reggie White, Jerome Brown, Clyde Simmons, Seth Joyner, Wes Hopkins, Andre Waters, Eric Allen, and Ben Smith…DON'T YOU MISS THAT !!? I DO!!
There are other defensive minded coaches that would satisfy this city's craving for a dominating winner, and Super Bowl Champion. Here are a few names to keep your eye on:
1. Vic Fangio – San Francisco 49ers Defensive Coordinator – GMCliff's Top Choice for Head Coach
2. Gus Bradley – Seattle Seahawks Defensive Coordinator
3. Mike Pettine – New York Jets Defensive Coordinator
4. Cory Undlin – Denver 
Broncos
 Assistant Defensive Coordinator
5. Ray Horton – Arizona Cardinals Defensive Coordinator
6. Scott McCurley – Green Bay Packers Defensive Quality Control
Most of the names in this article will be highly sought after, after the 2013-2014 season in some capacity. Why not get defensive minded now, to avoid the disaster of making the mistake of hiring the Chip Kelly, Jay Grudens of the NFL World.
I also believe what the Eagle really need to get defensive about is coming out of their way of the last 14 years, and searching for what might be to them, an Andy Reid Clone. Andy was out coached for most of his career; omitting the early years when the NFC East was rebuilding, and essentially forfeited NFC East Titles, where Reid has made the most of his reputation. GMCliff, does not believe that Andy Reid was a quote – unquote, good coach, just an average offensive mind, mainly because he had never been either, an offensive, or defensive Coordinator; so he had no idea to make the adjustments need to lead or coach us to a victory.
If we are going to move in a different direction, then lets prepare to move forward completely; without any influence of what supposedly use to work under Andy Reid. So the Eagles in my opinion, need to get more Defensive minded, and prepare to move strongly in this direction. The Eagles should be forewarned, those who fail to prepare, should prepare to fail. They did this last year when Mr Lurie was not prepared to fire Andy Reid after the 2011 – 2012 season, imagining he was going to get something different in results, although it was clear defenses had caught on to what Reid was doing, as the team became predictable.
Good defensive minds are just as valuable as offensive minds. So lets get defensive…more Defensive, in our search, and quest for a Championship, because IT IS DEFENSE that win championships.