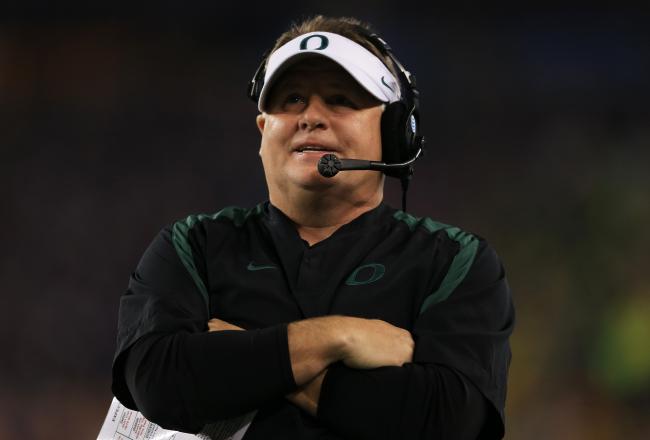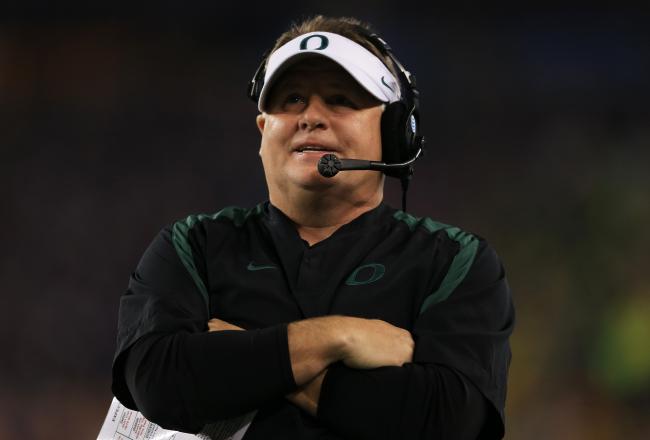 Finally! At lo-o-ong last… the Philadelphia Eagles have their man! The feeling of joy, relief and heightened anticipation resides in a city that has waited for the coach who will bring them a Super Bowl Championship! Hopefully now, Chip Kelly, formerly of the University of Oregon is that coach. So, welcome Coach Kelly to the city of Brotherly Shove, uh… Love. Yeah, I thought Gus Bradley was going to be the man because he displayed all the coveted tools as the Defensive Coordinator with the Seattle Seahawks to get a porous Eagles defense that did little more than shove their opponents in the 2012 season. But Kelly is of an offensive mind, one of the greatest that college football has ever seen. Is this a match made in Eagles heaven for LeSean McCoy, DeSean Jackson, Jeremy Maclin and company?
But what will he bring to the defense? The first question on my mind is who is going to be the new Defensive Coordinator? Is there the slightest chance that he brings back Todd Bowles or will he definitely look outside of the Eagles organization? There's already talk that Kelly could bring in his D.C. from the University of Oregon, Nick Aliotti but how open is he to exploring the current NFL possibilities?
The Eagles in the early 2000's only allowed 241 points (2000), 208 (2001) 245 (2002) and 260 (2004) in the Eagles last Super Bowl appearance. This to me is a top concern since the Eagles allowed the most points in their history last year with 444. The only other season the defense gave up more than 400 points was in 1967 when they allowed 409. But the '67 team scored 71 more points (351) than in 2012 (280) in route to a better record (6-7-1) led by a coach (Joe Kuharich) who only had one winning season out of five.
Is Coach Kelly going to look before releasing current Offensive Coordinator Marty Mornhinweg or is there something in the minds of these two that can be even more innovative than the best offensive mind coming out of the NCAA? And does Howard Mudd fit into the mix? Mike Bradeson of the University of Nevada I hear is getting mentioned as an Offensive Coordinator prospect so we have still, much more to look forward to.
Intensity, accountability and an the ability to relate to his players… how's that going to translate to, say… hitting, tackling and an ability to take the ball away? Those are just a few characteristics that have long been missing from this team and Philly fans long the return of the smash mouth football of old. But now that he's here many questions still persist other than who his coaching staff will be… like what defensive alignment will he use a 3-4 or a 4-3? What side of the ball will he address first in the draft? There will be much assessing this team before we begin to see any answers.
Other questions remain as to who stays and who goes – mainly – who will be his quarterback? He won't change his offense to suit second year starter Nick Foles. Michael Vick is the athletic QB his system seems to call for but his age, durability and contract are potentially huge obstacles. I think the fans in Philly are looking for more change still. Is there any viable trade bait on this team? Anyone you want to let go that is… and do you even go near Free Agency anytime soon with the busts and blow ups of the last two years? And how will the new Eagles coach handle the media and the Philly fan base?
I think Chip Kelly gets the Eagles back to the playoffs this fall, but of course that remains to be seen in an unpredictable NFC East Division but finally there is a new mindset, a new culture and a new philosophy in Eagle Land! There is playoff talent here so let's hope he will be able to pull it all together sooner than later. A Championship is the expectation in this Title starved city but how much grace does Kelly get in his first season as Head Coach? We'll find that out soon enough as well but it looks like happy days will soon arrive in Philadelphia again.
Do Jeffrey Lurie and Howie Roseman deserve any prop's for getting this deal done and for tenaciously going after who they say was their man all along and who many believe was the best candidate? If not now, here's to the hope and expectation that Mr. Lurie will get plenty of prop's in the very near future… and a long time after that.