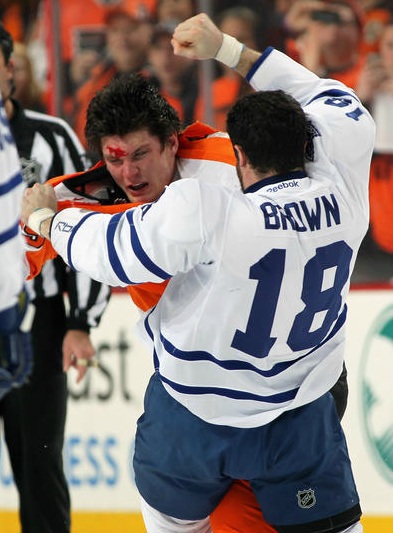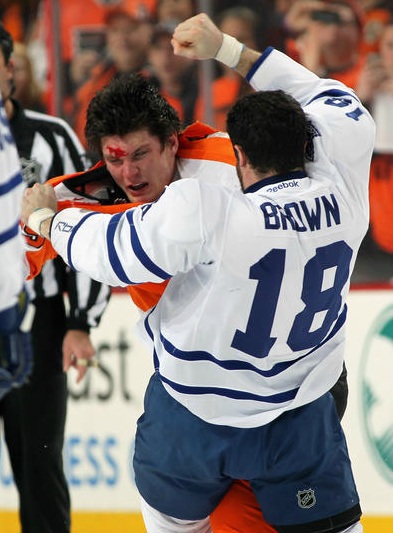 The arrival of Simon Gagne to the Flyers this evening may have overshadowed another piece of news from the Flyers organization that is less ideal- Tye McGinn will miss at least two weeks with a broken orbital bone.
McGinn injured himself in a fight during the first period on Monday with Toronto Maple Leafs pugilist Mike Brown. McGinn actually took three more shifts in the second period and one more in the third period, in spite of the injury.
A two week absence will see McGinn miss around seven games. Flyers general manager Paul Holmgren suggested to reporters that the injury "forced his hand" in acquiring Gagne, but McGinn had been relegated to fourth line duty once Scott Hartnell returned to the team.
McGinn has 3 goals and 5 points in 16 games this season, averaging 12:48 per game.
The Gagne trade was also the second trade by the Flyers organization in less than 24 hours. The Flyers traded winger Mike Testwuide to the Calgary Flames in exchange for centerman Mitch Wahl (because you can never have too many centers!).
Testwuide was touted as "the next Mike Knuble" when he was signed as a collegiate free agent in 2010.  He only put up about six points in the first half of his rookie season with the Adirondack Phantoms, but exploded with 18 goals and 21 points by the time the season ended.
He had a shot at impressing the team during the preseason of the 2011-12 NHL season, but a dangerous boarding penalty against the Detroit Red Wings got him ejected from the game.
This season, Testwuide was in the doghouse under Phantoms head coach Terry Murray and dressed for just 19 games.
I was surprised that Testwuide was even re-signed last offseason, considering how far he had fallen in the organization's depth charts.
In Mitch Wahl, the Flyers receive a 23 year-old center who has excelled at the ECHL level. He has 19 goals and 59 points this season with the Utah Grizzles. He has also scored 5 goals and 15 points in 54 AHL games between the Abbotsford Heat and the Hamilton Bulldogs.
At the end of the day, the trade is a "change of scenery" for both players, who are each set to be restricted free agents at the end of the season.